It's officially whisky weather, and we Canadians know that there is no better way to embrace the Canadian chill than with good company, getting our toes cold and Canadian made whisky.
Making hand-crafted, small batch single malt style of whisky made for the adventurous whisky loving Canadian, STALK&BARREL is 100% Canadian owned and operated here in Ontario with a grain to glass production that embodies true Canadian spirit and sportsmanship — fitting since they're the official whisky of Golf Canada.
STALK&BARREL is not your average whisky, this perfectly balanced blend is bold and smooth and carefully crafted for everyone's palate.  Enjoy it neat, on the rocks, or in one of these delicious cocktails:
Six Shot Whisky Sour
(This cocktail doesn't have six shots of whisky, it's named in honour of Stephen Ames, the Canadian golfer who won the 2006 Player Championship six shots ahead!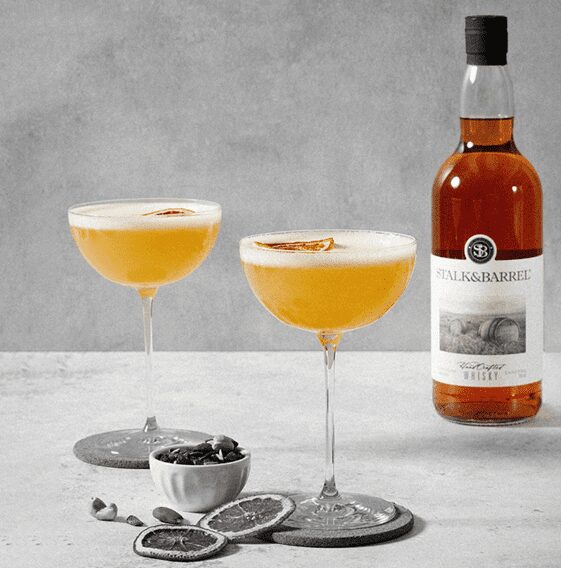 Ingredients 
2 oz Stalk&Barrel Whisky
½ oz Lemon juice
½ oz Lime Juice
1 oz Simple syrup
1 Egg white
Citrus wheel
Combine the Stalk&Barrel Whisky, citrus juices, egg white, and simple syrup in a cocktail shaker. Fill the shaker with ice, put the cover on, and shake for 15-20 seconds. Strain into a coupe glass and top with an orange wheel to serve.
Smoked Bold Fashioned
Ingredients
2 oz Stalk&Barrel Whisky
½ oz simple syrup
3 Dashes of Angostura bitters
1 drop of Vanilla extract
Smoke
Rosemary sprig
Maraschino cherries
1 large ice cube or ball
Combine simple syrup, ice cube and bitters in rocks glass, stir for 15 seconds. Pour Stalk&Barrel Whisky into glass, stir for one minute.
Place smoking saucer over glass, fill with bourbon oak wood chips, light and smoke for 5-15 seconds.
Garnish with rosemary sprig and maraschino cherries.
STALK&BARREL is available at liquor stores across Ontario, and Newfoundland and Labrador and retails for approximately $31.95. To learn more about STALK&BARREL, visit stalkandbarrel.com.
*header photo by Photo by Maxim Hopman on Unsplash