Can you guess the number one spirit consumed during the holidays? It's rum! From rum and eggnog, rum balls, rum cake and more, rum is the spirit people reach to elevate their holiday cocktails from Christmas to New Year's.
This ultra premium rum is masterfully aged and sustainably crafted for the distinguished palate and sophisticated party-goer. Irresistibly smooth, Flor de Caña is the world's first carbon neutral and fair trade certified rum keeping your holiday cocktail hour deliciously sustainable.
Flor de Caña is a luxurious rum beams with holiday spirit and can be enjoyed neat, on the rocks or in creative cocktails like these:
Flor Sparkler 
Ingredients: 
1.5 oz Flor de Caña 12 Year Rum
2 oz of champagne or prosecco
¾ oz of fresh lime juice
¾ oz of simple syrup
2 dashes of Angostura bitters
Flor Fashioned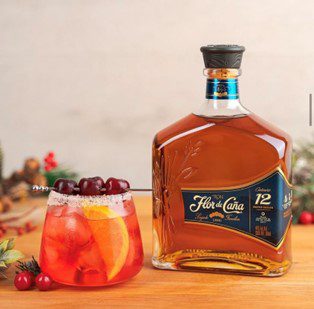 Ingredients: 
2oz Flor de Caña 12 Year Rum
2 dashes Angostura bitters
1 oz cranberry simple syrup
Orange wedge
Ice
3 cranberries
For more information visit www.flordecana.com or @Flordecanacanada and as always please enjoy all spirits responsibly.
*header photo by Photo by Rinck Content Studio on Unsplash