In the first installment of our favourite meals for fall, we showcased some delicious steak, pork, and ground turkey, this time, we have some out-of-this-world tuna steak, scallops and bison burgers as we continue to feature some of the most fantastic meals for fall.
Now we started off with some more classic comfort meals, but hearty salads, delicious seafood, and burgers respectively make for some wonderful meals for fall.
Tuna Steak Nicoise Salad
A salad Niçoise is traditionally made of tomatoes, hard-boiled eggs, niçoise olives and anchovies or tuna, dressed with olive oil, or in some versions, a vinaigrette. I have to admit I haven't made many, but I wanted to take on this French classic.
To start, you'll need:
Two tuna steaks, potatoes, green beans, tomatoes, purple onion, two eggs, olives, olive oil, salt and pepper.
For the dressing, you'll need:
Whole seed mustard, red wine vinegar, olive oil.
Prep/Cooking time: 1 Hour Serves: 2
Grab a pot, fill 2/3 with water and place on the burner; turn to high and cover.
While the water heats up to a boil, chop three potatoes into 8ths, and drop them into the water. Set a timer for 20 minutes, grab two eggs, and set them aside. Once the timer has 7 minutes left, add the eggs.
Once the eggs are done, carefully take them out and set them aside in a bowl, strain water from potatoes and set them aside.
Next, dice up 1/4 of a purple onion. Add 1/4 red wine vinegar in a small bowl, and place onions in the vinegar to pickle; set aside.
Grab a pan, and turn the element to medium. While that heats up, quickly chop the ends off your green beans, about 1/2 a package or a really big handful, and a bit of oil, salt and pepper and cook for about 8 – 12 minutes.
In your main mixing bowl, add the green beans and let them cool. In the same pan, add a little oil, and place in the tuna steak. Turn the heat up to medium-high, and cook the tuna steak the same way you would a steak, aka it can be rare or well done based on your preference.
Cut tomatoes in slices, add them, 1/8 cup of olives, the soaking onions (but not the red wine vinegar) to the main bowl with the green beans.
In the red wine vinegar bowl, add 1/4 cup of olive oil and 1 1/2 tbsp of whole seed mustard, and whisk.
Mix the veggies in the bowl with 3/4 of the dressing, place in the centre of the plate
Deshell the eggs, cut them in halves, and set them on the side of the salad.
Cut the tuna steaks into even pieces width wise.
On top, place the cut tuna steak and, with the remaining 1/4 of the dressing, drizzle it over.
Add a pinch of salt and pepper and serve.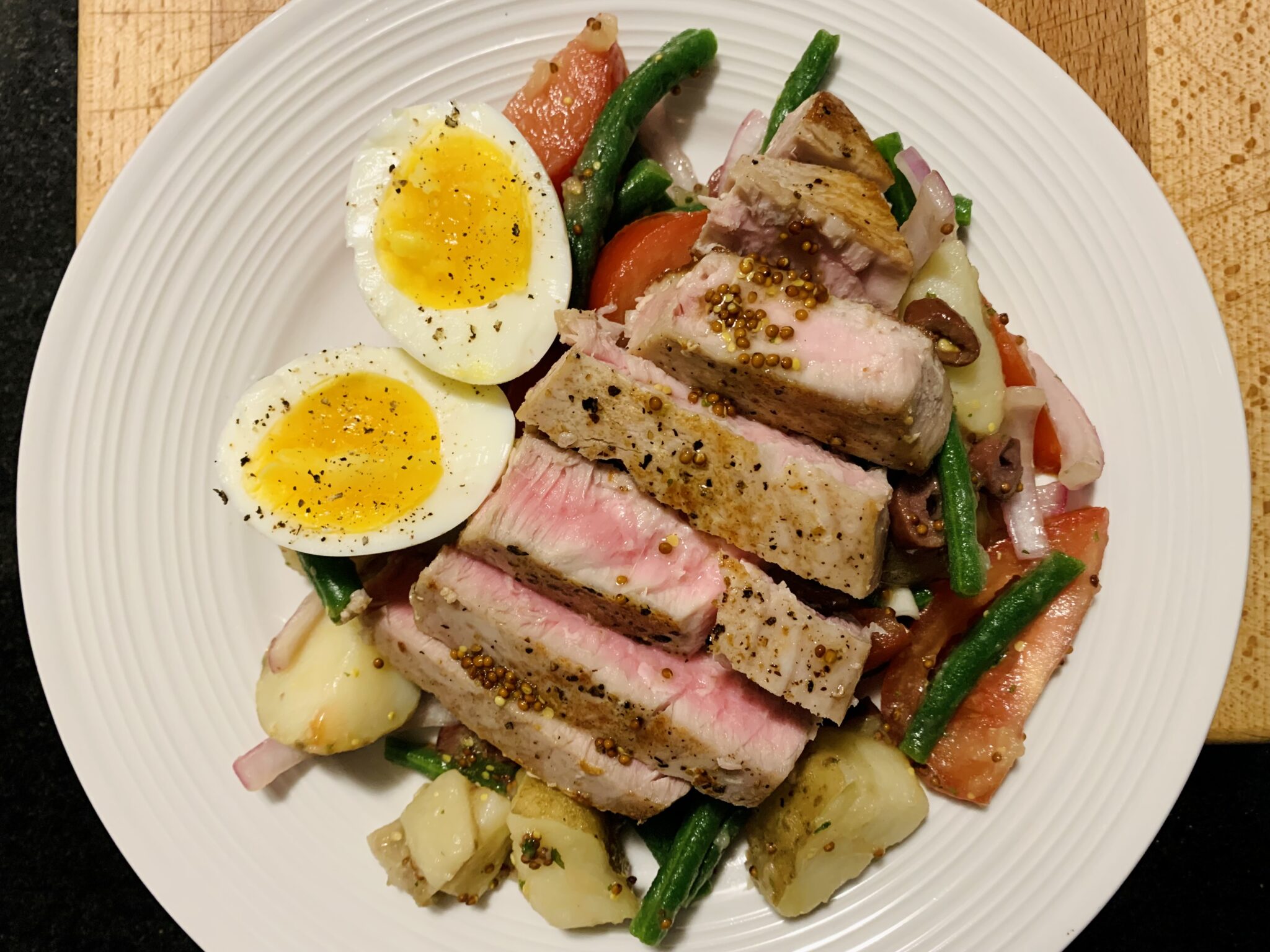 The result of the multistep-masterpiece? Probably one of the best salads I've ever made. Hearty, yet light, tangy and flavourful, and the tuna steak from Papa Earth was quite literally out of this world. So tender, so flavourful, so delicious. I could probably eat this every single day.
Scallops with cauliflower puree and glazed carrots
I love pretty much all seafood and shellfish, from lobster to crab, oysters to scallops, I love it all, so when I found out that Papa Earth also offered outstanding quality scallops, I just had to get in the kitchen and start cooking.
Now, there are so many choices with seafood. Still, I love the combo of scallops, and cauliflower, with a side of something salty and buttery, so, scallops, with cauliflower puree, glazed carrots and crispy kale with bacon jelly, sounds perfect. So without further adu, let's begin!
To start, you'll need:
Scallops, cauliflower, carrots, kale, butter, salt, pepper, bacon jelly.
For the puree, you'll need:
Steamed cauliflower, cream, butter, salt, pepper.
Prep/Cooking time: 35 minutes Serves: 2
On a cutting board, peel and chop carrots into small bite-sized pieces. Cut cauliflower into small pieces and set aside.
Grab an always pan or a pot and vegetable steamer, turn the element to high-low and start by steaming your carrot until they soften about 10 – 12 minutes.
When carrots have softened, pull them out, add a little extra water, add the cauliflower, cook until completely soft, about 5 minutes.
If you've used a pan to steam, dump out the water, or grab a pan, add a little butter, set temp to just above medium, add in carrots and kale, cook until carrots are golden, and kale is almost crispy about 5 minutes.
Take the cauliflower, and in a blender, add a tbsp of butter, two splashes of cream, salt and pepper, blend into a puree, and then set aside.
Remove carrots and kale from the pan and set them on the plate, add a little more butter to the pan and cook the scallops for 2 minutes on each side. Remove the pan from heat.
With the cauliflower puree, make a thick swoosh on the plate beside the carrots and kale, in between a bit of bacon jelly, and on top of the smoosh, ad a few scallops.
Top with light salt and pepper and serve.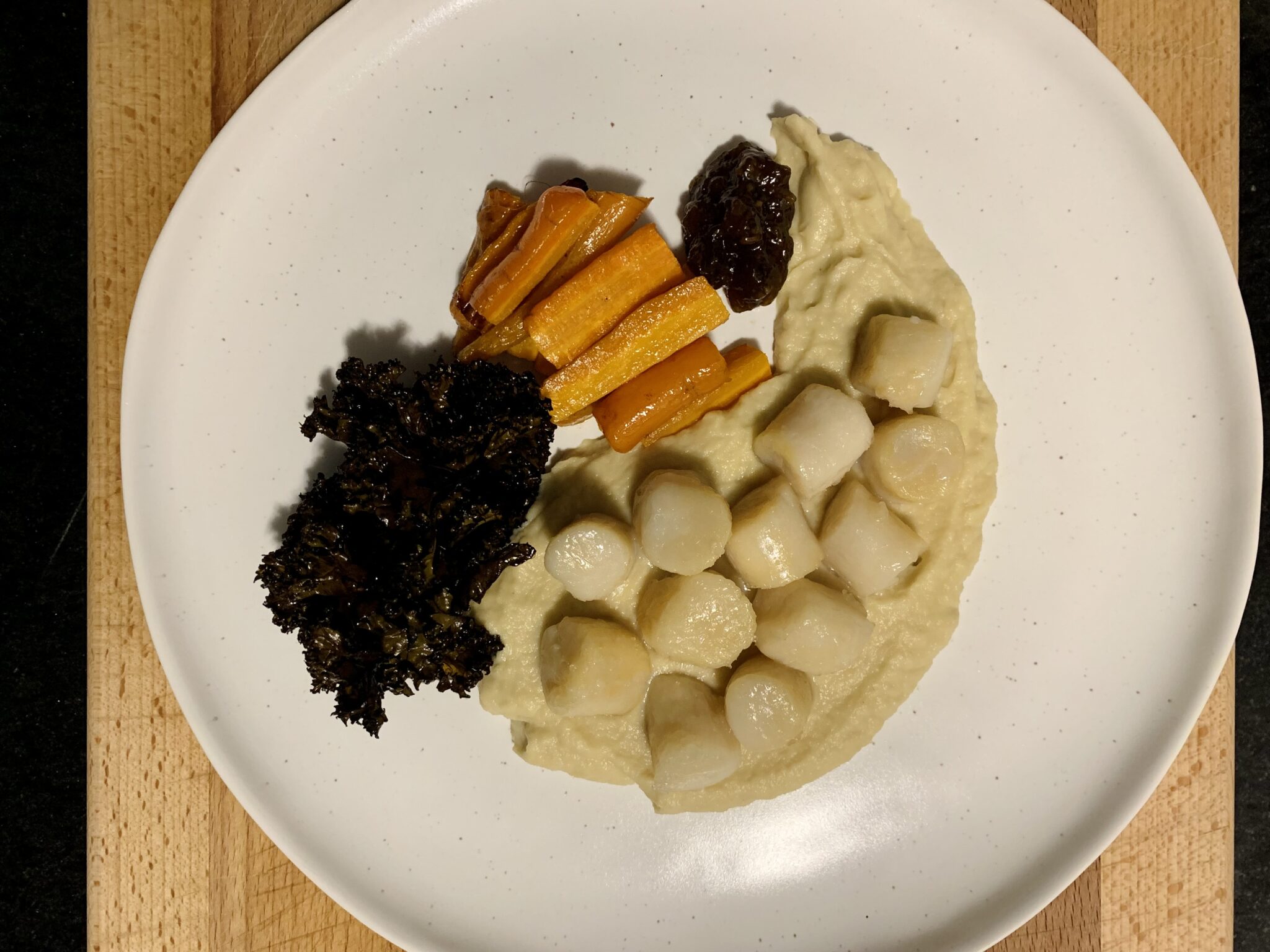 Bison Burgers
I love a good burger, and after trying out the bison burgers from Papa Earth, I must admit, I love them. Thick, juicy, flavourful, what more can you ask from a burger? So, we made the bison burgers on a toasted bakery fresh bun, along with swiss cheese, guacamole, and a bit of mayo.
To start, you'll need:
Four bison burgers, four burger buns, swiss cheese, mayonnaise, pickles to go on the side.
For the guacamole, you'll need:
Two ripe avocados, tomato, purple onion, cilantro, lime, salt and pepper.
Prep/Cooking time: 20 minutes Serves: 4
Cut your buns in half, and set them to the side.
Next, grab a pan or head to the BBQ and turn it to the appropriate temp to cook your burgers (internal temp of 160 F). Make sure to flip them at the halfway point to cook evenly.
While your burgers are cooking, cut and mash two ripe avocados in a mixing bowl, finely chop 1/8 of an onion, 1/4 of a tomato, mix with avocado, squeeze in 1/4 of a lime, add salt and pepper and mix again. Set aside.
On the bbq, toast your buns, which usually only takes about 3 minutes. If you don't have a bbq, use your toaster.
Even though the cheese is below in the photo (we wanted to show the separation), when your burger is almost ready, add the swiss cheese to the top, and once spatially melted, take the burger off heat.
Spread a bit of mayo on the bottom of the bun, place your burger on top, add your guacamole, and finish with the top of the bun.
Place on the plate, along with a couple of pickles, and serve.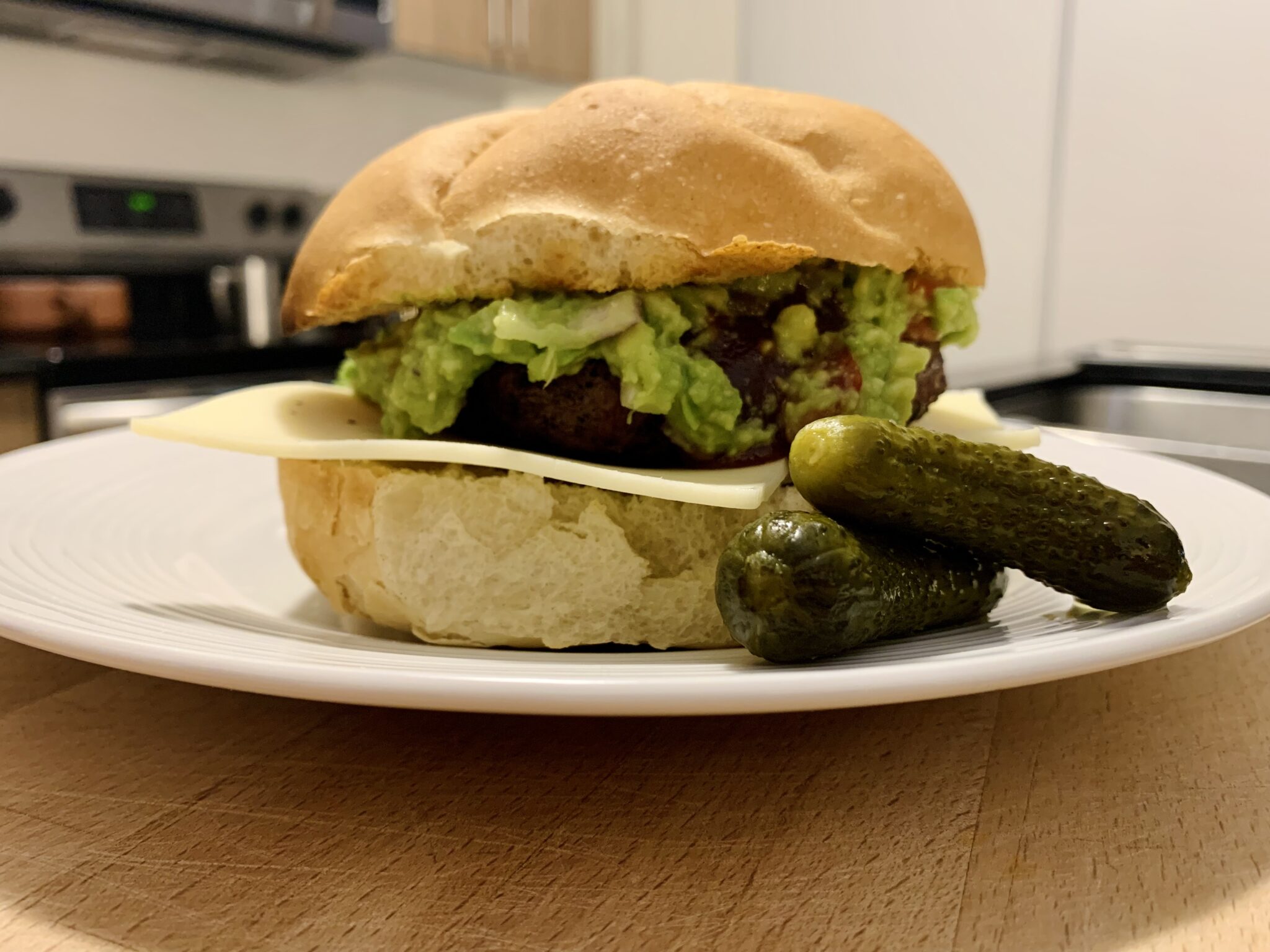 Now, what's better than some fantastic recipes to get you through fall and winter? Winning all the meat and /or seafood to make these great meals!
So, we are giving one lucky reader/follower a Papa Earth Box (up to $150 value), and two other lucky winners will receive a $50 Papa Earth gift card to get some fantastic food to try out.
Good Luck!
Enter to win on Instagram:
View this post on Instagram