Fall, the leaves are changing, the crisp feeling in the air has returned, and of course, the beginning of back-to-back seasons that call for comfort food is well underway. Now coming up with a whole new roster of meals every season can seem daunting, but that's where we come in.
We've spent the last two months working on our favourite meals and how to make them with fantastic products from Papa Earth. Papa Earth offers the very best in meat, seafood, and poultry delivered right to your door. Quality products, properly sourced, delivered with care, you can't ask for much more than that, well, unless it's some great recipes to go along with all that great fare.
In part one, we'll start with three of my favourites that will leave you and your family happy, full, and smiling from ear to ear.
Mustard, Thyme and Honey Butterfly Pork Chops
When autumn comes, so does the endless supply of root vegetables and squash. Parsnips, potatoes, turnips, beets, and squash are always a great go-to for a side dish, and since we have an abundance of them, and they go so well with pork, we thought we'd start there.
Between you and me, I love a sweet mustard glaze on my pork, so today, we bring that all together with delicious mustard, thyme, and honey butterfly pork chops with a brown sugar squash mash and baked parsnips and potatoes.
To start, you'll need:
Two butterfly pork chops, squash, parsnips, potatoes, oil, brown sugar, thyme, salt and pepper.
For the sauce, you'll need:
Honey, whole mustard, thyme, salt.
Prep/Cooking time: 1 Hour Serves: 2
Pull out one square cooking pan and two cooking sheets, one small, one bigger, set your cooking racks in the middle of the oven. Turn your oven to 400 F.
Next, add parchment paper to the bottom of the cooking pan that you'll make the pork in, and set it aside.
Take the squash and carefully cut it in half while cutting a small slice off the bottom and top on the outside. You're doing this so it can stand straight.
With the smaller tray, place parchment paper and on top place the two cut halves of the squash. Take your brown sugar (about 1/4 cup) and pack it into the open side of the squash till you've covered the face. Place in oven and set a timer for 1 hour.
Next, peel and cut the parsnips and potatoes into quarters, drizzle with your oil of choice, lightly dust with salt and pepper, place in over (now with about 50 minutes left on the timer)
Next, take out your pork, pat it down with a paper towel, and add it to the cooking pan.
For the sauce, add one tbsp of honey to a small bowl, along with one tbsp of mustard and a decent amount of thyme (minus the stock), mix vigorously, and add to the top of the pork, take the leftover thyme stock and throw it in the pan to the side.
Once the timer reaches 15-20 minutes remaining, add the pork and let it cook. (must cook to an internal temperature of 145 F)
With 10 minutes left on the timer, take your potatoes and parsnips out of the oven.
Once the timer goes off, take everything else out. Take a large spoon, scoop out the squash and place it in a mash potato-style stack on the plate.
Now plate the pork, and with the leftover sauce, drizzle it over the pork and serve.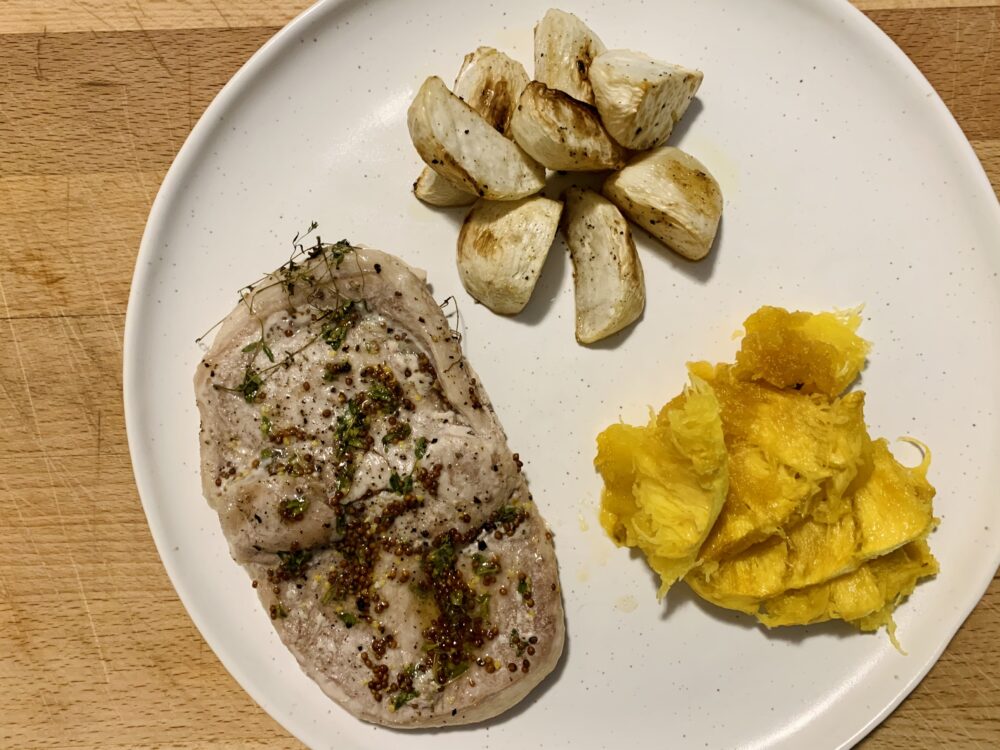 The potatoes and parsnip are salty while the squash is sweet, and the pork is a perfect balance of the two, bringing this dinner together easily and perfectly, every time.
Our thyme and honey pork is one of our staples at home in the fall, and it's no surprise as to why.
Ribeye Steak with Mushroom Gravy
I have to admit, I love a great steak, and I love any type of gravy, so both are always a go-to for me when it's my turn to cook, and it comes as so surprise as to why, hello steak and gravy!
Sourced once again from Papa Earth, this ribeye was like butter, but what made it even more delectable, having it with some pan-fried asparagus, carrots and homemade mushroom gravy.
To start, you'll need:
Two ribeyes, carrots, asparagus, butter, salt and pepper.
For the sauce, you'll need:
Beef broth, flour, Worcestershire sauce, and salt and pepper.
Prep/Cooking time: 35-40 Minutes Serves: 2
Grab three small pans, one for your steak, one for the carrots and asparagus and one for your gravy.
Peel the carrots and cut them very thinly lengthwise, turn the element to med heat, add a little oil or butter, and let carrots cook for about 10 minutes, turning every 3-4.
While that's happening, chop mushrooms into pieces, add them to the second pan on medium-high heat, and let cook for about five minutes.
Cut ends off asparagus and add them to the pan once the initial 10 minutes have passed for the carrots. Turn heat down to just below medium and cook for another 4-6 minutes.
Add 1/2 cup of beef stock with 3 tbsp flour and shake in a mason jar or shake-cup until thoroughly mixed, or as best you can.
Once mushrooms have cooked down, add beef stock shake mix. Let the mix and mushrooms sit till they start to bubble. Once bubbling, turn down and mix with a wooden spoon. Add Worcestershire, salt and pepper and stir until thickened. (3-5 minutes)
While that finishes along with the veggies, turn the third pan on to medium-high. Salt and pepper the steak, add a little butter to the pan and cook until ready. (based on your preferences)
Turn all your burners off, plate steak and veggies, then drizzle mushroom gravy over the steak onto the veggies and serve.
Now that's what I call fall comfort food, and not only is it the perfect meal for fall, it's also really straightforward to make and even easier to enjoy!
Ground Turkey Swedish Meatballs
I have to admit, in the last year of testing, one of my favourite meals thus far has been our ground turkey Swedish meatballs with buttery mash potatoes and pan-fried broccoli. It's filling, sumptuous and honestly, makes even the bad days seem better.
To start, you'll need:
1lbs of ground turkey from Papa Earth, one purple onion, 1/2 head of broccoli, bread crumbs, two cloves of garlic, Worcestershire sauce, dried parsley, one egg, oil, salt and pepper.
For the sauce, you'll need:
Beef broth, flour, Worcestershire sauce, sour cream, dried parsley, pepper, salt.
Prep/Cooking time: 55 Minutes Serves: 2 (with leftovers)
Start by setting the over to 395 F.
Pull out a frying pan and place it on the stovetop, take out a cutting board and your purple onion, chop a 1/4 into fine pieces, turn on the pan to medium heat, and add with a bit of oil. Cook till almost crisp.
Set aside and let cool.
Take out the ground turkey and add to the mixing bowl along with 1/2 cup breadcrumbs, 1 tsp allspice, 1/2 teaspoon nutmeg, one egg, 4 dashes of Worcestershire sauce, a pinch of garlic spice and salt and pepper, and the onion you sauteed. Mix well and form into meatballs.
Take a large cooking sheet and place parchment paper down to cover the tray and place meatballs evenly spaced out, place in oven and set a timer for 30 minutes.
Now, peel potatoes and cut into small pieces, fill a pot with water, bring to a boil, add potatoes, and cook for about 20 minutes.
While the potatoes and the meatballs are cooking, grab another pan and start your sauce.
Add 1 cup beef stock, 3 tbsp all-purpose flour to a shake container, and shake until mixed and add to the pan when on medium heat.
Add Worcestershire, parsley, salt and pepper and stir until it thickens, about 2-4 minutes. Once reduced, take off the heat and stir in two decent scoops of sour cream.
Take the meatballs out of the oven.
Once the potatoes are done, drain, add a tbsp of butter, a scoop of sour cream and salt and pepper, mash until almost creamy.
Place mashed potatoes on a plate with broccoli next to it. On top of the potatoes, place a few meatballs, then drizzle with the sauce over the meatballs and mashed potatoes, and serve.
This dish is downright delicious, there's not much other to say than that, and if you haven't tried it, well, you sure should!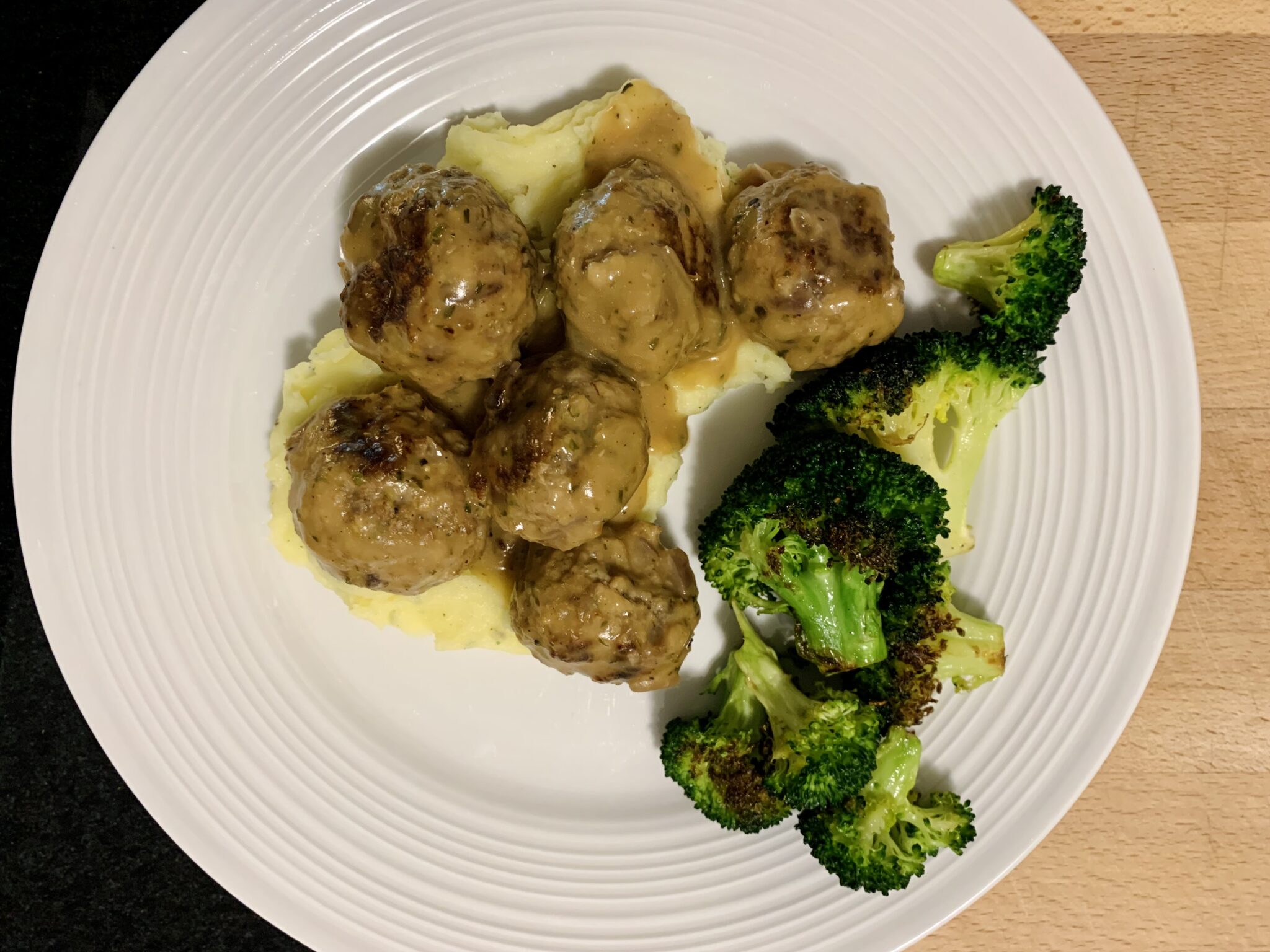 So, if you're struggling to figure out what to make, or looking for something new to add to your repertoire, here are three recipes that we've tested over and over and love, and that's just the start.
Make sure to come back next week as I offer up three more fantastic recipes for fall and a very special giveaway.
*All meats shown were provided by Papa Earth