If you're anything like me, you've done more cooking in the last year than you did in the decade before, and since the laying low and staying home moto doesn't seem to be ending any time soon, it appears I'll be happily cooking up a storm for a while to come.
Over the last year, I've worn out my old pans and bought a couple of new ones, but all in all, I don't love cooking with any of them.
Whether they started as not non-stick or just lost it along the way, my pans have all seen better days. So, I recently started searching for a pan that was a joy to cook with, one that would be non-stick and multi-purpose. That search led me to; The Always Pan.
The reviews, posts, and claims all said this pan was, without a doubt, revolutionary. So I reached out to them and asked if I could put their pan to the test, and they said, Yes!
When The Always Pan arrived, I was rather excited, and as I opened the box, I was not let down. The pan looked sturdy and well made, and the blue was simply perfect at first glance.
As I took it out of the box and gave it a quick clean (as directed), I began to look closer as I shot the pan, pot, and steamer all in one.
Since it had passed the visual test and is a beautiful pan, it was onto cooking, 30 days of it to be exact.
We wanted to put The Always Pan through its paces, so we started simple and worked our way up.
First, we started by making some fried chicken. We put a little oil in the pan, a little salt and pepper on the chicken, and went into the pan. There was no stick, it offered a perfectly even cook, and clean-up was an absolute breeze.
Next, we made bacon in the pan, did a quick clean out, and made eggs sunny side up. A no-stick surface and ample cook space made frying eggs so easy since they didn't cook on and thus break while flipping. The bacon cooked rather quickly and evenly, and the eggs, well, they might have been the quickest and best eggs we've ever fried up to date.
Next, we wanted to test the steamer, but we wanted to do it in combination. We decided to steam frozen dumplings and then fry them all in the same pan, the always pan. Once cooked, we set them aside along with the metal insert, wiped the pan, added a bit of oil, and started frying. The dumplings steamed well, with minimal water (lid on).
We needed to do the same meal the week before. Once again, it was so easy. The dumplings were streamed on the inside, crispy on the outside, just the way I love them. The Always Pan whipped clean in a 1/8 of the time it took to clean the two pans.
We made salmon, steak, turkey, we fried pineapple, and green beans, we steamed broccoli and spinach, made streamed and fried dumplings, fried rice, breakfast, lunch and dinner and when that was all done, we even tried to reheat the leftovers in the pan, with nothing but repeated success.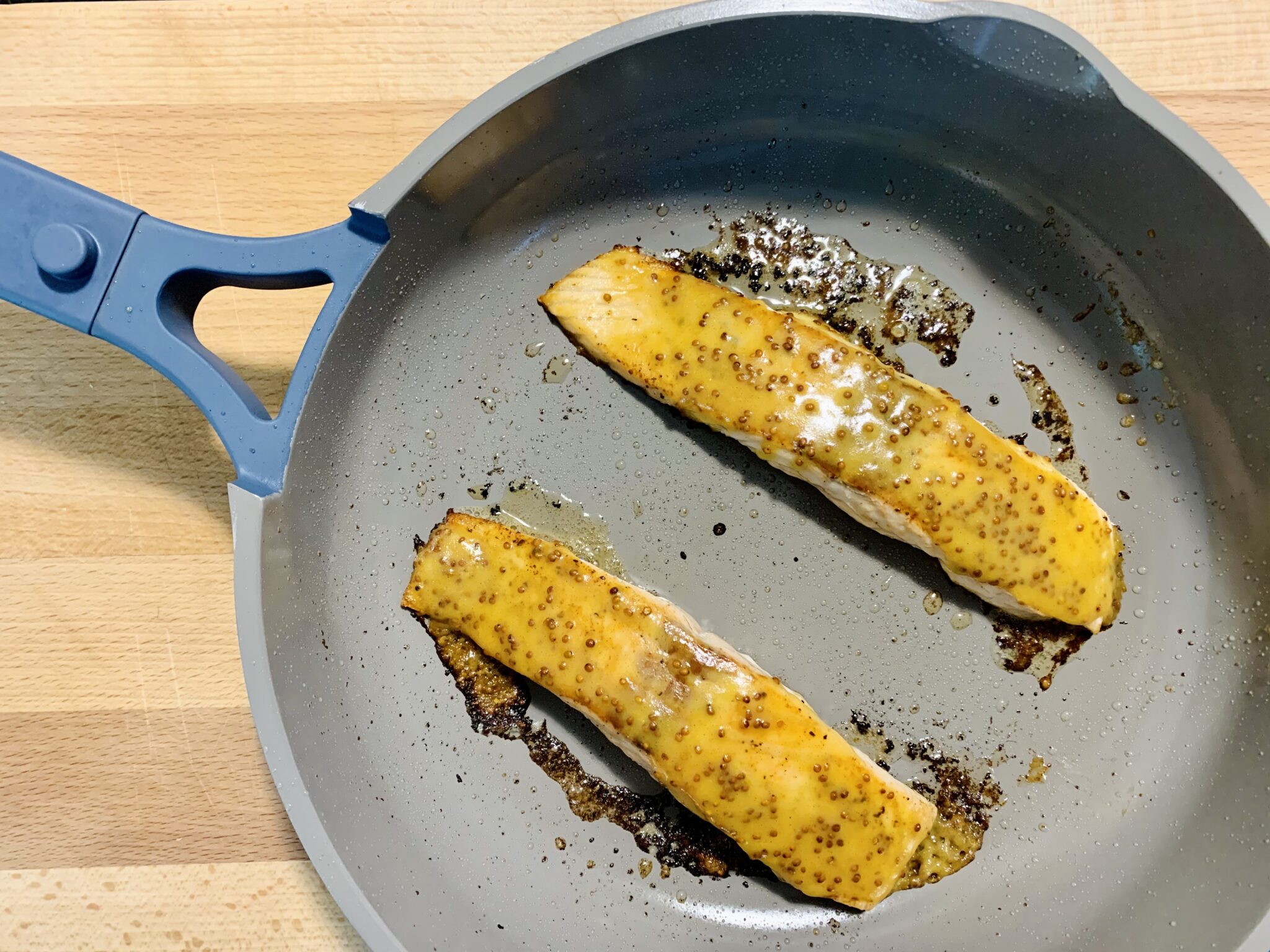 Each time we made something new, we were amazed at how well it cooked, and that goes for everything we tested. It just seemed to make cooking, steaming, and frying a breeze, including the light and fluffy protein pancakes we made this morning.
After 30 days, we started joking that it shouldn't be called the always pan. It should be called the; you can't get this wrong pan, (said in an announcer's voice), as it seemed like everything we made along the way, of over 45 meals, was as easy to cook as it was to clean up.
So, was all the hype true? We think it's one hundred per cent deserved. After using The Always Pan, we must admit we are ADDICTED.
The Always Pan is well made, looks great, is available in a slew of colours, is incredibly easy to use, and is one of the most multifunctional pans we've ever seen. On top of all that, it's hands down the most effortless pan to clean we've ever tested.
To find out more and get your pan, visit OurPlace and happy cooking!
Pan gifted for review. Affiliate links within this feature.