While things are opened back up or are opening up across Canada, and I have been out for dinner, cooking most of my meals at home isn't going to change anytime soon.
Over the past year and a half, I've enjoyed cooking, but after a while, I found myself making the same seven dinners over and over, and while I still love most of what I was making, I was ready for a change.
My other half and I have been on a very meat-heavy diet, and while there's nothing wrong with that, I had been craving some seafood. So I searched for where to get a great haul of quality products at a great price, and that search led me to Papa Earth.
This week we put the medium mixed seafood box from Papa Earth to the test.
The box arrived at our door perfectly packaged full of delicious looking frozen seafood, and in the coming weeks, we would enjoy an incredible array of delightful meals.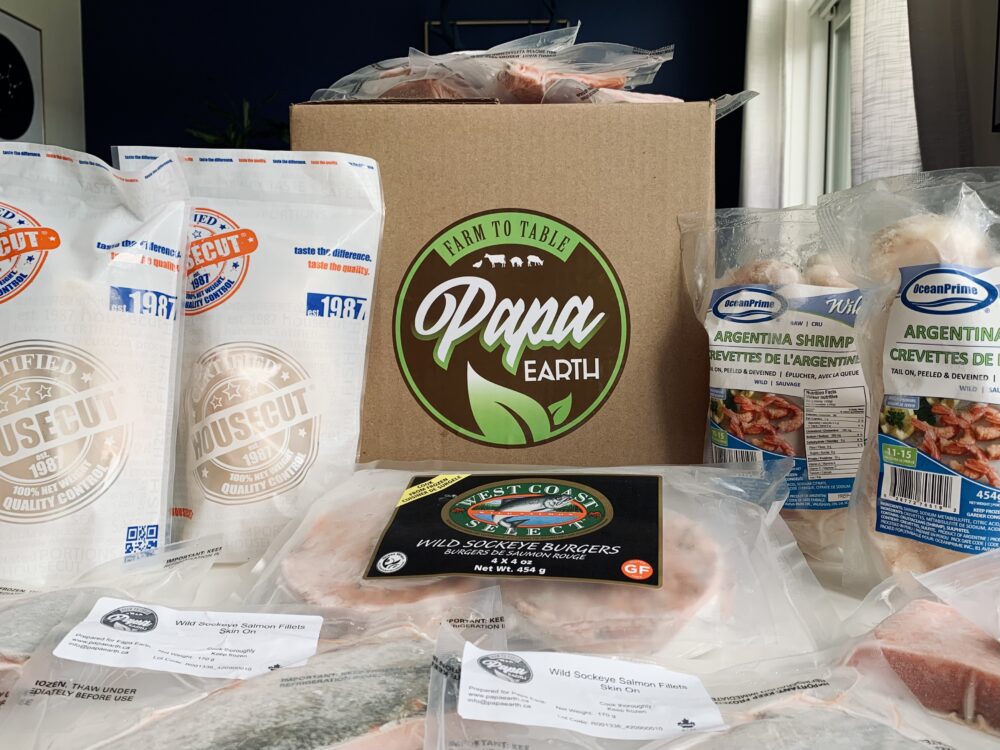 Once we unpacked the box and double-checked our selections, we set aside one package of shrimp and packed the rest away in our freezer for another day.
The first dish we made was a Mexican inspired shrimp rice bowl. We combined chilli powder, sweet paprika, garlic and onion powder, dried oregano leaves, and set that aside for the dry mix. Next, we sauteed peppers and onion in a frying pan while boiling rice in a pot. Once the rice was ready,  we added it in with the veggies, added in oil and half the spice mix, stirred and fried further. In butter, we fried the shrimp for about 3 minutes per side while adding spices. Once we finished the cooking, we added the rice/veggies mix to the bowl, topped with shrimp and a small side of avocado, and finished with a cilantro garnish.
The perfect dinner with big juicy, buttery shrimp. Yum!
Next up, we tried the salmon burgers. Now for this, I had a couple of friends over and served up the salmon burgers on a fresh onion bun, with lettuce, tomato, dill and tartar sauce. It was delicious.

Growing up, my parents were obsessed with salmon burgers as they never ate much red meat. To my surprise, no one had tried them before, but after all was said and done, everyone, myself included, loved them.
As I write this, I want to eat another right now.
In our testing, we also made panko-crusted haddock several times, some delicious mustard honey salmon, maple salmon. Honestly, the meals and combos seemed endless, and every single one, absolutely deep down delicious.
We had found our new go-to for sourcing all seafood that we may need or crave, all in one place.
It's easy to see that Papa Earth knows good seafood, but they don't just offer that. They also offer a vast selection of your favourite meats, poultry, and so much more. You can choose from curated boxes, like the one we've featured, or you can build your own. The choice is yours.
The only question that remains is, what will you be making for dinner?
For more on Papa Earth, visit their website today. / Products provided by Papa Earth for review.