*Read until the end for a special offer*
I sat and contemplated how I would go about writing a piece so near and dear to my heart. I kept changing the narrative only because I wanted to make sure I was approaching this story with the utmost care to mirror the expertise that goes into creating NuVsio Skincare. Using a high concentration of minerals from some of the most ancient mineral mines in the world, NuVsio practices what they preach through their slogan, "Start Pure". 
It really is the person behind the company that makes the company: their story, their drive, the dedication to the mission, the values practiced, and the consistency of the brand. The person is the brand. Dr. Elena Brei is NuVsio. You want to see results and proof before trying the products? Just take one look at Dr. Brei.  She is the best spokesperson through her glowing, picture-perfect skin.
MY JOURNEY TO NUVSIO
Before diving into what makes the NuVsio brand a must have in your skincare routine, I have my own story to share. I met Dr. Brei back in 2014 at a female entrepreneurial incubator set up to connect the up-and-coming entrepreneurs with the established owners and CEOs of major companies. I was soaking up the experience while pouring drinks for guests. Dr. Brei was the only person at that event that spoke to me like I was part of it rather than just the bartender. That experience shows just who Elena Brei is; kind, genuine, and of course has this natural glow about her that only makes you want to ask what her secret is. You will be in awe of her and the knowledge she has about your skin. Most importantly, she possesses this effortless reflex to want to help those around her.
My skin at that current state? Awful. I was using harsh products that were supposed to annihilate the blotchy complexion that I covered up with pore-clogging makeup, and it was doing more harm than good. With open arms, Dr. Brei told me, "we can do something about that" and from there, my NuVsio journey began, with an innovative suite of products and the guidance of none other than the founder herself.  
In the words of Dr. Brei, "NuVsio is all about nurturing and supporting the natural function of the skin and making sure that the microbiome and those beautiful bacteria that your skin needs to thrive and look radiant are doing what they are supposed to do".
THE PRODUCTS
First and foremost to initially bring your skin back to a healthy balance, the dynamic duo comprised of the Purifying Mineral Mask followed by the Mineral Enriched Balm Concentrate will gently clean your skin on a deep level by removing impurities and rebuilding the skin's microbiome. What's a skin microbiome, you ask? It is an ecosystem of millions of microorganisms that live on skin and determine its health and appearance. You do not want to strip that away. Instead, you want to create the right conditions for these protective microorganisms to thrive. Therefore, with this dynamic duo plus eating lots of fiber and avoiding harsh cleansers and antibiotics, you are essentially preventing skin inflammation, dehydration, irritation and accelerated aging because you are protecting your skin. I like to pair the Balm Concentrate with NuVsio's Mineral Enriched Eye Balm to nurture the more sensitive areas of your face, especially in the colder months for added hydration.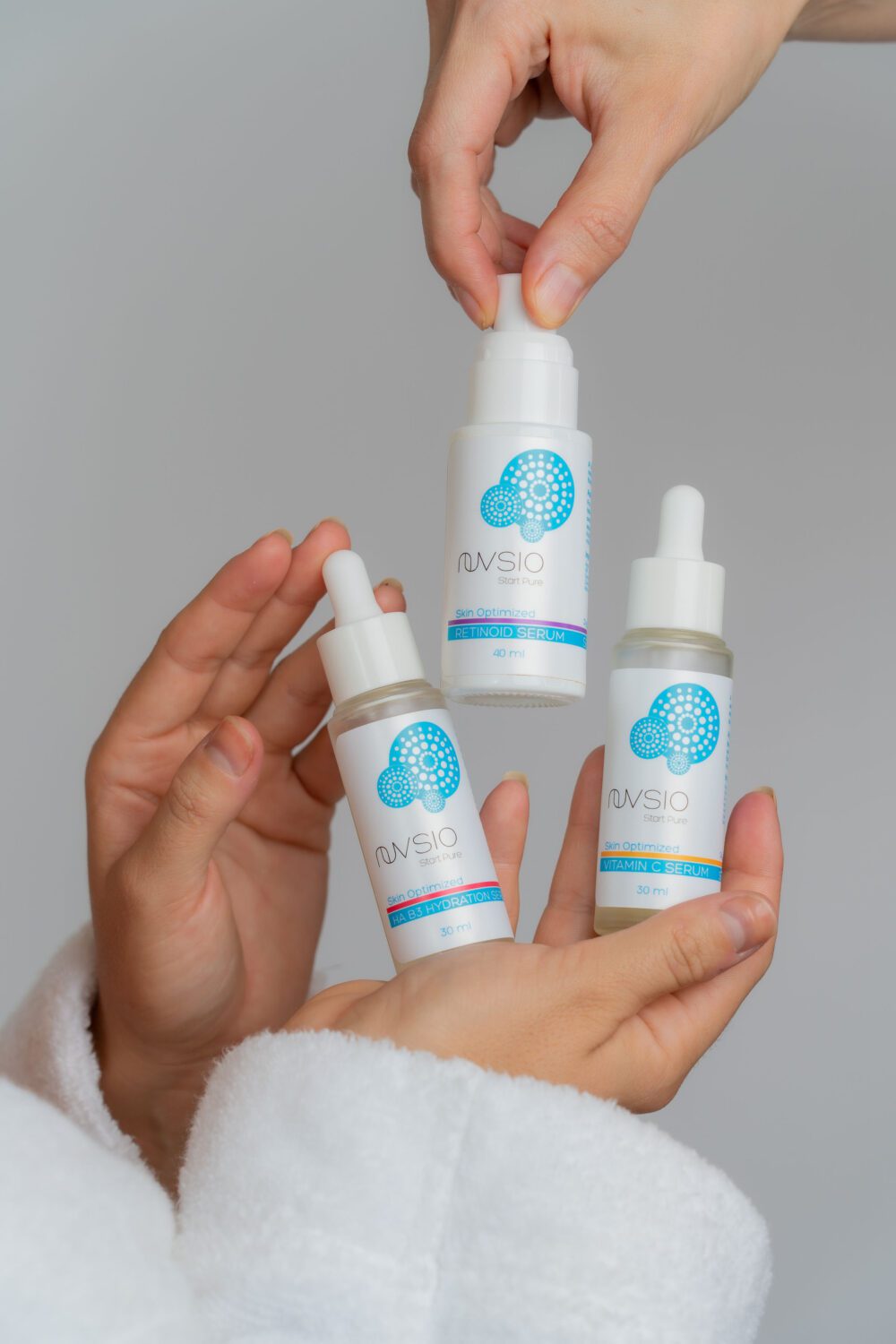 It is super important to detoxify the skin first. Purifying the skin cleans out the toxins that are embedded in the skin and helps you build the base of your healthy skin journey. Once you have a few weeks of the essentials, you can introduce the Rockstar serums Dr. Brei has concocted over years in the lab. Her high potency Super ABC Serums include the Skin Optimized Retinoid Serum (Night), Skin Optimized HA B3 Hydration Serum (Night & Day), and my personal favourite, the Skin Optimized Vitamin C Serum (Day). 
NuVsio is like a spa experience you get to do for yourself every day. One of my favourite products is the Skin Optimized Cleansing Oil, as it does an incredible job taking off my makeup and leaving my skin baby bum soft! I increase my use of the Oil in the winter and use it on a nightly basis to keep my face protected, supported and silky smooth. 
Worried about what to use when? Dr. Brei anticipates the needs of her clients by providing a step by step how-to guide in order to get the very best out of every product. NuvSio also offers Specialty Kits that target the products you need most.
NuVsio Skin Optimized Technology BENEFITS:
Advanced formulas catered to sensitive skin

Helps renew skin plumpness, elasticity, and produces a younger-looking complexion

Strengthens skin's defense mechanism against environmental aggressors

Minimizes the appearance of fine lines and wrinkles

Reduces hyperpigmentation, boosts collagen synthesis, & corrects skin tone
Dr. Brei has also recently released the I-O Advanced Nutrition powder, focusing on the importance of gut health which directly impacts the skin's microbiome. "It is a scientifically crafted blend of select natural fibers, organic complexes, vitamins, and minerals that detoxify, cleanse, stimulate, and optimize overall gut and body health." Think of it as your smoothie additive with all the goodness you need to promote excellent gut health. 
THE BACKSTORY & SCIENCE BEHIND NUVSIO:
There is no greater inspiring female empowerment story than that of NuVsio founder, Dr. Elena Brei who has a PhD in Chemical Engineering and Applied Chemistry from the University of Toronto, which came in handy as she developed the unique skincare formula herself. Her endeavors as a PhD researcher in water technology at the University of Toronto allowed her to work hands-on with multiple minerals and conduct microbiome research for water purification, which then spilled over into a personal passion of purifying skin.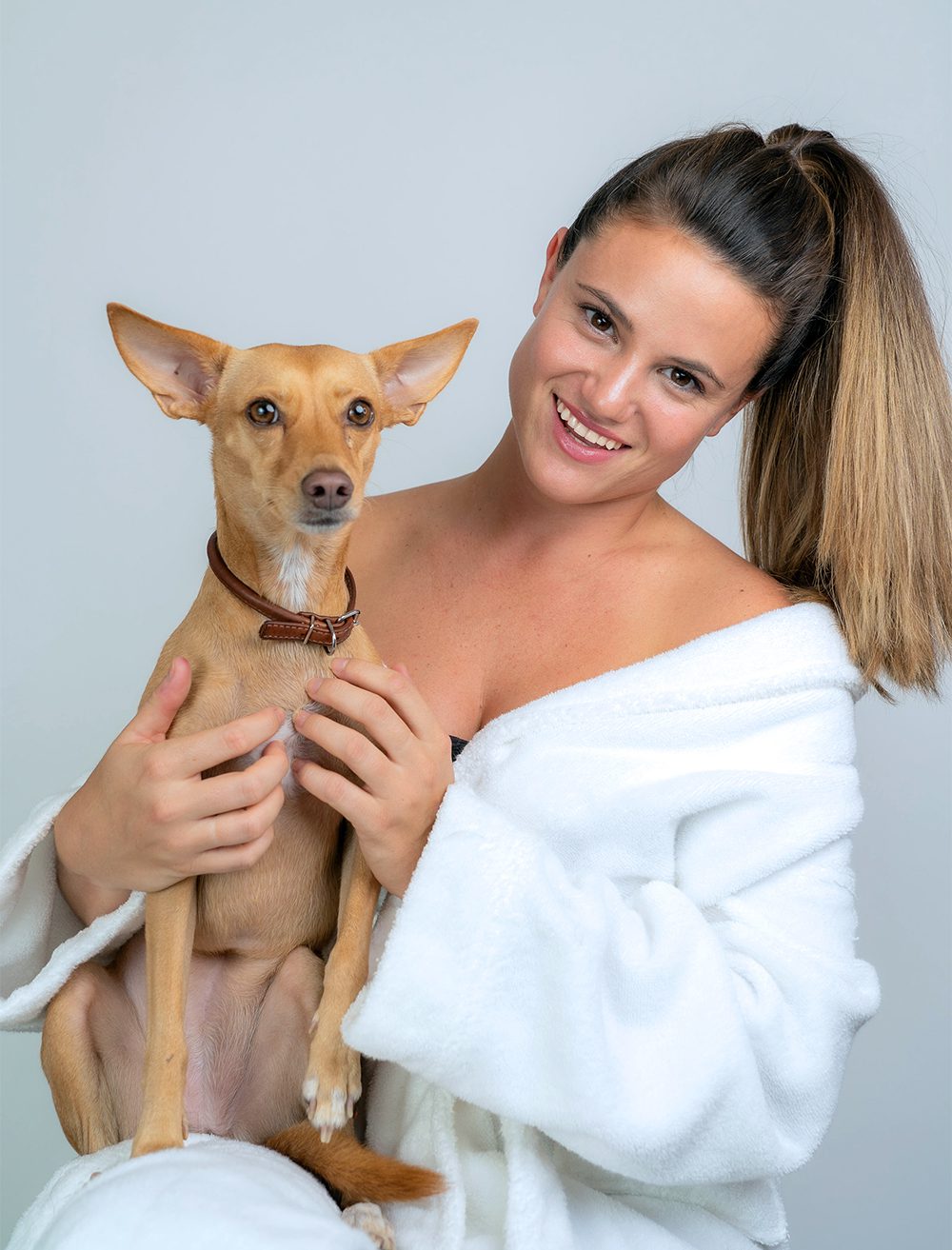 Working hard in the labs 11 year ago with over 20 years of research, Dr. Brei developed the life-changing NuVsio formulas. Her idea was to first solve the problem of her own skincare struggles and when you see her face now, she is living proof that NuVsio does wonders for your skin all while focusing on a deeper clean for a healthier microbiome. She then embarked on a mission to help others achieve great skin by healing it. Her PETA certified technology supports skin's microbiome. NuVsio products are packaged using recyclable material and are proudly cruelty free, as promoted by myself and my sweet pup, Cookie at the last NuVsio photoshoot.
When you follow @dr_brei_nuvsio on Instagram, you not only hear about all the wonderful NuVsio benefits, but you also get tips, tricks, and a true education on how to help your skin when combining NuVsio with other products you are currently using. The line is also in over 20 spas around the world and makes it a priority to regularly visit each location to ensure protocol is met with each facial treatment. 

Now 8 years after first starting to use NuVsio products, I am thrilled to share that my skin is healthier than ever. My face couldn't feel(and look) happier. We often wear makeup to hide blemishes and boost our self esteem, but having a  healthy complexion is the best and most natural way to feel your most confident. I could go on and on about NuVsio, but I will end by saying, TRY IT. Your skin will immediately start feeling the wonderful effects. Need more reassurance? Check out what fans of the product have to say on the NuVsio website and just indulge in the glowing reviews (pun-intended)!

Start Now and start Pure with NuVsio, and use code NUVSIOADDICT to get 20% off your NuVsio order.