Meet December's cover star, Scarlett BoBo! As always, our cover feature was shot by celebrity and fashion photographer Lindsay Anne Delaney, ADDICTED's own Fashion Editor.  For the companion interview, we enlisted the talents of ADDICTED's resident drag expert, Marie Nicola.  Marie is Canada's premiere pop culture historian, the culturally curious co-host of the Canadian edu-tainment podcast Alt.Pop.Repeat and the personality behind @karmacake. 
Listen here:
As Scarlett BoBo, Matty Cameron transforms into a vivacious pop vixen fused with the energy of a Hollywood golden era starlet. Here, in an irreverent conversation with pop-culture historian, podcaster and ADDICTED writer, Marie Nicola, BoBo shows us that she didn't need to win Canada's Drag Race to take over the world!
"We talked a lot about pee…"
Marie wrote in a text message to Nadia, the editor-in-chief of ADDICTED. It perfectly summed how after weeks of research and preparation, there was no way there was going to be anything conventional about this profile on ADDICTED cover star, drag queen, Scarlett BoBo.
Fans of drag will know Scarlett BoBo. She is the deliciously devilish brainchild of Matty Cameron, a passionate multidisciplinary artist who rose to prominence on Canada's Drag Race, the Canadian spinoff of RuPaul's Drag Race – the show that brought the world of drag out of the shadows of the underground to the spotlight of prime time.
While the art form is synonymous with female impersonation, BoBo and Marie discussed how drag has evolved and the conversations around diversity within the scene. Undeniably, drag is ubiquitous to 21st century pop culture as much as its association with RuPaul. In fact, the Drag Race franchise has around 16 spinoffs, over 10 of which are international competitions, including BoBo's season of Canada's Drag Race where she made it to the top 3 finalists, beating out some of Canada's biggest names in drag for the spot.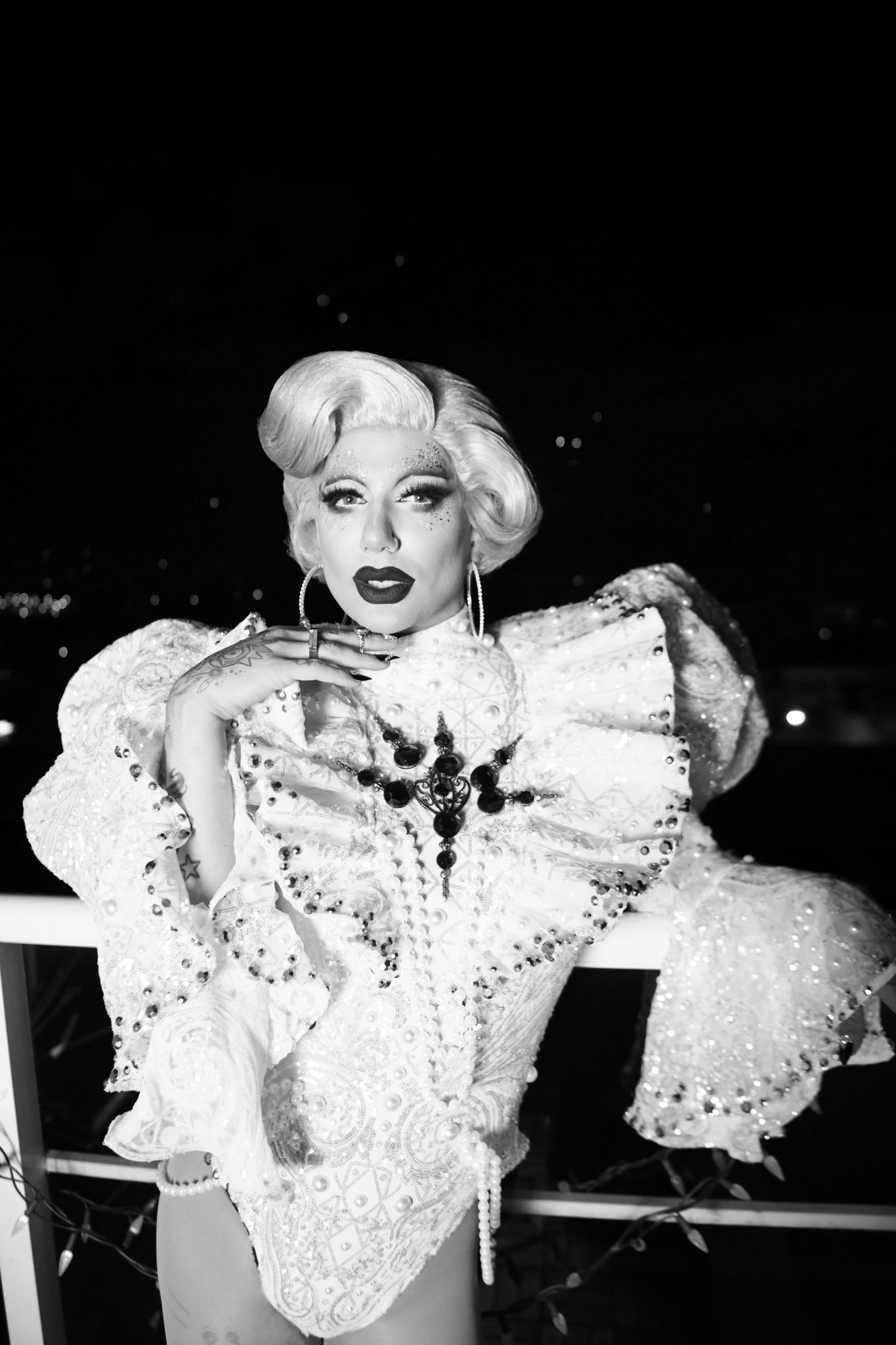 However, Canada's Drag Race was only the beginning. It was the platform that launched Scarlett BoBo from the status of a local queen to a full time star who is slaying audiences around the world with her talents in the art of aerial silks (an art that took her just a year to master!), fire swallowing and other circus-like acts.  Being a drag queen is no longer about just "looking good in a dress"; it includes a full suite of talents, including her latest endeavour in the world of music.
BoBo continues to shine from beyond the world of entertainment through her other passion, activism and social outreach.  Among many endeavours, BoBo is the founder of Absolut Empires Ball, Canada's first fully inclusive Drag Competition.  BoBo is also an Ambassador for Rainbow Railroad, an organization that supports the journeys of LGBTQIA refugees around the world to safer places, for whom BoBo has raised over $120,000 in funding.
In an effort to avoid all the conventional questions, and get to the experience of being a "RuGirl" (A term exclusive to drag queens who have previously competed on Drag Race), the conversation evolved from tucks to travel and even BoBo's very revealing, Twitter. In fact, it's not just the topics of conversation that make this cover feature unconventional, it's also a rare multi-media homage to one of Canada's top drag performers.  With stunning images captured in the peak of the global COVID-19 pandemic, on location in Vancouver, British Columbia by ADDICTED's Fashion Editor & creative director, Lindsay Anne Delaney, and the written profile and an intimate podcast interview with Marie, this feature is truly fit for a queen.
Listen to the interview with Scarlett BoBo and Marie Nicola below:
We can't wait to see what BoBo gets up to as her career continues to thrive.  International fans can look forward to Scarlett BoBo's new One woman show in Mexico, featuring all ALL P!NK performances that BoBo hints will be more "circus heavy", as well as appearances in Europe and the UK in the next few months.
Keep up with Scarlett BoBo through her social media channels below, and save and stream her single "Daddy's Girl" on all major music platforms now, with an outrageous music video coming out soon.
https://www.instagram.com/itsscarlettBoBo
https://twitter.com/ItsScarlettBoBo
https://orcd.co/callmedaddysgirl
Credits:
Cover Talent: Scarlett BoBo @itsscarlettbobo 
Cover dress RVNG Couture  @rvng.couture  @jordanstewartrvng 
AR QR Code 3D art work TSC Printing & Graphix  @official_tsc_gallery
Scan this QR code to experience this cover in AR!