I've worn glasses since I was a teenager, when my teacher thought I wasn't paying attention in math class becase I struggled to see the blackboard from the back of the room.  As it turned out, that was part of the issue.
Now, at age 41, it's not just the world in the distance that's a blur for me, but those things in the foreground as well.  I first realized my "up close" vision was degrading partway through the pandemic.  Increased screen time, increased indoor time, increased doom scrolling time; it all contributed to my eyes, and my age's, betrayal.  When we finally crawled our way out of lockdown, I found myself squinting when my friends showed me their tinder matching, and asking bartenders for cocktail recommendations because I was straining to read the menu.
I knew my eyes needed help, but I dreaded the thought of wireframed bifocals, those harsh lined lenses whose purposeful bisected lens feel like crossing a threshold to old age that I can't come back from.  But I knew I couldn't squint and strain forever, so I made an appointment with my Optometrist, who confirmed that a dual prescription was part of my future.  And so I started exploring the latest in eye fashion, technology and innovation.
I discovered that there are a number of online and IRL options when it comes to finding stylish and fashionable eyeglasses, but Bonlook stood apart from the rest. A Canadian eyewear boutique, Bonlook was founded in 2011 by Sophie Boulanger and her brother Louis-Félix.  At first Bonlook operated exclusively online in the U.S. and English speaking Canada.  Now, Bonlook has 35 boutiques along with their innovative and interactive online shop.  They've also collaborated with some notable Canadians, like Olympian Tessa Virtue.  And coolest of all, Bonlook makes all their own frames, making the styles that much more exclusive and unique.
I loved that it was now possible to shop online for eyeglasses, since I already love shopping online for just about everything.  But, since I wasn't sure what kind of lenses and glasses would tackle my newfound vision needs, this time arond I thought an in-store experience guided by an expert would be the best move.  It was incredibly simple and convenient it was to book an appointment with an optician online right from the Bonlook website.  I just had to choose the location most convenient to me, and a few clicks later I was booked for the very next day.
My appointment was at the Fairview Mall location in Toronto, and was just as easy-breezy as the online booking process.  The optician Kathy was ready and waiting for me, with my pre-sent prescription pulled up and her measuring tools disinfected and ready to go.  After discussing both my prescription and personal style, it turned out that progressives were the answer. Progressive lenses have three vision zones: distance, intermediate and near, helping the wearer see everything around them, from up close to far away.  After explaining how progressive lenses work, Kathy helpfully guided me to a style that both worked for my face shape and style, and would allow me to get the most out of my new progressive lenses. I had a wonderful time trying on various styles of glasses, from round to cat eye to rectangle, in plastics and metallics, in blacks and greys and pastels.  Seriously, glasses are an incredibly underrated accessory/assistive device.
After I had my fun and made my final selection, Kathy took various measurements including my pupillary distance (the space between the pupils of the eyes).  From there, she put my order through and Bonlook began making my brand new glasses.  And, since it was my first time using progressive lenses the optician advised that I pick my glasses up in person, so she could teach me about how the lenses worked in real life.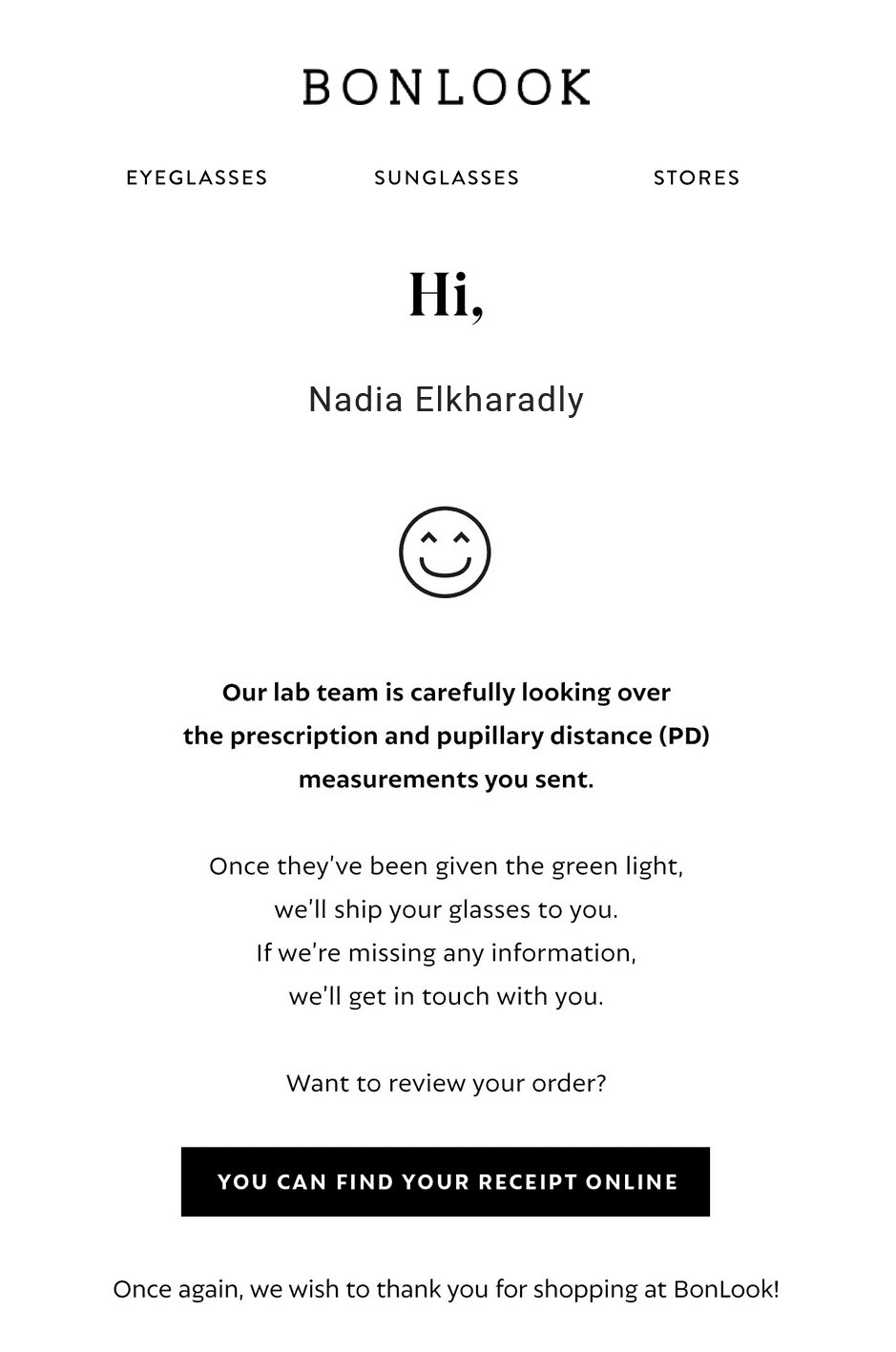 It took just over a week for my glasses order to be fulfilled, and Bonlook sent cheerful and informative emails every step of the way.  When they emailed me to say my glasses w\ere ready, I went back to the Bonlook website to book my pickup appointment, and was able to score an appointment for the next day.  The optician showed me the 3 prescription "zones" that make up the progressive lenses, showing me how they shoot sit on my face to get the optimal use of the prescription.
It's definitely been a bit of an adjustment, but that's part of aging, right?  And the best part is, I get to wear these super cute glasses while doing it!
You can check out Bonlook's new Spring styles, like the beautiful Prismatic Metal collection.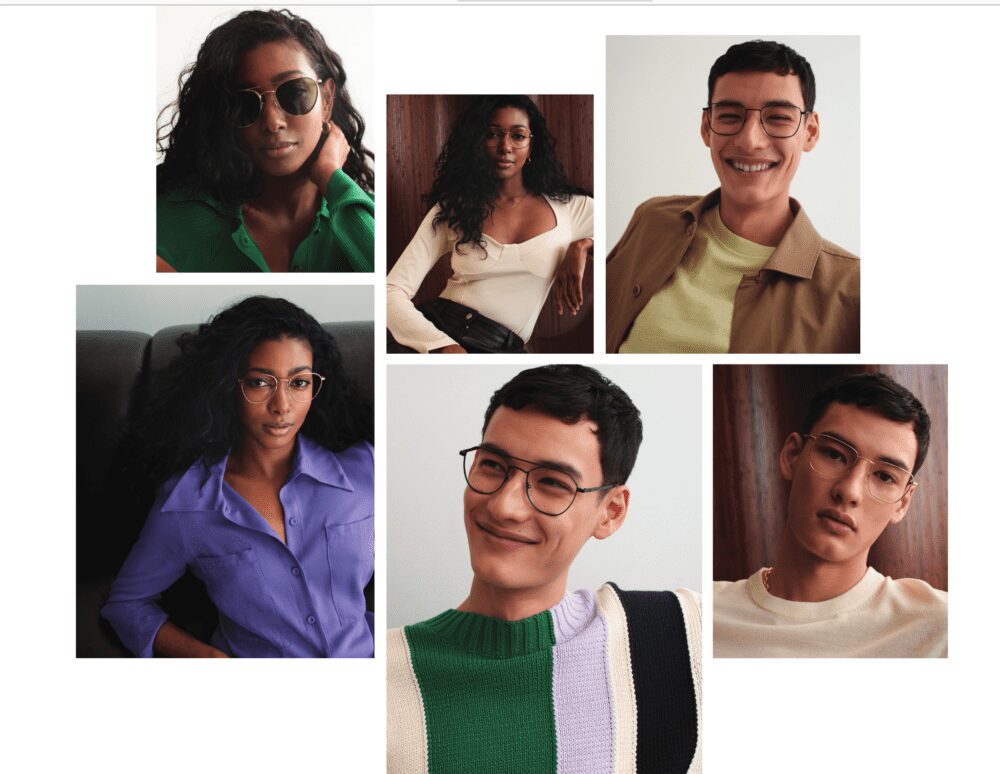 I had such a fantastic eyeglasses experience at Bonlook that I wanted to not only write about it, but share it as well.  To that end, ADDICTED and Bonlook have come together to give away a pair of custom Bonlook prescription glasses, complete with in-store or online styling and shopping experience.  Simply enter below for your chance to win!
*Winner must be a resident of Canada outside of Quebec. The winner can go in store and meet with a stylist or order online.  Bonlook recommends that the winner has an up to date prescription from an optometrist though i.e. within the last two years.