Christmas is here so heat-up the oven and let these three Canadian home bakers get you all set with some easy recipes that anyone can make.
Their inspiration for these recipes comes from the all-new Arla Cream Cheese.  Be prepared to taste the difference!  Swap it in for any recipe where you typically use cream cheese and you can thank us later!
Made with only four ingredients, Arla is the cleanest and creamiest cream cheese you will try…. you'll even see the drop of water when you open the package showcasing how fresh it is.  But how does it taste you ask?  The taste is everything and it's superior to anything we've tried.  Here are three recipes that showcase this stunning cream cheese that our crowd pleasers (and by crowd, we mean gatherings of less than 10 of course.)
Cheesecake in a Jar!
@JaimeDamak crafted this recipe for ease of gifting as it travels so well!  Simply decorate some mason jars, layer in the ingredients and you're all set.  For an added bonus, she created some savoury cheesecake appetizer balls and mini cheesecake bites with full recipes available on her Instagram page.!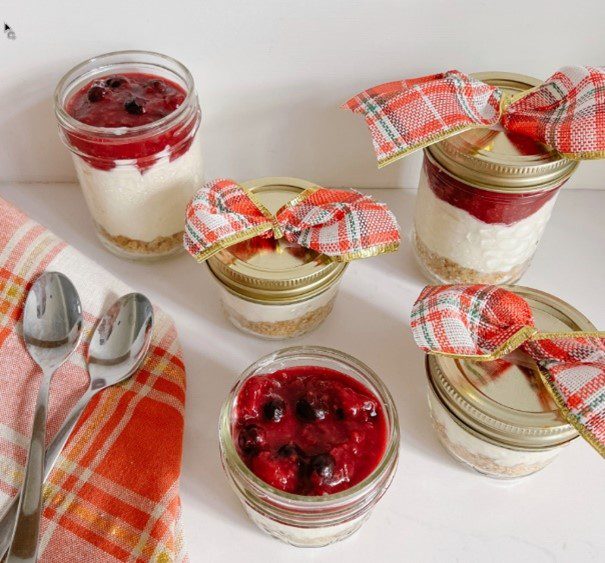 Recipe:
I package Arla Cream Cheese (200G) (Can use Arla Lactose-Free Cream Cheese Too)
1 cup of whipping cream
½ cup of sugar
1 teaspoon of vanilla
2 cups of mixed fruit
1 tablespoon maple syrup
1 teaspoon of flour mixed with 2 tablespoons of water
Graham cracker cookies crushed (for crumbs – about 10 cookies)
Whip the cream. Set aside. Whip cream cheese, sugar and vanilla for 2 minutes. Once the mixture is soft, creamy and airy, fold in whipped cream. Set aside. In a saucepan, cook 2 cups of mixed fruit until sauce is formed. Add maple syrup, then add flour mixture. Thicken to desired thickness. In a glass jar, add 1 to 2 tablespoons for Graham crackers, 2-3 tablespoons of cream cheese filling and top with fruit sauce.
Gingerbread Dip
@Listen2Lena figured out how to create Christmas in a bowl with this cream cheese gingerbread dip that has fruit, cookies, pretzels and empty spoons diving in!  A must try this holiday season as it's beloved by both kids and adults!  This features the Lactose free Arla option, but if dairy isn't an issue, you can choose the Original.  And for a classic cheesecake with some festive inspiration, check out her rosemary and candied cranberry cheesecake or her mini blueberry cheesecakes.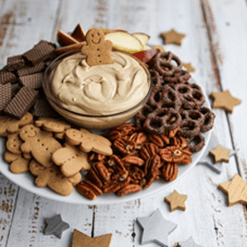 Gingerbread Dip
1 package Arla Lactose-Free Cream Cheese, softened (or Original)
1/4 cup powdered sugar
1/4 cup brown sugar
2 tbsp fancy molasses
1/2 tsp ground ginger
1/2 tsp ground cinnamon
1/4 tsp ground nutmeg
1/2 cup whipped topping
Be sure to have cookies, wafers, nuts and fresh fruit on hand for serving
With a hand mixer, beat the Arla Lactose Free Cream Cheese until smooth, about one minute. Add the powdered sugar, brown sugar, fancy molasses and spices; mix until well combined. Fold in the whipped topping. Transfer dip to a serving bowl and keep refrigerated until ready to serve. Serve with cookies, wafers nuts, pecan halves and fresh fruit.
Egg Nog Cheesecake Cups
@WakeUpandKale knows mini-sized bites are always more fun during the holidays so she dressed up the classic cheesecake recipe with options for toppings and mix-ins that has the young and old smiling ear-to ear.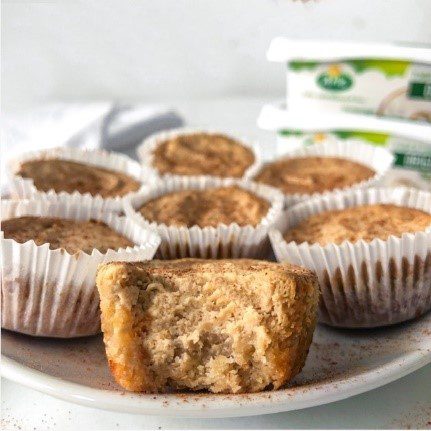 Crust
1c almond flour
3/4c oats
1/4c melted coconut oil
2tbsp maple syrup
Filling
10oz Arla cream cheese*
3/4c greek yoghurt
1tsp vanilla
2tsp lemon juice
1/2c coconut sugar
2tbsp almond flour
2tsp cornstarch
Method:
*Let cream cheese come to room temperature
Preheat oven to 350F and line a muffin tin with liners
For the crust: combine all ingredients in a high-speed food processor until a coarse texture forms. Press into bottom of each muffin tin
For the filling: add all ingredients to a food processor and pulse until smooth and creamy, scraping down sides occasionally. Distribute among muffin cups, filling each 2/3 full
Bake 23-25 mins. Remove from oven and let cheesecakes cool completely. Then place in the fridge to firm up overnight and enjoy!
Flavour variations:
Raspberry swirl – swirl 1tsp raspberry jam on top of filling
Eggnog – replace 1/2 the greek yogurt with eggnog and add 1tsp nutmeg to filling. Garnish with cinnamon
Dolce de Leche – combine 2 tbsp almond butter with 1 tbsp maple syrup and 2 tsp melted coconut oil. Swirl over top of each cheesecake cup before baking
For more information on Arla Cream Cheese visit www.ArlaFoods.ca