For those of you who don't know (don't worry, I won't hold it against you), I adopted a foster dog named Mantar earlier this year, aka Manny.
Now while I grew up with dogs and cats, it's been years since I've taken care of an animal or been inside of a pet food store, that is until January when Manny became part of my family. Since then, I've been a regular customer at my local pet food shop.
Like many pet owners, my furry friend has brought so much to my life already. I want to make sure I take care of him and give him the attention, toys, and food he loves and needs.
Now while I know some dogs are picky, Manny isn't one of them, but you can tell from his level of excitement before, during and after if he likes, loves, or is obsessed with the food, and that, along with nutrition, has been my guide in finding what he loves most.
Now he's tried a slew of food, but in this review, I wanted to focus on some dry kibble and some wet food that he not only enjoyed but offer the nutrition an active dog needs.
This time around, we TESTED: Go-Solutions Dog food.
The team at Go-Solutions create recipes that nourish pets from the inside out, covering everything from skin + coat health to limited ingredient recipes for food sensitivities and recipes packed with meat protein for pets with high energy needs. Each recipe provides solutions pet parents need.
Go-Solutions also continually support pets in need through rescues, shelters and food banks. In 2020, they donated 487,977 GO! SOLUTIONS meals to dogs and cats throughout North America.
They do offer great recipes and initiatives, but what about the food?  Well, Go-Solutions provide a wide selection of both dry kibble and wet food, so we thought we would put a selection of their food to the test.
We had Manny test the food over 30 days and followed his reactions, energy levels, and how he was on walks, if you know what I mean. He enjoyed it across the board, and because we gave some meals of just kibble, some just wet and others a mix of the two, he loved that variance of the meals.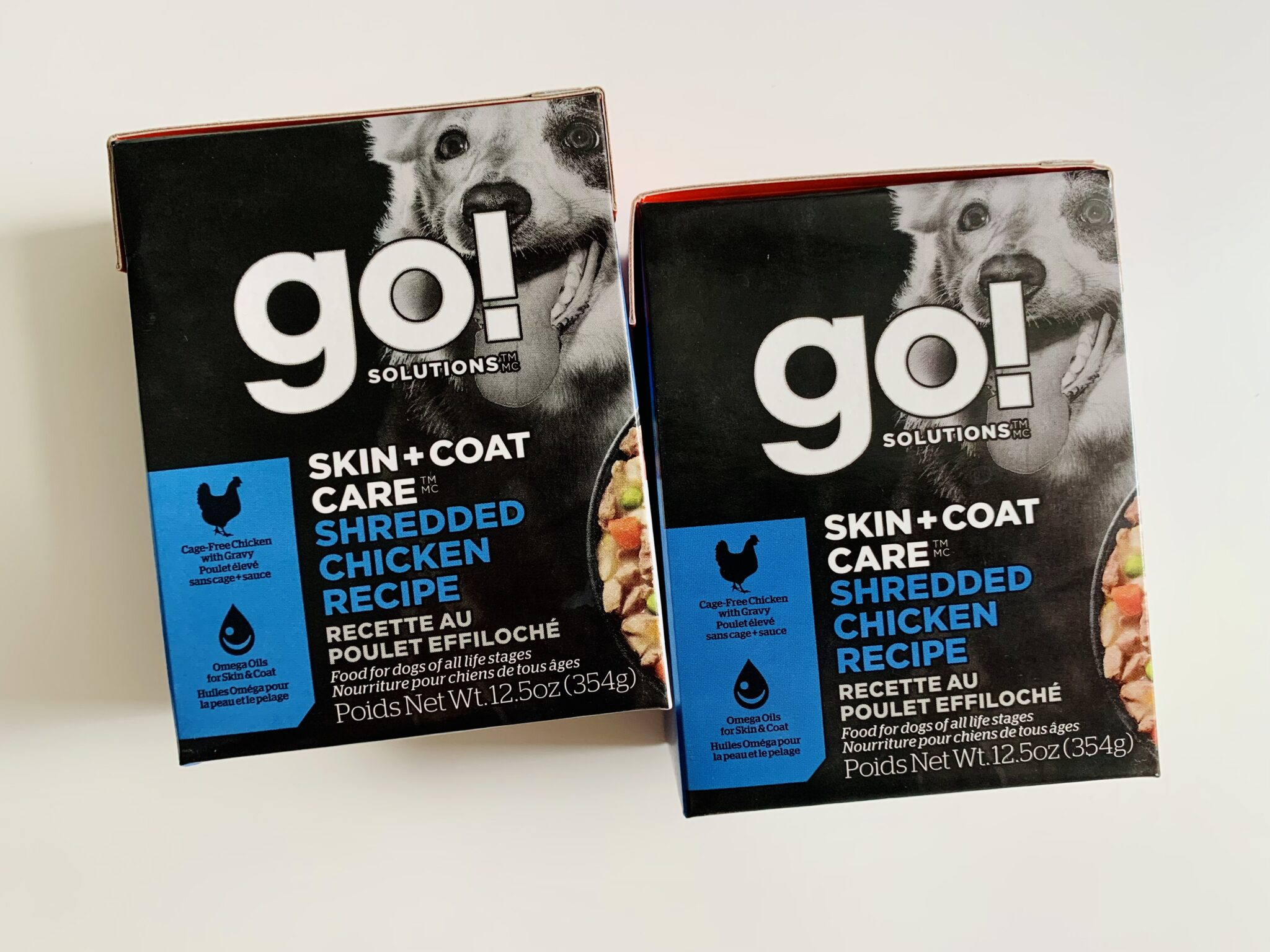 That being said, Manny had a clear favourite for both. For dry, he was rather addicted to the Skin + Coat Care, Lamb with Grains, and the wet, he devoured the Wet Shredded Chicken Recipe, and while that's not the only factor to consider when choosing food for your pet, it sure does help.
On top of that, his coat is shiny and lush, Manny seems full of energy and constant excitement (that is when he's not sleeping, he's apparently been a napper from the start), and he looks full and happy after he's done his meals. As any pet owner knows, knowing that he loves it and that the meals also offer the nutrition he needs is vital.
Lastly, Go-Solutions products are well priced compared to many options on the market, so keeping your dog happy and fed won't also break the bank. Conveniently Go-Solutions can also be found at your local pet store chain. I picked mine up at my local Pet Smart.
Dog approved, nutritionally sound, and not too hard on the wallet? It is easy to see why our new Go-To is now Go-Solutions dog food.
For more, visit their website today. / Products provided by the brand for review.