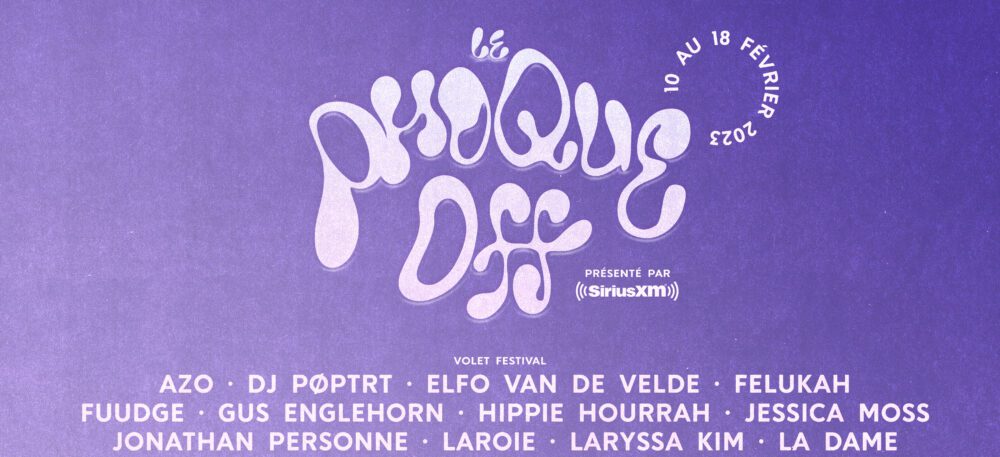 Recognized for its cheeky name, unique artistic showcases, and scenic backdrop of Quebec City, the Le Phoque OFF festival is set to return this month between February 10th – 18th.
Celebrating its 9th season, the event aims to highlight nearly 100 artists from home and abroad; a welcome return from last year's edition which was presented in the Metaverse.
Among the roster of entertainers this year, guests include METZ, The Winston Band, La Patente, Azo, Felukah, Velours Velours, Jessica Moss, and Elfo Van de Velde, to name a few. In keeping the artist line-up intact and eclectic, ADDICTED's Myles Herod spoke with Le Phoque OFF's general director Patrick Labbé (overseer of all artistic programming and technical aspects) about the hurdles and triumphs of bringing back a festival when so many around the world aren't returning.
—
Addicted: Tell me a bit about the origins of the Le Phoque OFF festival.
Patrick Labbé: Le Phoque OFF opened its doors  9 years ago. What began as a one nighter has become a true hub for the emerging alternative scene in Quebec. As an alternative musician myself back in 2015, I thought there was a real lack of opportunities in the province for emerging artists. This absence of favourable occasions for new artists is what drove me and my partner Yanick Capuano to create this unique festival.
What makes Le Phoque OFF unique compared to other festivals out there (both in Canada and internationally)?
Patrick: The Phoque OFF is where you're going to find your next favourite artist way before everyone else. It's a space for music lovers and for the influential actors of the up-and-coming music scene. Just like at SXSW, you'll discover experiences that influence the influencers. The festival kicks off Quebec's cultural calendar every year in February. We pride ourselves on being inclusive and offering a greater diversity of artists. The festival is affordable and that creates a great dynamic between newcomers and professionals. We also have an educational component where the festival hosts conferences and workshops that help support our community.  It fulfills an important social mission by breaking down the barriers between the different alternative cultural actors and the professional isolation that can often be experienced by independent artists. Really, the festival is a catalyst of talent and a real springboard for the career of the artists it supports.
How will this year's version of Le Phoque OFF be different from ones in the past?
Patrick: This is a rebirth of sorts, as we go back to normal after the pandemic. Our two last editions of the festival were virtual, so you can imagine that we are extremely excited to get artists back into real venues, in front of real people. It's the first year that we have 5 consecutive concert days on top of our conferences, thanks to our main sponsor SiriusXM. That's why this year you can expect an amazing line-up of national and international artists like METZ, Fernie, Felukah and a festival team that is eager to give you the best festival experience ever. The fact is, a festival in the middle of winter in beautiful Quebec City is an experience in itself!
Have you gotten a sense of how residents of Quebec City feel about Le Phoque OFF? Are they excited?
Patrick: We like to think they are! Honestly, the festival has grown exponentially in the last four years and we believe that the local community is buzzing with anticipation at seeing what new artists we will present. We think people are more than ready to go back and see live shows. The local music and university communities as well as local merchants are heavily involved in the event this year and I'm sure the residents and tourists will join the party!
In your estimation, what will be some standout acts at Le Phoque OFF 2023?
Patrick: There are so many! METZ will definitely knock it out of the ballpark. Apart from that, there's the return of local well known alternative artists such as Fuudge and Milanku. Felukah and Fernie won't disappoint either, nor will any of the other showcases we have lined-up. We like to encourage people to discover something new.
What's your outlook for next year's festival in 2024?
Next year will be our 10th anniversary! We are extremely excited about that and have already strategically planned an even more unique and electric event!