Although we can assume that women have been a part of winemaking from the beginning, they didn't have considerable power in wine for such a long time. Not to mention living in a world of sexism that was not void of spreading into the end of wine. Women have been through it all in wine, from the belief that a women's monthly period would affect the final wine if she were present during the winemaking process to not gaining ownership in a meaningful way for most of winemaking history. However, there have always been women that pushed buttons and moved the needle for all of us. Powerful women emerged, and now more women are making wine, owning wineries and a part of the wine industry than ever!
With all the fantastic women in wine today, the industry is moving toward a future where women will be ubiquitous to the point of dropping the prefix altogether. In honour of International Women's Day, here are some stories of women in wine that have paved the way for generations today.
In Ontario with Magnotta Winery and Rossana Magnotta
Magnotta is one of the OG wineries in Ontario. Started over 30 years ago at the beginning of the modern era of Ontario winemaking. The story of Magnotta starts with Rossana Magnotta and her husband, Gabe Magnotta. From the start, she became the face of the winery and the person behind the branding of Magnotta, as well as bringing a food science background to the business.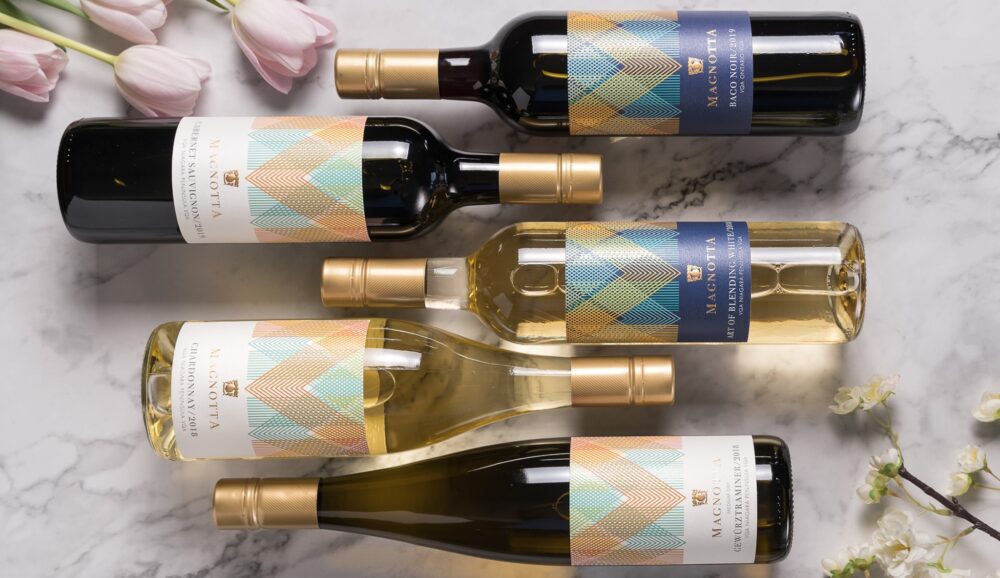 Rossana has continued to bring to life the dream of wine she and her late husband had, expanding and growing the business to arguably the largest woman-owned winery in Ontario. Rosanna has accomplished a lot in wine, but a good portion of that success came after the untimely passing of her husband nearly 15 years ago from Lyme disease complications. Three years later, she started the G. Magnotta Foundation for Vector-Borne Diseases to research a cure and created the Venture series wines. There are nearly 20 wines in the line, in which 0.50 cents from every bottle in the series goes to the G. Magnotta Foundation in support of Lyme Disease Research, a cause that is near and dear to Rossana's heart. But there is more than this. The winery's Limited Edition and Gran Riserva lines also don various artwork from growing and established artists. Magnotta is a winery that has been able to accomplish a lot of firsts. From its start with Rossana and Gabe, the wife and husband team, to now, there is no stop in sight to what Rossana and Magnotta will do next.
In the Spanish DO Rueda with Bodega Pandora and Winemaker Rosa Zarza Gil
The Spanish winemaking region of DO Rueda has an abundance of women winemakers. There are 78 wineries in the region, and 30 of them have women winemakers behind their wines. For the region as a whole that is 40% of all the wines made in the DO Rueda are woman-made! A remarkable statistic in wine and a rare one to find at that. Met with the wonder and amazement of why so many women are making wine in Rueda. If you have heard the phrase if you raise up one woman, you raise them all. This is a verbal embodiment of DO Rueda to a tee. Wineries have been passed down to children here, many of which are women. Followed by wineries seeing the fantastic job of women winemakers and continuing to employ them, resulting in more women in positions of power to keep women in the winemaking conversation.

One of the wineries that have become a jewel in Rueda winemaking is Bodgega Pandora. The woman behind the brand is Rosa Zarza Gil. She has been a prolific winemaker around the northwest wine regions of Spain, but Bodegas Pandora is and continues to be her chance to show winemaking from her perspective. Drawn to the area by its unique soil types, sunny days and vibrant native grape Verdejo Rosa puts into action her winemaking style that she has honed in red winemaking. Resulting in wines that are weighted, powerful and rich in aromas that continue to pull you into the glass.
In South Africa with Aslina Wines and Ntsiki Biyela
The South African wine industry has seen a good handful of women that have made a splash in the local wine industry. Women in this part of the winemaking world have preserved old vineyards, started winemaking collectives, have been the first in the country within our lifetime and have lifted up those around them. Aslina Wines and the winemaker/owner behind it, Ntsiki Biyela, has a unique story that led her to become the first black women winemaker in South Africa.
From a rural village in KwaZulu-Natal province in eastern South Africa, Ntsiki got to study at Stellenbosch university for winemaking on scholarship back in the 90s. Since then, she has worked on California and Tuscan winemaking projects after gaining the 'first of' title 18 years ago. But her work has shone brightest in her winery, Aslina Wines. The winery is named after her grandmother and is the venue where Ntsiki has been able to craft memorable Chenin and Sauvignon Blancs and delightfully bold red wines with Bordeaux grapes. She is truly someone that has accomplished her dream but has kept going. Lifting up more people along the way with her work in the industry and as a part of the Wine Arc. A brand home for black-owned wine brands and entrepreneurs and a symbol of South Africa's wine industry transformation.
In Tuscany with Donatella Cinelli Colombini, Her Wine and Women-Led Projects
If there is one place in the world that instantly draws your mind to thinking about wine, it must be Tuscany. Wines from here have made such a mark on the world, but one Tuscan woman has put women on the map in such a monumental way. Donatella Cinelli Colombini's story in wine is right on the front of her wine bottles. The dove on her Burnello labels represents the groundbreaking symbol of the new beginnings she has started in the region.
Inheriting a winemaking estate from her family, Donatella's winery estate, the Casato Prime Donne, was the first Italian winery staffed entirely by women. Reached international success thanks to the quality of its Brunello. Before all the acclaim for the wine in the glass, this story began when Donatella sought out a new winemaker. When looking to hire for her winery from a local enology school, she was told that a good winemaker was unavailable, but there were many women cellar hands she could employ. Hearing that cast-asideness of the conversation, she started the Prima Donna Project, making excellent wine and forwarding women in the process. Her momentum of giving a platform to women in wine in the Tuscan region also gave way for her to reign as a past president of Donna del Vivo. The utmost women in wine organization in Italy.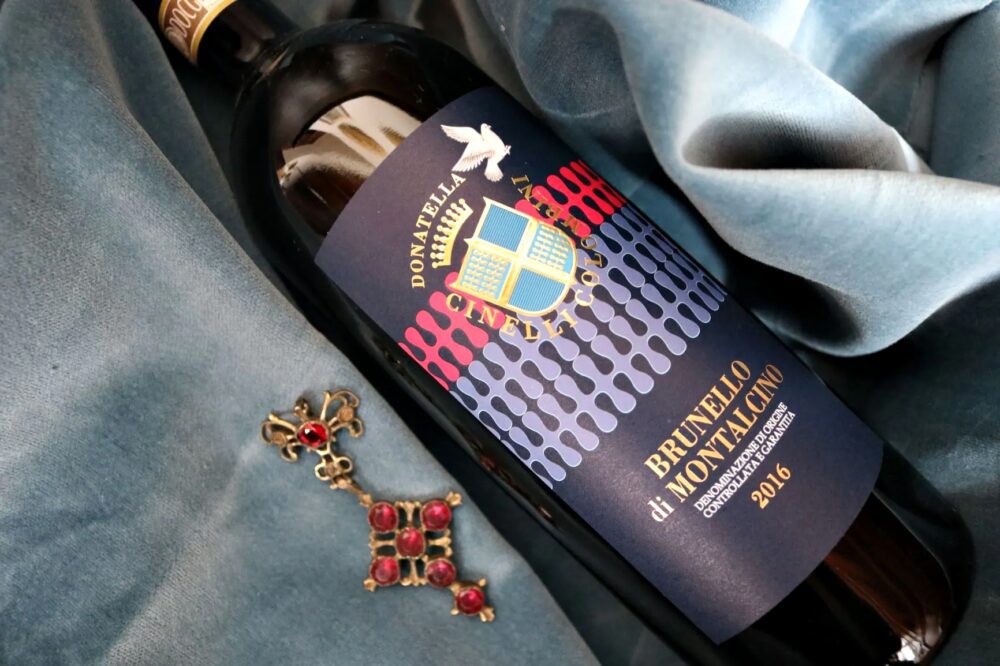 In California with Camins 2 Dreams and Partners Mireia Taribó and Tara Gomez
There are very few LGBTQIA+ stories in wine. While women in the industry have been growing in numbers, a soft trickle of queer folks have joined in the world of all things wine. But some must-know stories are present. One such story is of the winemaking and life partnership of Mireia Taribó and Tara Gomez and their winery Camins 2 Dreams.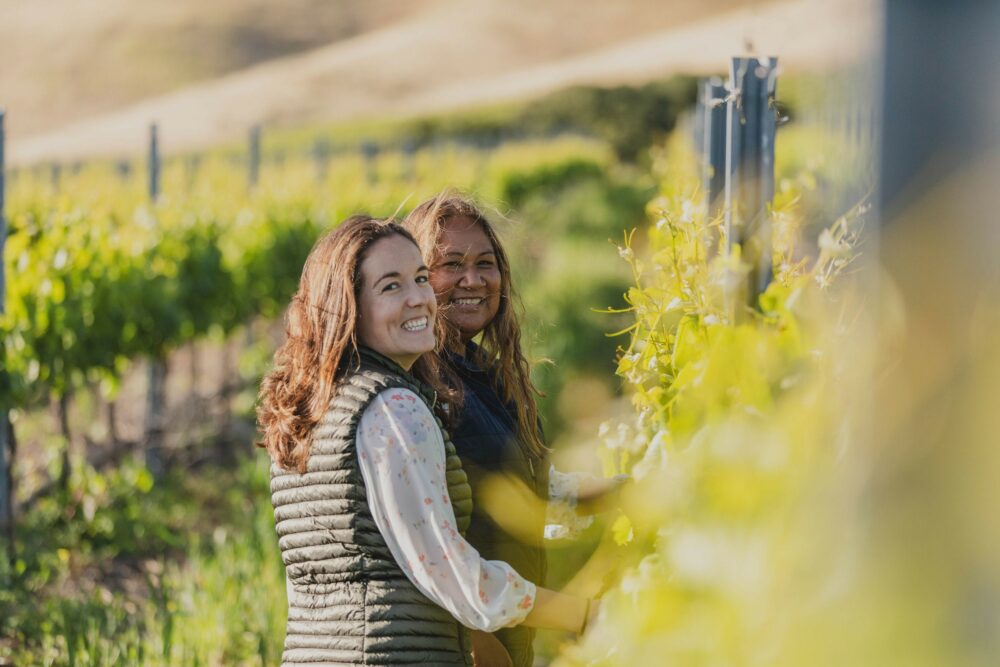 Meaning path to dreams in a combination of Catalan and English, the name of the winery sums up, in short, the life and love of wine both Mireia and Tara have. Meeting more than 15 years ago, these two started their journey with a professional friendship that bloomed into a relationship. Working in wine in different capacities, Mireia and Tara had a long road to working in wine together, but once they started the Camins 2 Dreams project two years ago, they have seen a whirlwind of love for their wines. Mireia and Tara have winemaking styles that come through, and wine made with love can always be tasted and felt in every sip. Crafting pour-worthy wines in Santa Barbara Country, this is not a winery that only makes Pinot Noir and Chardonnay. However, they are making waves with unique grapes and production that include Syrah, Grüner Veltliner, Grenache and more.