This Thursday October 1st, Honey Jam – the Toronto-based non-profit organization and artist development program dedicated to young female artists – will be celebrating its 25th anniversary.
*header photo of I.P. The Poet, one of the Honey Jam performers
Founded by Ebonnie Rowe, Honey Jam is an annual program that offers mentoring, education, performance and networking opportunities for female artists, culminating with a stellar showcase to highlight their growth. Yearly programming includes Honey Jam artists and alumni engaging in workshops, artist talks, songwriting camps, performance and development opportunities, as well as collaborations and travel experiences for the artists to expand their network and fan base outside of Canada.
Honey Jam first welcomed emerging artists to the stage of the now-defunct Ultrasound venue in Toronto's Queen West neighbourhood, for the first Honey Jam concert back in the 1990s. This year, Honey Jam will celebrate mentorship through music at the legendary El Mocambo with an incredible local lineup performing signature covers of songs by iconic artists from around the globe. The show will be taking place via livestream, and will kick off at 8:00 p.m. ET.  Fan can tune in to the free concert here.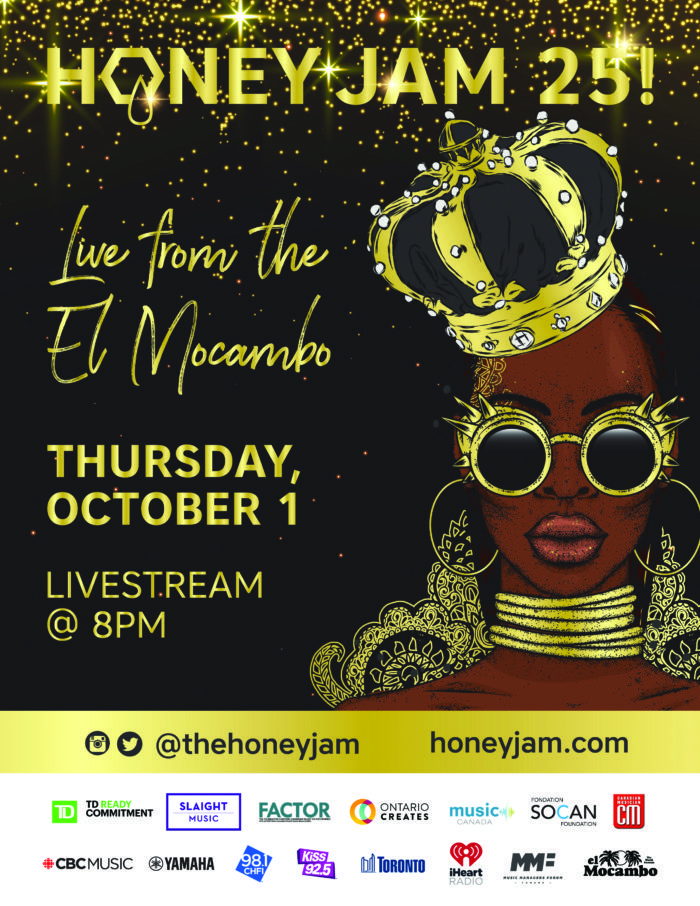 The October 1 concert will be hosted by a recognized and distinguished voice of Canadian Radio, Angeline Tetteh-Wayoe (CBC Music's Weekend Mornings), featuring performances of an array of styles, including Pop, Hip-Hop, Jazz, Gospel, Opera, Country, R&B, Rock, Soul, Dancehall and beyond. Honey Jam alumni and new mentees on the mic will include: Jaclyn Kenyon, Chatta, Nefe, duo Jess and Tay, Elise Mariah, Joy Lapps, Christina Smith, pHoenix Pagliacci, BLUE WILL, Tyra Jutai, Alisa Sakako, Malaika Khadijaa, Kelsey Vaz, Chloe Rabideau, Divine Lightbody, Jäjé, Emily Schultz, Jet Lyse, Rosie Monday, Lola Bunz, and I.P. The Poet. Learn more about the artists through their official bios and photos below.
Just one week prior on September 24,  Ebonnie and Honey Jam received The Roy Thomson Hall Award of Recognition, a prestigious honour by Toronto Arts Foundation. The award  is a $10,000 cash prize presented to an individual, ensemble or organization to recognize creative, performing, administrative, volunteer or philanthropic contributions to Toronto's musical life.
As well, Roots Canada has been a supporter of Honey Jam for many years, and since the two brands align as long-time Canadian traditions.  This year, the two entities will launch a collab to honor Honey Jam's 25th anniversary and curate their September Apple Music playlist. While rocking iconic Roots hoodies, four artists on the concert lineup will be featured in a video medley performing songs they will deliver live at the October 1 celebration, redirecting to an Apple Music playlist featuring 25 songs by Honey Jam artists.  The campaign launched on the Roots Instagram page on September 27.
Roots Canada Director Of Culture, Raymond Perkins, says: "Roots salutes Honey Jam and its leading light, Ebonnie Rowe, for 25 years of supporting and promoting Canada's emerging female artists and encouraging more women to develop careers in the music industry."
In addition, a billboard at downtown Toronto's Yonge-Dundas Square highlighting Honey Jam's 25th  Anniversary and the upcoming concert debuted Monday, September 28.
Says Ebonnie: "If I gave up every time I was faced with a challenge we would never be celebrating this milestone – we wouldn't have even made it one year far less 25!  Getting here is a really big deal so I was determined that we would have a show somehow, some way and we're all super excited to be together in person at the legendary El Mocambo. Their slogan 'Keeping Live Alive!' really resonated.  A Zoom version of Honey Jam is just not the same!"
Check out the lineup here, and for more details on Honey Jam's 25th Anniversary event and how to stream it, click the Facebook event link here:
https://www.facebook.com/events/638335276822415