Canadian winters – aside from being legendary, they really make it hard to express one's personal style between the months of December and March.  Footwear can be especially challenging, especially sidewalks can often resemble skinny, winding skating rinks and wearing anything with less tread than a winter tire can mean taking your life in your hands with every step.
When you find a pair of stylish, comfortable and icy sidewalk conquering winter boots, chances are you'll be wearing them every day until temperatures reach tolerable levels again. I know I am! I'm currently obsessed with the TREDTRAY™ boots from ECCO.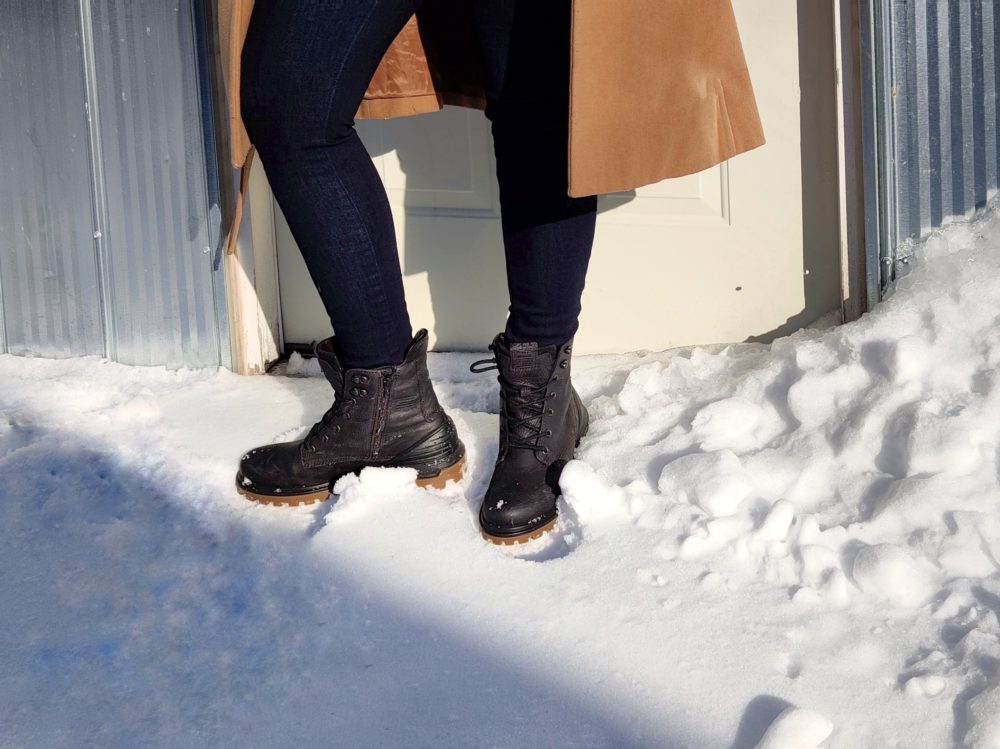 These lace up combat style boots are waterproof and wool lined for the ultimate in winter protection.  They're warm, I can tromp through a mountain of snow and my feet will stay warm and dry, and I'll look great doing it!  As a result, these have clearly become an everyday staple in my life.  Check out my two current favourite ways of styling these fab boots.
Polar Vortex Athleisure
These days we're embrace comfort when it comes to fashion, and I am no exception.  When temperatures drop, I reach for the warmest and plushest clothing I can find, and throw on the puffiest, heaviest parka I have in my closet.  And, of course, I pull on my ECCO boots to keep my feet as warm as the rest of me.  But even if I'm doing my best impression of sleeping bag with legs, I still try to do it in style.  I love a winter coat in a bold colour or fabric, like this wet look number from NOIZE. Bonus, the puffiness powering this coat's warmth actually comes from recycling water bottles.  Trust a company from Montreal to make sustainable fashion this fabulously chic.
Frosty but make it fashion
Frosty but make it fashion
I've always loved a beige or camel coat as an alternative to basic black.  It goes with everything and instantly elevates any outfit, and helps make me feel more stylish even on a cold winter day.  For a more sophisticated winter look, I paired my ECCO lace up boots with skinny jeans from Canadian company Yoga Jeans.  As someone who's been struggling with the transition from comfortable work from home wear back to jeans (or as I call them, hardpants), I call these my gateway jeans; they're as soft as leggings but no one else needs to know that! To bundle up but still look chic, I love layering a black turtleneck over a body suit or tank top, leaving the neck to peek out of the collar of my coat.  The beige tread of the ECCO boots match the camel coat, pulling together the whole look together.  It's nice to stay stylish even when the weather conspires against me.
Feel free to share your winter style with us on Instagram at @weraddictedmag and with me at @thenadiae!