The idea of a fashion watch isn't one that I have pursued too deeply, but, here we go.
I'm not sure if the phrase 'fashion watch' exists as 'jewelry watch' does. In my definition, form far exceeds function to the point of those big and little details watch nerds pour over being relegated down the list of importance. Down to, gulp, the movement not mattering at all. In-house? Outhouse, who cares, is it pretty? But of course, function does matter. If a pretty watch breaks down in a month, it's destined for the bin and no one is happy about making that purchase. So, maybe function equals form, but a third F comes into play for such a watch. Fun. This year's Watches and Wonders revealed some high-end pieces from storied watchmakers that just ooze fun. Take a look at some of the new Rolex Oyster Perpetuals to see how they funned up the brand with…emojis? Check out the Oris Kermit, the F.P. Journe FFC and Parmigiani's new platinum Tonda PF to see more examples of, if not fun, then whimsy. Sure, Richard Mille may seem to own 'quirk', but not exclusively, as six to seven figure exclusive as they may be.
Bringing things to the real and the accessible, fun is the blanket word I use to describe the new collection of watches birthed from Armitron's partnership with Emmy Award-winning costume designer, stylist and creative director, Johnny Wujek. Hollywood Reporter named him one of the Top 25 List of Most Powerful Stylists. He is the creative force, and mastermind behind the looks of many pop idols and artists' including Katy Perry, Mariah Carey, Nicki Minaj, Shakira, Kate Mara, JOJO, Sofi Tukker, and Saweetie, to name a few. What Johnny has done with Armitron is create a collection of watches that scream fun. The collection is comprised of the Aura, featuring a handpainted watercolour dial in lavender and black or seafoam and gold on mesh bracelets. While the bold dials are full of colour, they're also lacking any indices and continue the minimalism with stick hands. Similar but different is the Lunar, again minimalist with solid coloured dials but with bright hands and recessed indices on colourful bracelets. The Lunar colours are purple and a pale almost gold green. The Trilogy comes in chocolate as well as lavender and black or seafoam and gold and features a more standard looking tool dial with a tachymeter bezel and on a link bracelet. The Trilogy 'clocks' in at a chunky 45mm while the similar Atlantis sports a less busy dial but adds a date function. It's a slightly smaller size at 40mm and has a partial jubilee band. However, the watch I was supplied for review was the retro styled Flashback. It was a bit of an odd choice for me, a guy who loves boring old tool watches with black dials. But there was something about this square dialed, analog and digital watch that appealed so deeply to the 80s kid in me. Let's go through the specs.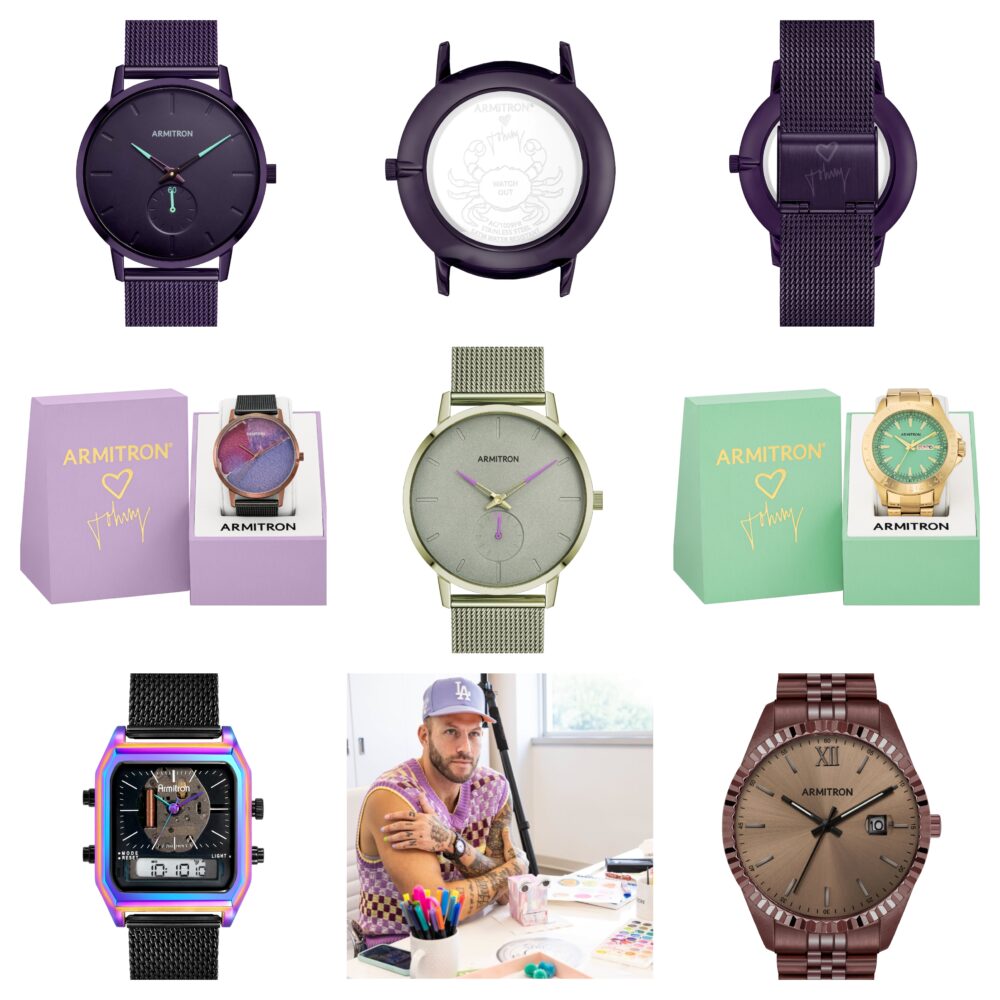 The Flashback has a 39mm blue stainless steel case and bracelet. The lovely pale blue dial shows a smooth plated two-tone that responds to light and angle. The indices are simple sticks as are the second, minute and hour hands. The bottom of the dial features a rounded corner digital display showing time and if you squint, the day. The digital functions are alarm, stopwatch and a light. The light works in an interesting way but making the digital numbers glow. The controls come from one of three buttons on the sides of the case while there is a pull-out crown to set the analog timekeeping. I opened the case and as this is a digital movement, there wasn't much to see or report on. Battery dies, replace battery. In terms of wearability, as I previously stated, I'm still learning to be adventurous when it comes to watch styles and especially dial colour, so an all-blue watch in my collection is a start. The Flashback is one of those gems that really sits in the centre of sport, dress and everyday casual. Like many others in the Armitron ❤︎ Johnny Watch Collection, the Flashback comes in a chocolate and lavender colourway with a chocolate case and bracelet. The one of a kind version is black and iridescent with a very cool transparent dial that shows the movement. This version is on a stainless steel black mesh band.
The dozen watches that comprise the Armitron ❤︎ Johnny Watch Collection, while ugh, there's that word again, are fun, they're more than that. There's a clear vision to the case shapes and dials, the colours and the bracelets. They wear well for different occasions and are sure to catch stares and invite discussion. At truly accessible prices, between $85 and $150 USD, it would be easy to add a pair to brighten up a watch box.