A green dial watch packed with green motivations.
In my short time learning about watches and microbrands, one thing I'm seeing in many younger companies is their commitment to green practices and sustainability. Many take their packaging into consideration by only using FSC papers and eschewing plastics meant for the landfill. Many have partnerships with causes near and dear to their territory. For instance, seeing the correlation between a dive watch and the protection of our oceans doesn't take a lot of imagination to figure out. But more than taking a stand for appearances, consideration for how companies, even a small watch brand with a total staff of 1, deal with their contribution to climate change falls to simple responsibility.
There is one such company that instead of carving out a piece of their business for the planet has flipped the script. Montreal-based Solios seems to put the planet ahead of every other decision they make. In 2018, Samuel Leroux and Alexandre Desabrais launched Solios via Kickstarter, hitting 200% of their funding goal in only 2 hours. With a stated promise of designing and building fine solar watches, they ended up raising over $90,000 from 285 backers, and as they say, the rest is history.
Since that launch, Solios has added to their collection of casual dress watches, not only a variety of dial and strap colours and materials but also partnerships. Solios released a Make A Wish blue dial edition limited to 500 pieces, of which $50 from each sale would benefit the foundation. They sold out and raised $25,000. In addition to compassionate partnerships, Solios is a certified B Corporation. This means that they balance purpose and profit and are legally required to consider the impact of their decisions on their workers, customers, suppliers, community, and the environment.
In terms of the company's commitment to the environment, from the eco vegan leather strap to the certified recycled stainless steel case to the FSC 100% recycled or recyclable paper packaging, every step has been scrutinized. Reading through ALL the environmental impact considerations proves how far Solios will go and work even against their own profit to ensure they're leaving a lighter footprint than arguably any other watch manufacturer. Their eco vegan leather straps are polyurethane and PVC-free and filled with cork. All the stainless steel used in the cases and straps have been certified as recycled. When the company found half-truths and shady practices in the industry, they used independent labs to validate the recycled steel. They also used non-chemical ionic plating to colour the steel of the case and mesh straps. Even the watch pillow in the box is made of all-natural cork instead of foam and synthetic fabric. The entire order that is shipped to customers contains ZERO single-use plastic. This admirable company has put every element of their products and packaging under the sustainability microscope. However, the main sustainable feature of Solios watches is the power source. Opposed to battery power, Solios watches are powered by not just the sun but by any light source. Their solar technology boasts a six-month power reserve after a mere 2 hours of exposure to the sun or artificial light. This practice avoids adding to the estimated 300 million watch batteries replaced every year.
The company's latest partnership with the Rainforest Trust benefits the entire planet. The Rainforest Trust saves endangered wildlife and protects our planet by creating rainforest reserves through partnerships, community engagement and donor support. They received a four-star rating from Charity Navigator because 100% of donations directly fund conservation. Solios created the limited Rainforest Trust edition which will donate 10% of revenue generated, effectively protecting one acre of rainforest per watch sold. They sent me one to review, so it was very fitting to launch this at the start of Earth Month.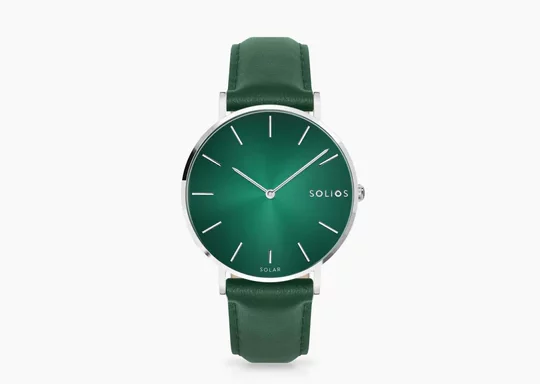 As I do with every watch I review, The Rainforest Green Solios (36mm) lived on my wrist for a week, including two overnights. I do this to determine the comfort of a watch because for me as a light sleeper even a bunched-up sheet can make a night's sleep poor. The feeling of a watch on my wrist as I doze off and slowly awake determines how quick and peaceful each is. I can report that their eco vegan leather strap is very comfortable, especially after breaking and snapping its cork filler.
The green of the strap is a lovely shade, being just saturated enough to be stylish without looking too green. The texture looks leathery and the stitching blends well with the strap. The wrist side lining of the strap is beige. It has two keepers to hold the strap, one fixed near the buckle and another free keeper. It takes a bit of work to loop the strap into the first but as the cork further breaks down I'm sure this will become easier. There are a variety of straps available in metal and SiLeather. The eco-leather comes in black, blue, a beautiful brown, cream, green, grey and white. Mesh versions come in ionic-coloured matte black, blue, grey, rose gold, silver and full black.
The full selection of Solios straps are really very nice and I'm curious how their metal mesh feels in comparison to the leather.
The case itself is fully polished and measures around 8mm thick. The closed caseback has a lovely rainforest engraving. The dial has a great minimal aesthetic featuring a beautiful sunray gradient. No surprise on the indices as they're simple applied sticks with the Solios logo sitting at 3 o'clock. The minute and hour hands as well are sticks and the watch lacks a second hand.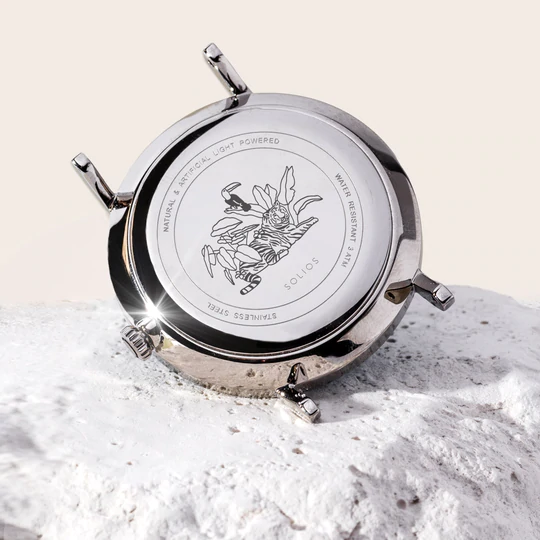 The Rainforest Edition Solios watch comes in silver and rose gold, in both 36mm and 40mm case sizes. As mentioned, mine is the 36mm version and is well-sized to my 7″ wrist. The other variations are the strap with silver and black stainless steel mesh options. The black mesh with the green dial is particularly smart-looking. There are Rainforest Bundles that pair either the silver or rose gold watches with both the eco-leather and the metal mesh straps. All Solios watches come with a three-year warranty and shipping is included in the price.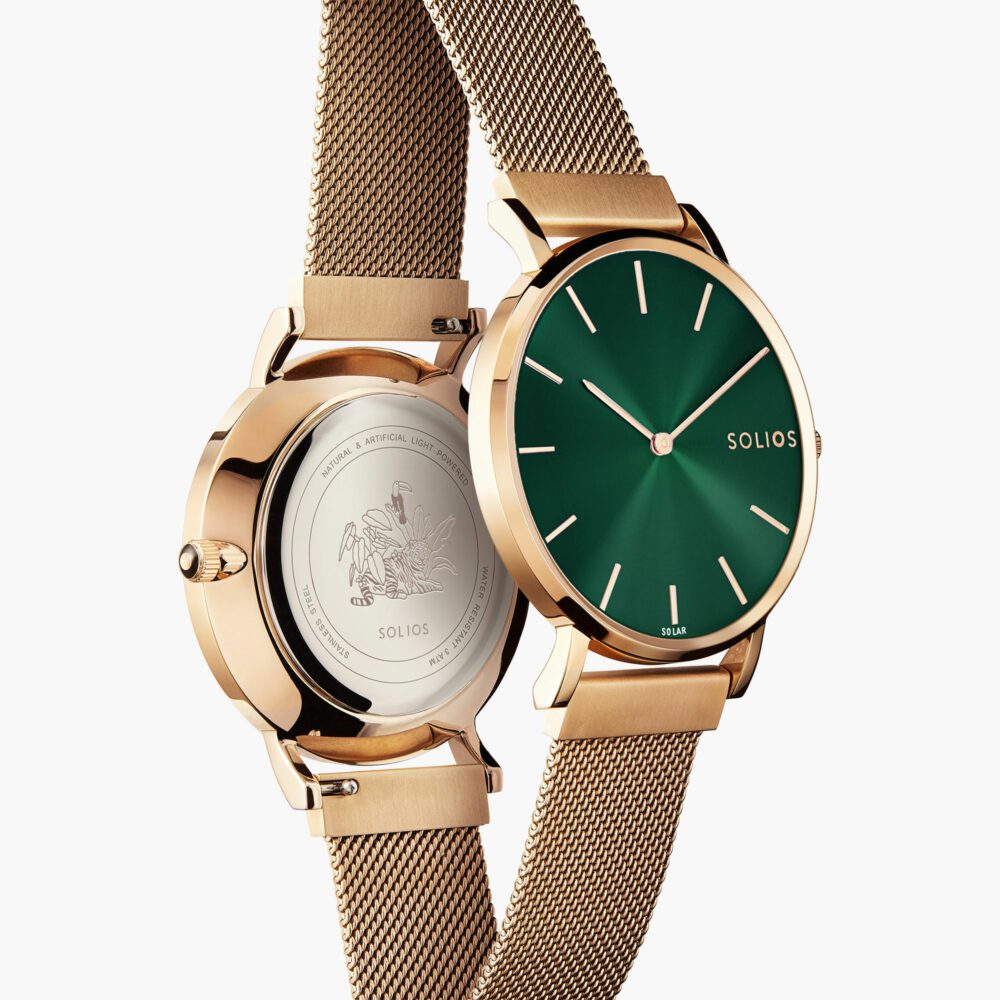 Speaking of the price, the limited-edition Rainforest Solios Solar watch starts at $350 CDN or $295 USD with bundles adding a bit more. Solios is only selling 300 pieces of this edition and most importantly, each purchase donates 10% directly and fully to the Rainforest Trust. Visit this link to learn more about this great dress watch. What better way to celebrate Earth Month than to treat yourself AND help the planet.