Perhaps the most appealing aspect of watch collecting to me is how it helps push me back towards an analog world.
I want to break the habit of checking my phone for the time and date. Once that nasty thing comes out of my pocket for a date check, probably half the time, I'm scrolling through Instagram or Twitter three seconds later. Retraining myself to look at my wrist for the same information requires a bit of reeducation. In this bygone analog era, when a phone was generally a part of a building and an app was what you served to guests before dinner, a watch could perhaps be best classified as a tool. Obviously, it told the time, but the broadly termed 'tool watch' provided a use beyond just time-telling. A tool watch's added function could offer something as simple as a rotating bezel on a dive watch for an additional method for timekeeping. Or a tool watch could offer an alarm or a chronograph stopwatch. One of the coolest analog complications offered in a tool watch was the GMT (Greenwich Mean Time) function, which allowed the wearer to read time in a different zone via an additional hand.
Copenhagen-based watchmakers, About Vintage wear their inspirations in their name. Founded in 2014 by longtime friends, Thomas Andersen and Sebastien Skov, the duo set out to create watches of quality without compromise. Looking to the past for inspiration, they designed their first watch, the 1815 Chronograph based on the first of its kind from that very year. Moving forward with the 1926 At Sea dive watch, the 1969 Vintage dress and the 1982 GMT model, each year holds meaning about the watch itself from a historical standpoint. Part of the fun of researching the models was finding out the significance of the dates. While 'vintage' is in their name, they are clearly looking forward towards their Green Path with a goal to someday leave no carbon footprint. Ambitious as that may be, they are already well on the way. In addition to working with the global climate action group, CHOOOSE, About Vintage supports climate endeavours such as The Ocean Cleanup and DHL's Go Green program. Their Green Path funding offsets each order with a 125-kilo CO2 reduction. I'm seeing this type of ownership and support for green initiatives more and more among young watch manufacturers and it's a wonderful thing.
The latest release from this Danish company is the 1970 Haagen GMT Automatic. Limited to 250 pieces each, this model sports two gorgeous bezel colourways, green and gold and burgundy and gold. About Vintage gifted the latter for this review and specifications aside, I was blown away by the appearance of this watch when I first opened its dark brown presentation case. Before digging deeper, here's some learnin' about GMT watches.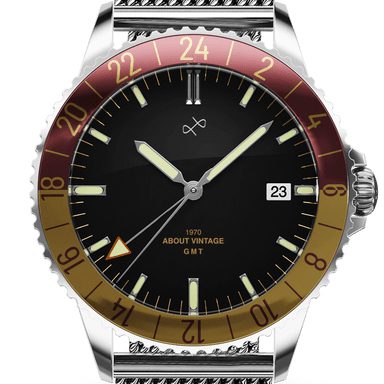 Originally created by Glycine in their Airman model in 1958, it wasn't until Pan Am asked Rolex to design the GMT Master for their standard pilot kit the following year that this particular tool watch became widely recognized. The reason this type of watch was called a GMT is due to Greenwich Mean Time being the then-zonal median line with either hours added or subtracted to determine a particular time zone. This changed in 1967 when Coordinated Universal Time (given the acronym 'UTC') officially replaced GMT, which then became its own time zone recognized in a handful of European and African countries. The UTC topic is very dense for a know-little like me but one that's intriguing as I learn more about it.
Back to the watch discussion, unlike a typical set of hour and minute hands revolving around a 12-numeral dial, the GMT operates at half the hour hand's orbit and is clocked either by 24-hour markings on the outer or inner bezel or a set of sub-markings on the dial. A similar function found in a dedicated subdial is generally referred to as a dual time watch, while the next-level version of this type of watch is a complicated world time watch that shows all 24 time zones usually by corresponding cities.
To clumsily segue into a review, with these slabs of supercomputer we pocket, how does the GMT watch, an analog tool that doesn't even have a relevant name anymore fit into our overly digital world? Well, back to my opening sentences, I'm looking to this GMT as a tool. One that keeps my phone in my pocket. Since travel is still an iffy proposition my need for knowing different times in other zones is limited. But surprisingly, having to read a 24-hour clock comes up more than one would think. So, I have the GMT hand set for EST to read local time in 24-hour format. Trust me, I'm itching for a vacation in a different time zone to use the 1970 Haagen GMT Automatic watch for its stated purpose.
The historical meaning behind the 1970 is that it was the year designer Kristian Haagen was born. Best known in the horological community in Scandanavia as not only the region's Vogue Magazine watch expert but also as the co-founder of DailyWatch, author of eight watch books, founder of the monthly watch magazine Timegeeks, and consultant to various watch brands. Partnered with About Vintage, the team produced the 1970 GMT standing above their other lines in cost but backed up with a design and specs found in brands at price points several times greater. Starting from the inside and moving out, the movement is Swiss-made by Sellita using their SW330-1 automatic GMT calibre boasting 42 hours of power reserve. The SW330-1 movement vibrates at a frequency of 4 Hz or 28,880 beats per hour and contains 25 jewels, but before moving on, let's learn what beats, frequencies and jewels in a watch movement mean.
Watch jewels also known as jewel bearings are miniature cuts of synthetic ruby or sapphire that reduce friction between internal components allowing them to move freely. I guess you could consider a jewel in a watch movement a replacement for a liquid lubricant. The number of jewels within a movement doesn't necessarily dictate the value or quality of a watch. However, an automatic (self-winding) movement like in the 1970 GMT requires more jewels (due to more pieces) than the approximate 17 found in basic mechanical (winding and not battery powered) watches. What do a watch's frequency and vibration mean? This one is hard to explain quickly and easily yet, I will try and likely get it wrong or offer no clearer layperson's terms. In a wristwatch movement, the balance wheel keeps the time as a pendulum does within a grandfather clock. The higher the frequency of the balance wheel's vibration or oscillation, the more accurate the movement. Average mechanical watches have a 2 or 3 Hz frequency, while the SW330-1 movement vibrates at 4Hz. One way to see this in action is the number of secondhand 'ticks' per second. One tick per second would reveal a low beat count per hour, therefore would demonstrate a lower beat movement.
I drove the bus off the road and right into the weeds, so let's simplify and talk good words about the pretty watch.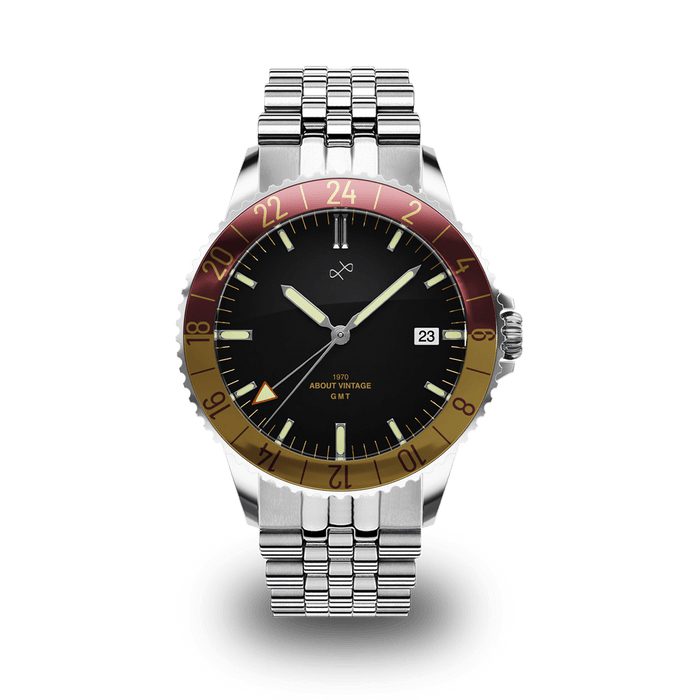 This is just a guess based on some unqualified detective work, but the two-tone bezel of the 1970 GMT Automatic resembles a 1975 Rolex TuTone GMT Master. This matters because according to his Instagram feed, Kristian Haagen once owned that beautiful root beer bezeled specimen and sold it only to deeply regret the sale afterwards. Looking at it, I understand the seller's remorse. While the burgundy (which leans more brown than red) is more saturated than the brown of the TuTone, the bezel numerals possess a similar condensed horizontal scale and split contrast font on the 6 and 18 hours are reminiscent of that lost loved grail. The 72-click gear tooth unidirectional (it only turns counterclockwise) aluminum bezel is very shiny so it will be interesting to see how it fades over time. The bezel is what I have read some describe as 'surgical' in that it is very rigid and tight to the crystal with zero play.
The case itself is 316L stainless steel, measuring 40mm and 47.5mm from lug to lug (the horns that allow a strap to pin to the watch). Lug to lug size is the most important measurement determining how a watch fits a wrist. If the lug to lug dimensions extend beyond or are much narrower than the top surface of a wrist, the watch may never feel entirely comfortable. The case thickness is 11mm making the overall size fairly standard. On my 7 inch wrist, this watch is a perfect fit. About Vintage calls the dial black but to me, the dial is a dark chestnut brown. But that could be my brain painting the dial the colour I want it to be. The case back is engraved with the Copenhagen skyline along with the watch specs, serial number and the brand's infinity loop logo. The AV loop also appears on the dial, clasp and crown.
The dial markings are very simple and small scale with only the About Vintage logo appearing at 12 o'clock and the watch and brand name at 6 o'clock. A too-small-for-my-eyes date window is butted up next to the hour block at 3 o'clock. The hour markers are applied yellow gold sticks, with long sticks on the 6 and 9 with a double-stick on the 12. The hour indices are faintly luminescent however the hour and minute and the GMT arrowhead have a nice green lume. Part of my review process is wearing a watch (especially to test a watch with an automatic movement) for at least 48 hours straight. This allows me to see how comfortable it is when I'm falling asleep and waking up as well as it's regular daily wear. I woke up early the other morning and the lume on the 1970 GMT was just visible in the darkness. That's some good lume! The gold hour and minute hands are unique to my newbie eyes as they look somewhere between a syringe and sword style. The GMT hand is a usual thin stem with a large arrowhead (outlined with a smart stroke of orange).
As mentioned, the GMT has a date window at 3 o'clock but it's quite small. Seeing as my most-used tool on a watch is the date function and because I have old man eyes, I really wish it was larger on this watch. The gear tooth crown is somewhat rounded (but not a full onion) on the inside and outside edges. It has an embossed About Vintage logo on the outside and is protected by subtle crown guards. Adjusting the watch is simple enough with a two-stage pull function on the crown. The first stage sets the hour and minute, which the second stage sets the GMT in one direction and the date in the other. This watch has a hacking function which means pulling the crown out to the second stage stops the second hand from moving to set the time to its greatest accuracy. Protecting it all is a domed sapphire crystal that aids in this watch's water resistance to 100 metres.
A very nice offering in About Vintage's 1970 Haagen GMT Automatic package is the 3 straps that are included. The watch ships with a rounded block five-link bracelet installed. This stainless steel bracelet is integrated into the lugs and is absolutely stunning, though I would've loved to have seen some of the gold-tone repeated in the bracelet. The other straps included are either a heavy or small stainless steel mesh or a brown NATO strap made from 100% recycled plastic. They are all purposefully designed to pair with the GMT case but to my tastes, I likely won't put the mesh strap on very often using the opportunity instead to wear a dress watch. Not unless I get to wear the 1970 GMT abroad for its intended use and choose to pack the two other straps instead of additional watches. Overall, the weight of the watch with the bracelet is just over 130 grams, which is a very light feel from a watch with such a muscular look.
With the About Vintage 1970 Haagen GMT Automatic on my wrist, am I less likely to go digging into my pocket for my phone? I think so. It truly is an object of fascination that I have found myself staring at since putting it on my wrist. While its tool use isn't used much even during what I hope are the last days of the lockdowns, it will definitely be what I wear when eventually I'm able to cross time zones again. In the meantime, I'll use it as a tool to think about places around the world where the time is opposed to UTC-5 hours.
The About Vintage

1970 Haagen GMT Automatic

 can be purchased for $999 USD (shipping included) directly from

About Vintage.
If you happen to be in Denmark, they have a

flagship store

in Copenhagen as well as watches in other retail locations.