Lilienthal Berlin was one of a handful of brands that I discovered when I first started to look into watch microbrands. Aside from finding more affordable prices, I find microbrands appealing for a couple of reasons, from a style perspective. First, many bow to the long history of wristwatches and pay homage to a lineage of classic looks with vintage-styled collections. Others look to break the mould and start from scratch from a design standpoint. Lilienthal Berlin fall closer to the latter. Of their six standard styles, all fall into a loose classification as dress watches but swing sporty with their chronographs. The company started producing watches in 2016. Taking the name of German aviation pioneer, Otto Lilienthal, they chose to create their company under three principles; they wanted all aspects of production and design to be based in Germany, they wanted to focus strong on design with an attention to detail and above all, they wanted to produce their watches sustainably and at a fair price. They found an audience for their watches, selling over 100,000 of them by 2021. In addition, the design and watch communities in Europe showered them with awards. Looking at their collection, it's not hard to see why they received all these accolades.
NOTE: I wanted to get this review posted quickly because I just saw that Lilienthal Berlin has a sitewide sale right now. It ends at 11:59 PM EST on Feb. 21. Deals are a minimum of 25% off with some dress styles like their L1 and Huxley lines (including limited editions) at 30% off. For anyone interested, I figured this was good news and a good reason to get this review posted today. While we were gifted the watch below, ADDICTED doesn't get any portion of sales through this review. We just like to make sure our readers get the best deals possible.
To ensure that everyone understands this review, I will follow horological terms with basic definitions in brackets.
The first Lilienthal Berlin watch that grabbed my attention was their Circuit Chronograph.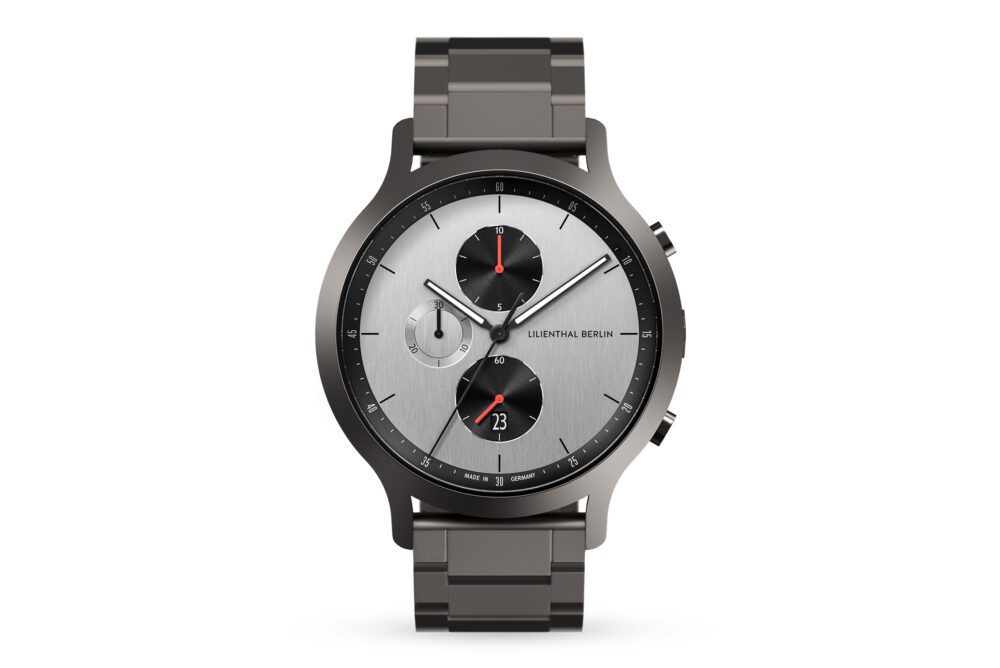 Coming in with a hearty 42.5mm case (overall watch minus the strap) size, its relatively narrow 10.3mm depth keeps the weight less than chunky. I love the matte finish of the sand-blasted 316L surgical steel case. The crystal (glass) is sapphire-hardened mineral glass with the dial (the face with the number or hour markers) below a galvanized brushed silver texture. The minute and hour hands are baton-style and treated with a lovely blue Superluminova. There are no other luminescent elements on the dial. I love minimalist watches so the thin 'stick' hour markers are very appealing.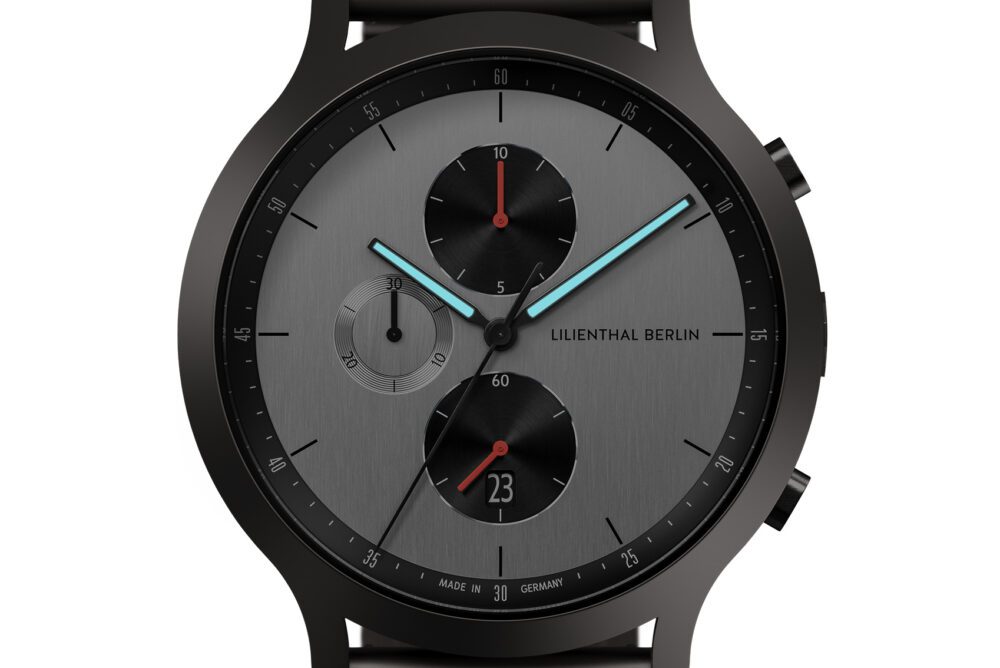 The Circuit has a fixed bezel (additional time measuring numbers around the dial typical with diver watches and chronographs) below the crystal that denotes minutes and displays the only numbers on the dial. The strap has a push button deployment clasp and is sand-blasted anthracite matte stainless steel. All of Lilienthal Berlin's straps are quick-release, so you can quickly change between metal links (as seen below) steel mesh or leather. Upon first wearing the watch I found the edges of the bracelet dug into my wrist a bit when I was wearing a top with cuffs. After a few days either I have adjusted to this or the factory-fresh edges have lost their sharpness, but at first, it was noticeable compared to one of my old watches. The spacing between the links is tight enough to not grab my wrist hair, thankfully. Compared to a mirror or brushed finish, I wasn't sure how the matte would appeal but as I've been staring at this piece more and more, I love how light softly reflects off the case and strap. It heightens the lean towards elegance mixed with a sporty chrono look.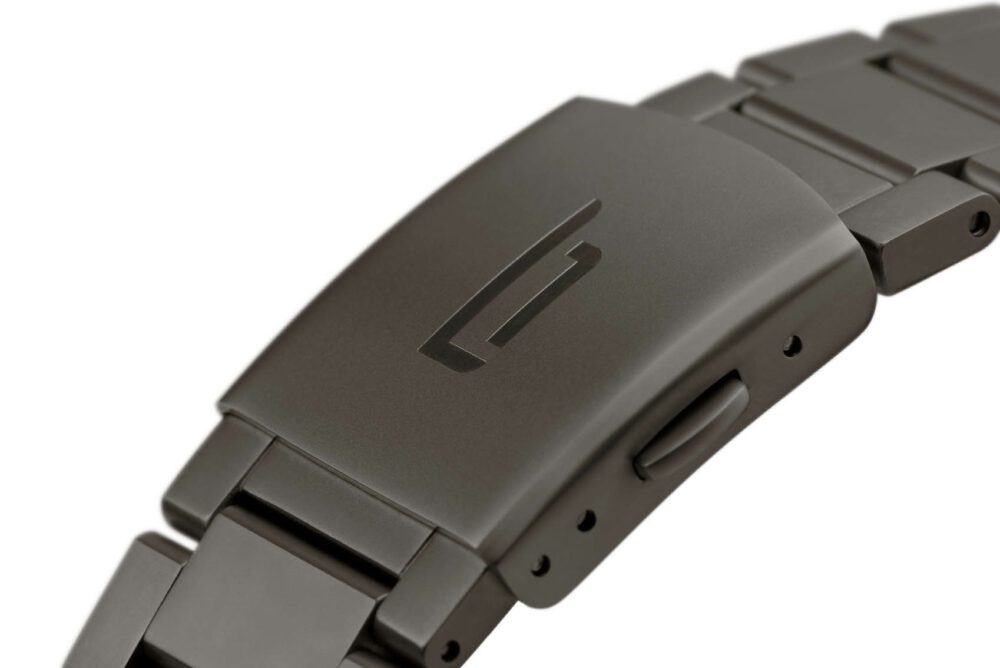 Speaking of the chronograph's three subdials (small dials within the large dial), two (a 1/10 second counter at 12 o'clock and continuous small seconds at 6 o'clock) are black with a very slight bevelled inset, while the minute counter matches the large dial and has a deeper circular-etched bevel. The small seconds dial also contains the watch's date window. The details of the subdials are minuscule, proving how seriously Lilienthal Berlin takes their design. I had to get used to the small seconds dial being the second counter instead of the second hand. What normally looks like a traditional second hand is a stop-second hand that starts moving to count seconds along with the 1/10 dial when the chronograph timer is activated. More on the chronograph specs below. The layout of the dial is interesting with the subdial positions off from a standard 3, 6, 9 position with the manufacturer name at 12. Lilienthal Berlin puts their name at 3 o'clock. To me, the right read of this detail is the name first, then the seconds of the day/date. Interesting.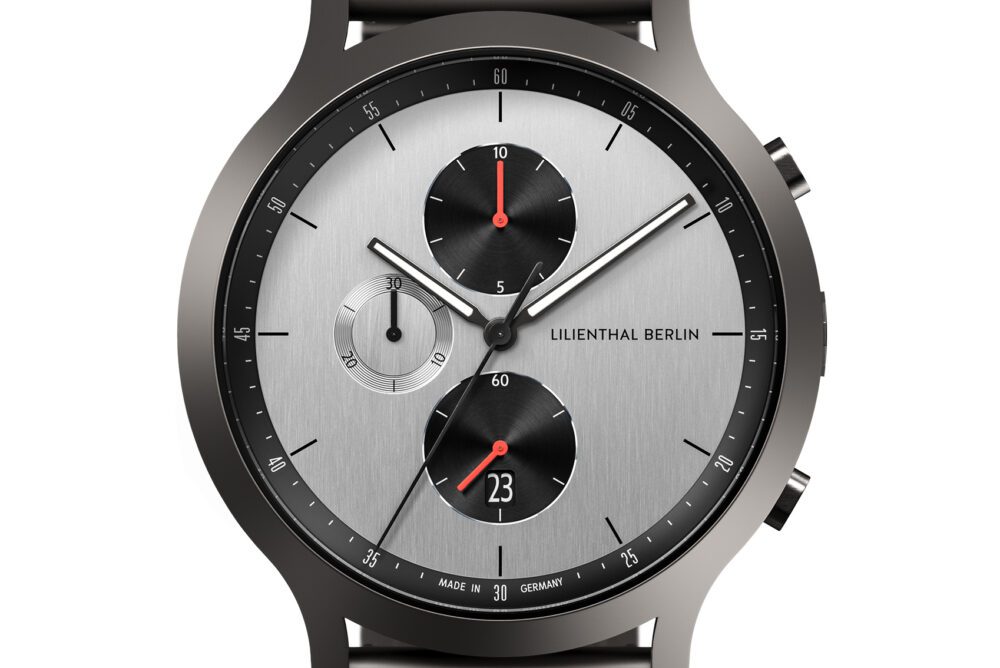 From a specifications side, again this chronograph features three subdials, a 1/10 second counter, a second and a minute counter. This watch was my first experience with a chronograph and for a watch newbie like me, I had to do some reading to understand how it works. The easiest way to explain the Circuit's chronograph functions is to divide them in two – timekeeping via the standard hour, minute and seconds and the time counting (stopwatch function) as 1/10th of a second dial at 6 o'clock, second counting with the large sweeping second hand and minute counting by the smallest dial at 9 o'clock. The 1/10 second hand stops spinning after 30 seconds to become an hour counter after running for a half-hour.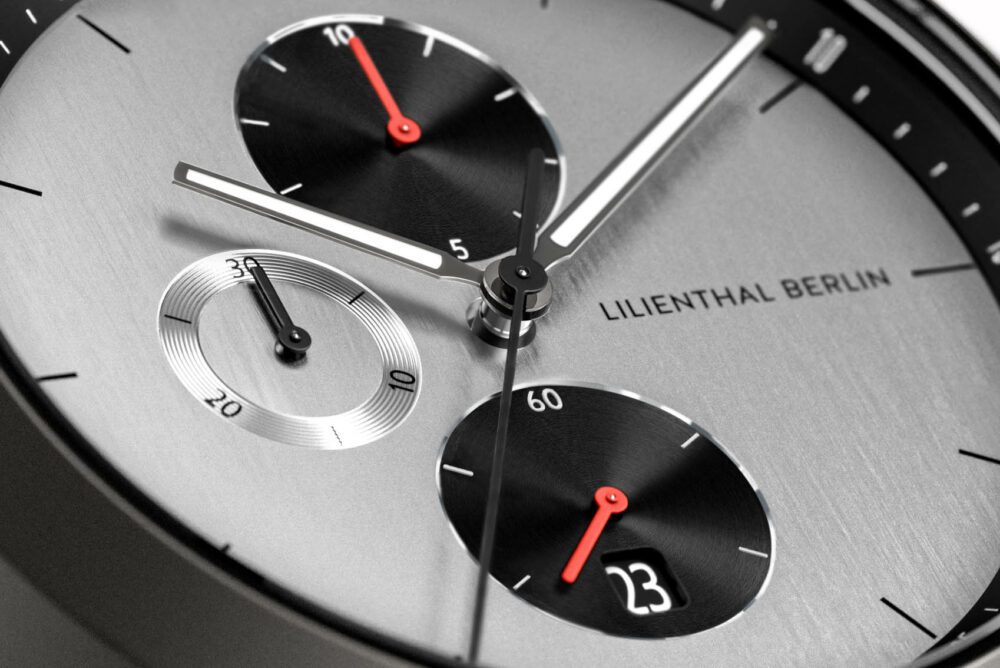 The controls of the watch include a crown (the winding knob that adjusts time) shaped like the 24-sided World Clock in Alexanderplatz, Berlin's large public square. The chronograph is controlled by a pair of squared pushers (a fancy word for watch buttons), one to stop and start and the other to reset the hands. Pressing both pushers together allows the wearer to manually reset the chrono dials if they stop resetting to 12 o'clock.
The watch movement (the mechanism that actually keeps time) is a quartz (battery-powered) Startech 3540.D (for you completists) made by Swiss manufacturer, Ronda. Ronda states this movement has a long 54-month battery life. Lilienthal Berlin rates the Circuit's water resistance to up to 5 atmospheres or 50 metres. This is a low rating and while 5 ATM states shallow bathing, I wouldn't swim wearing anything below 10. I'm not a diver or a long-distance ocean swimmer, I prefer standing or sitting in water. I have no need to know the time when I'm in the water so I always take my watches off.
Overall, I continue to be impressed with the look and the function of the Lilienthal Berlin Circuit Chronograph. Priced very fairly at $369 USD with the link bracelet (or $359 with the leather or steel mesh), it easily can be styled for a dressy or casual look. While they offer smaller case sizes for smaller wrists with some of their lines, the Circuit can only be purchased with a 42.5 mm case. Lilienthal Berlin does offer the Roselux line for women with its smallest case watches but all their lines are free of strictly gendered styling. That being said, I love the look of sport watches on women. Viewing the brand from its commitment to price and sustainability, I am further impressed. From plant-tanned leather straps to FSC papers for packaging to using local materials and manufacturing, Lilienthal Berlin shows that the details they pay attention to aren't solely from a design ideal.
Learn more about Lilienthal Berlin through the links below. And again, while you'll miss the date to send a gift, you can still take advantage of their sitewide sale right now. It ends at 11:59 PM EST on Feb. 21.
INSTAGRAM  |  FACEBOOK  |  PINTEREST