The original tool watch was designed for one thing – survival.
The very first watches purpose-built for divers date back to the 1800s when they would place pocket watches inside their diving helmets. Divers depended on watches to know the time spent underwater. It wasn't until the 1920s when Rolex created their hermetically sealed Oyster watch case that a wristwatch could be worn underwater without being ruined. The features that stamped a watch as a dive watch, apart from waterproofing, were oversized hour markers and indices and an overall large case size to accommodate. Early versions of Panerai's Radiomir dive watch included radioactive tritium markers which could be read in the dark depths. Through the World Wars, diving watch technology continued to progress as waterproofing improved via screw-down crowns (where the winding crown actually screwed into the case to seal any gaps from seawater). Eventually, an ISO standard was created for dive watches that dictated the tool's requirements; a dive time indicator, clear minute markings that could be read in complete darkness, magnetic, salinity and shock resistance and a strap with an attaching point that was reinforced for heavy duty. These requirements ultimately led to the majority of dive watches being constructed of higher grade stainless steel (commonly 316L or 904L grades), having luminescence added to indices and hands, alternate strap materials such as rubber and perhaps most importantly to the future of watch design, the unidirectional rotating bezel. The rotating bezel was important for the accurate measurement of time lapsed underwater. If a diver entered the water at 8:47, all they had to do was rotate the marker (generally a triangle) to the time of entry to eliminate the need for minute calculation. To ensure the timing was accurate, the bezel was fixed to only rotate in one direction (generally counterclockwise), and only with a bit of extra effort, to prevent accidental movement.
The overall style of dive watches obviously expressed the tenets of the ISO standard and perhaps as a first, the fashion of dive watches was created which bled into other styles of watches. The most notable dive watches today are still the ones that set precedents back and inspired hundreds of homages. The Rolex Submariner, first introduced in 1954 joined the Blancpain Fifty Fathoms as must-wears for pro or military divers. A dozen or so years later, the first Japanese dive watch entered the field (or the sea) with the Seiko 62MAS. What followed were dive watches from most other brands including the Omega Sea Dweller, Breitling SuperOcean and Rolex sister-brand Tudor with their Submariner. Today, it's hard to find a microbrand that doesn't have its own dive watch. There are literally thousands and thousands of different dive watches from every corner of the world. Now, is this because the planet is full of divers? Of course not. It's because dive watches are simply the coolest looking watches and whether you wear one in the water or not, having one in your collection is a must.
One microbrand that has put a sharp focus on its own dive watch is RZE. Helmed by commercial pilot and watch lover, Travis Tan, RZE began, as many new microbrands, via Kickstarter. The RZE difference was their use of titanium as the sole metal for their cases. Most of their models also include titanium bracelets (with titanium-coated stainless steel buckles). The key differences between stainless steel and titanium from a wearer's perspective are the weight and the feel of the metal. Titanium is an ultra-hard but lightweight metal that has a natural grey colour. I was sent one of their Hunter Green Endeavour dive watches for review. As someone who has only ever worn stainless steel or plastic watches, at first feel, it took me some getting used to. The feel is powdery and not cold and smooth like steel and the light weight is surprising. But let's have a thorough look from the bezel backwards…
The entire RZE Endeavour is made of ULTRAHex coated titanium, with colour differences only on the dial, indices and 60-minute arrowhead and numbers on the bezel. The only non-titanium external pieces are obviously the crystal and the clasp. The clasp, I am wildly guessing, is Ti-coated stainless steel due to how thin it is. The bezel is unidirectional, turning only counterclockwise for 120 clicks. The bezel numbers mark in five-minute increments with minute sticks between. At the 60-minute mark is a white arrowhead that glows a beautiful blue lume. More on the lume later.
The crystal is sapphire with an inner coating of anti-reflective material. It sits flush with the bezel, giving the Endeavour an overall case thickness of 12.5mm. The dial of the Endeavour is a lovely sand texture with applied indices. The hour indices are baton style, apart from the quarter markers. The 3 and 6 o'clock markers have a divide one-quarter of the distance from the outside edge. The 6 o'clock has just the quarter mark due to the circular date window. 12 o'clock is the same style as 3 and 9 but double wide.
The reason for these divided indices is because of the luminescence on this watch. As seen below, the lume is a fantastic mix of green C3 and blue BGW9 Superluminova. The hands and hour markers are green, while the bezel arrow, hour dots behind the batons and second hand are all blue. It's a striking combination and I admit to having stared at the watch while in complete darkness to watch that blue second ball orbit the dial. It's pretty groovy, man… The minute and hour hands are simple pencils (sometimes called radium hands) channelled and filled with the aforementioned green C3 Superluminova, while the second hand is a stick that ends with a blue BGW9 filled ball.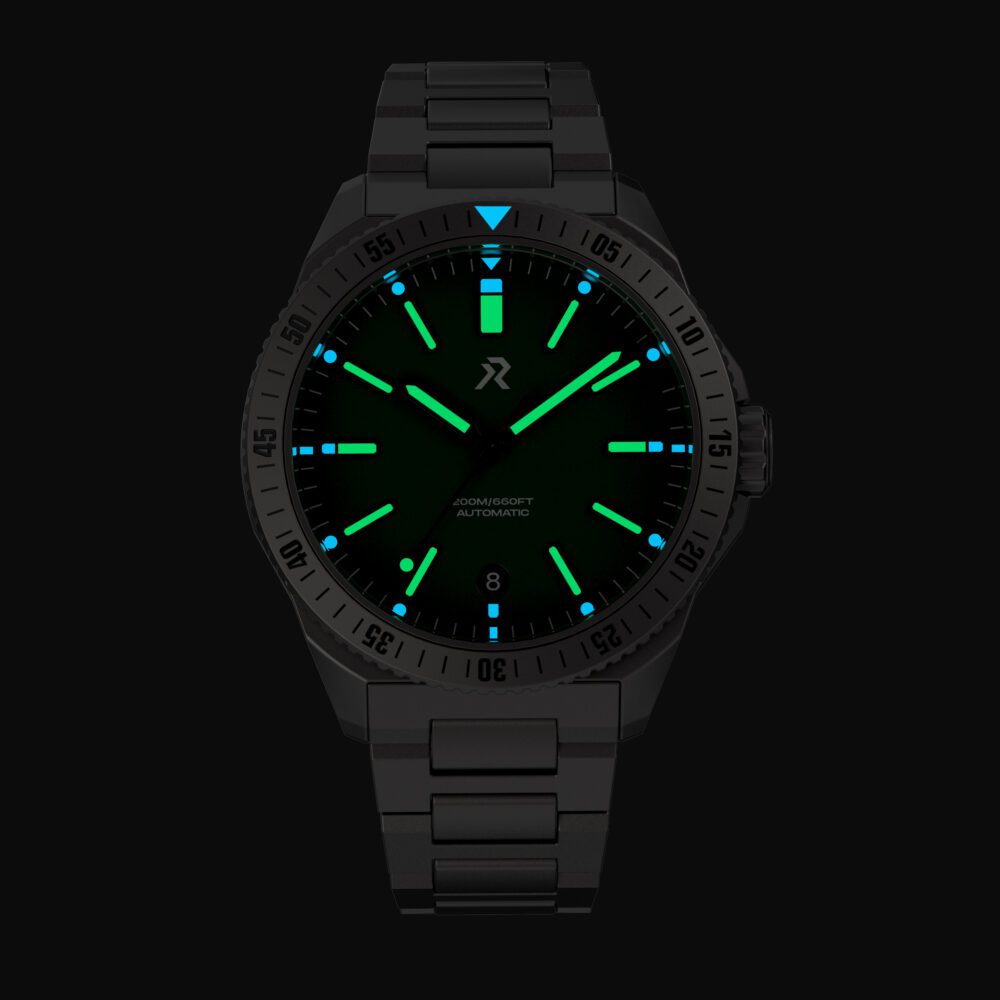 The Endeavour dials are all richly coloured. The plainest dial colour is their Polaris White, while the remaining versions joining the Hunter Green are Azure Blue, Pacific Blue and Medallion Yellow. I am fairly vanilla when it comes to dial colours and had I been given the choice and if it existed, I would've picked black. A black dial is unobtrusive and doesn't fight with the rest of a wardrobe. However, my love of watches from a fashion standpoint is that it forces me to pair a watch with my outfit. While a black dial is pretty easy to match, a green one requires a bit more thought. And that's just what I'm looking for in my wardrobe these days, work from home or not. This being said, I love the shade of light blue RZE chose for the Azure dial. The dial is simple with the RZE stylized R at 12 o'clock and 200M/660FT AUTOMATIC in mice type at 6 o'clock. The R also appears on the crown, clasp and caseback. Dimensions-wise, the Endeavour measures a lug to lug size of 46mm, while the case width is 40.5mm. The lug width is a typical 20mm and due to its titanium build, it weighs in at a svelte 96g.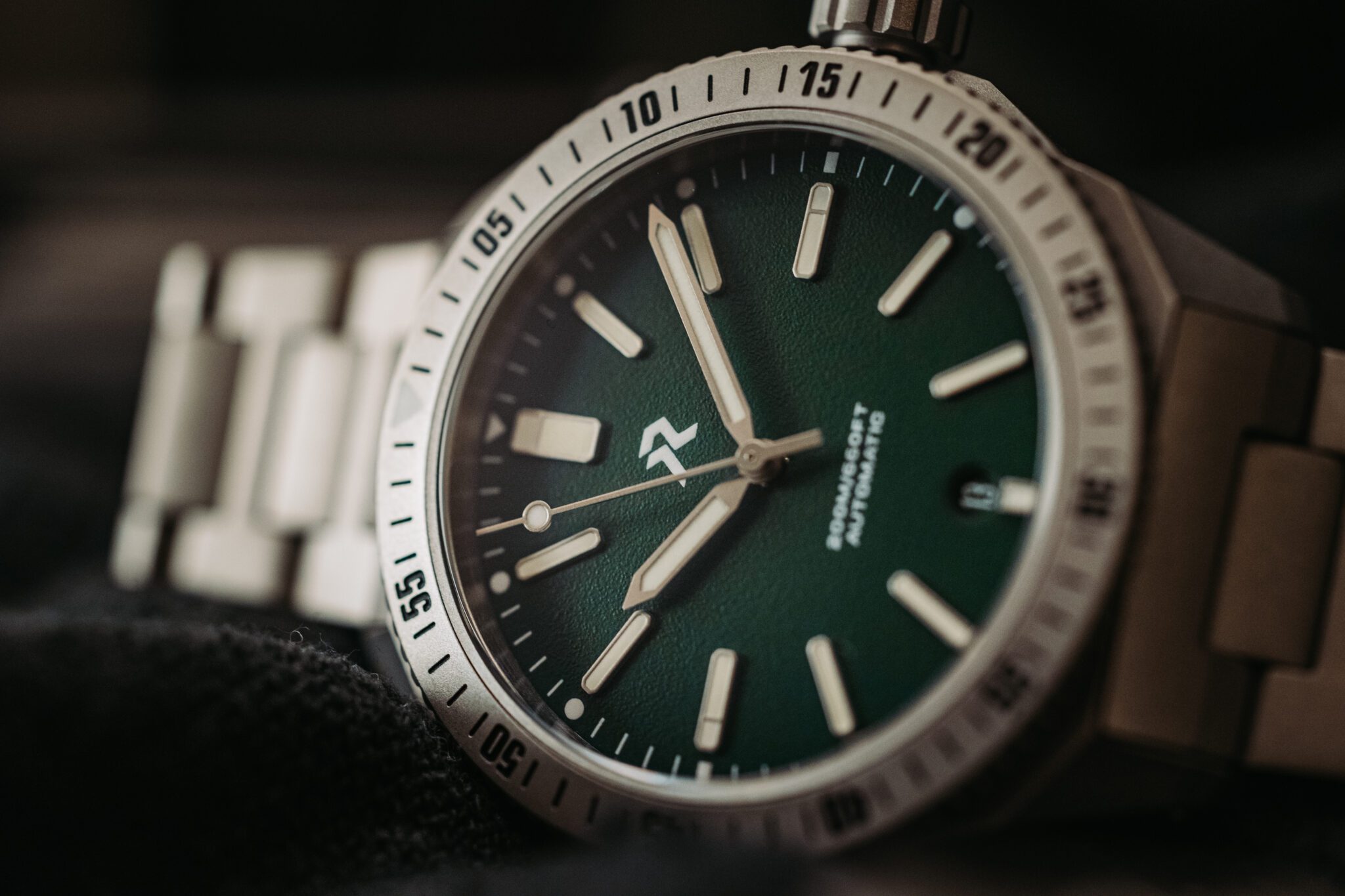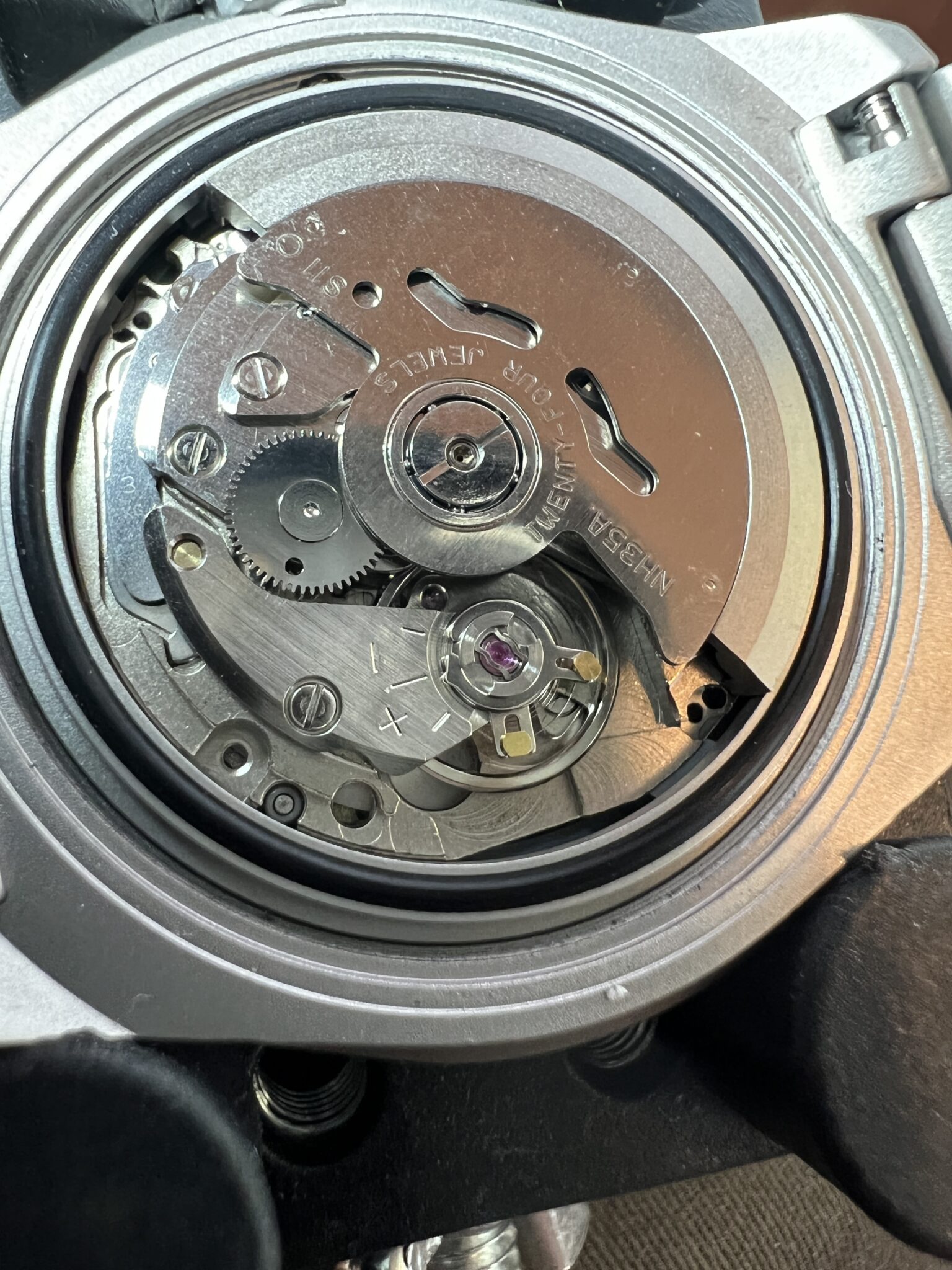 Beneath the dial, the movement powering the watch and keeping its time is a Seiko SII NH35A, a fairly common 24 jewel movement found in many automatic microbrand watches. It has a beat rate of 12,600 BPH or 6 beats per second. It is both hand-windable and hackable (meaning when the crown is pulled out to adjust, the second-hand stops moving). Hand-winding is a nice touch as you can either power the movement back up or give it a full wind to max reserve before putting it away. This movement boasts a power reserve of 41 hours. I haven't tested it so I can't report on this claim. One question I have about the use of this movement is that my look into it shows that these are generally produced in Japan or Malaysia. Opening up the case reveals right on the rotor (the weight that autowinds the movement) where it is produced, however on the sample I was sent, neither country was shown when I opened it up. A Google search led me to find that unmarked NH movements tend to be Chinese-made. I'm not making a judgement on the movement based on its country of origin. However, Seiko has never released a statement about these blank NH movements, leaving their origin and build quality up to internet speculation. I am testing the watch and will update my results to report what I find with regards to power reserve and accurate timekeeping. The back of the watch has a closed caseback with some model and movement specs engraved. Under the caseback is a green VITON gasket, which along with the screw-down crown makes the RZE Endeavour's water resistance a deep 200 metres.
My usual 48-hour non-stop wear revealed that it was comfortable enough to fall asleep and wake up wearing, however, I may have to add a single link to the bracelet that was included to allow for precision comfort that seasonal and temperature changes require. On my seven-inch wrist, as the Endeavour arrived sized, it is JUST a fit, when maxed out. I would put the comfort rating of this watch at a solid 7 with the caveat that this is mostly to do with getting used to the titanium coating of the bracelet. RZE does sell NATO, ParaNylon and rubber Tropics straps, so perhaps one of those would be a better choice for my minuscule issue.
Overall, I think the RZE Endeavour is a great dive watch, despite the fact that probably won't even wear it while standing in a pool, come summer. While its specs show its purpose-built nature, it has a ton of style as well. I LOVE the colour of the dials of this model and for those looking for a chronograph, field or pilot watch, RZE has you covered with their Valour, Resolute and Fortitude lines, respectively. For a small company, it's clear that RZE is full of passion and I honestly look forward to how they grow and what they produce.
The RZE Endeavour is priced at $499 USD. RZE watches are available directly from the company or via a select group of

stockists

. Worldwide shipping is included with each purchase, as is a watch pouch and sizing tool for the bracelet. Every watch comes with a 2-year warranty.