Like many people worldwide, I have a hard time relaxing, unwinding, and clearing my head at the end of each day, but I'm always searching for helpful solutions.
Over the past years, I've been on a mission to learn as much about health and what works best for me. Healthy eating, daily cardio, workouts, and a stretch session ensure that I feel my best each day, but as we know, that's not where it ends.
For me, I've always loved the feeling of having a nice cup of tea or a decaf latte in the evening to relax, reflect and unwind. It's been a bit of ritual for years, but as of late, that same old same tea or bland hot chocolate has changed over to the super addictive blends from blume.
With choices like Beetroot Blend, Cacao Turmeric, Reishi Hot Cacao, and Blue Lavender, we're pretty sure you'll be able to find one that is the perfect fit for you, or several.
How it works:
Just boil a bit of water. While that's happening, grab your favourite mug, add the recommended amount of blume mix in the cup, and a teaspoon or so of sugar, which we used unrefined. You can also leave it sugar-free. Once done, add a little milk of your choice to a frother. We chose barista almond milk, frother that up.
Once the water has boiled, add a splash to the mug along with the mix and sugar and mix. Once complete, fold in the frothed milk gently and your good to go, a delicious, fragrant and relaxing latte perfect for some you time.
The Cacao Turmeric Blend:
There's a reason they call this blend 'Moon Mylk', and after trying it, we understand entirely. So Destress, unwind and head straight to relaxationland. Turmeric soothes your body, and ashwagandha calms your mind.
Formulated to reduce stress, give your skin a natural glow and ease digestion. The blume cacao turmeric blend is a seriously satisfying hot chocolate with excellent benefits.
Vegan ☁ Sugar-Free ☁ Organic
The Blue Lavender Blend:
Lavender, coconut milk, and blue spirulina make this blend balanced, calming and smooth. They are formulated to soothe inflammation and settle restlessness. So take a sip, turn your brain off and do nothing.
I honestly thought I would hate this. But, it turns out, I enjoy it. So you never know until you try!
Vegan ☁ Caffeine Free ☁ Organic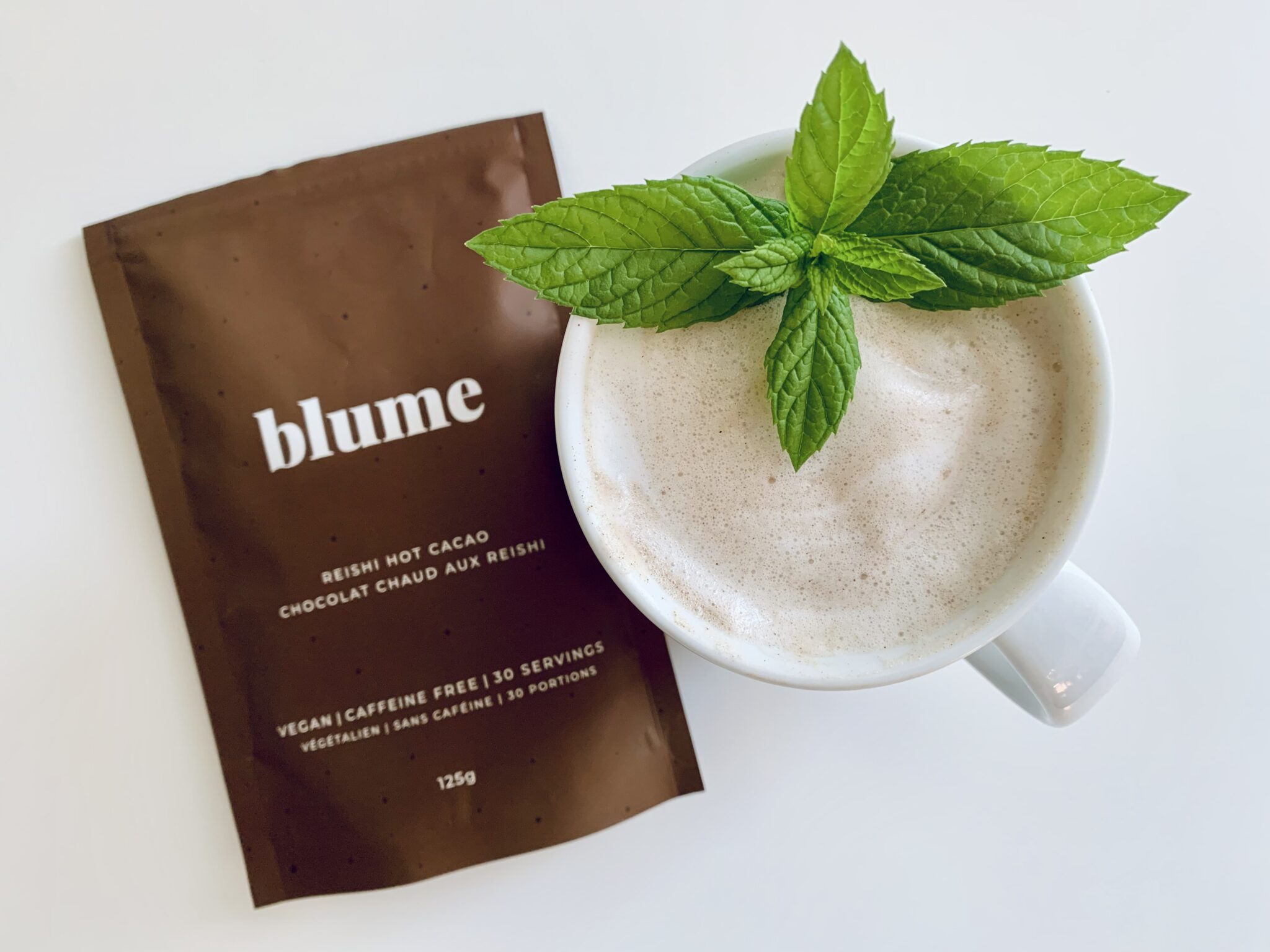 Support your immune system and fight off the blues with this mystic mushroom hot chocolate. Meet the guilt-free hot chocolate made with reishi and cacao, it's creamy, chocolatey goodness. Cacao supports the production of anandamide, AKA, "The bliss molecule," take a sip, and you'll find out why.
This one is my faves. It's deeply delicious!
Vegan ☁ Organic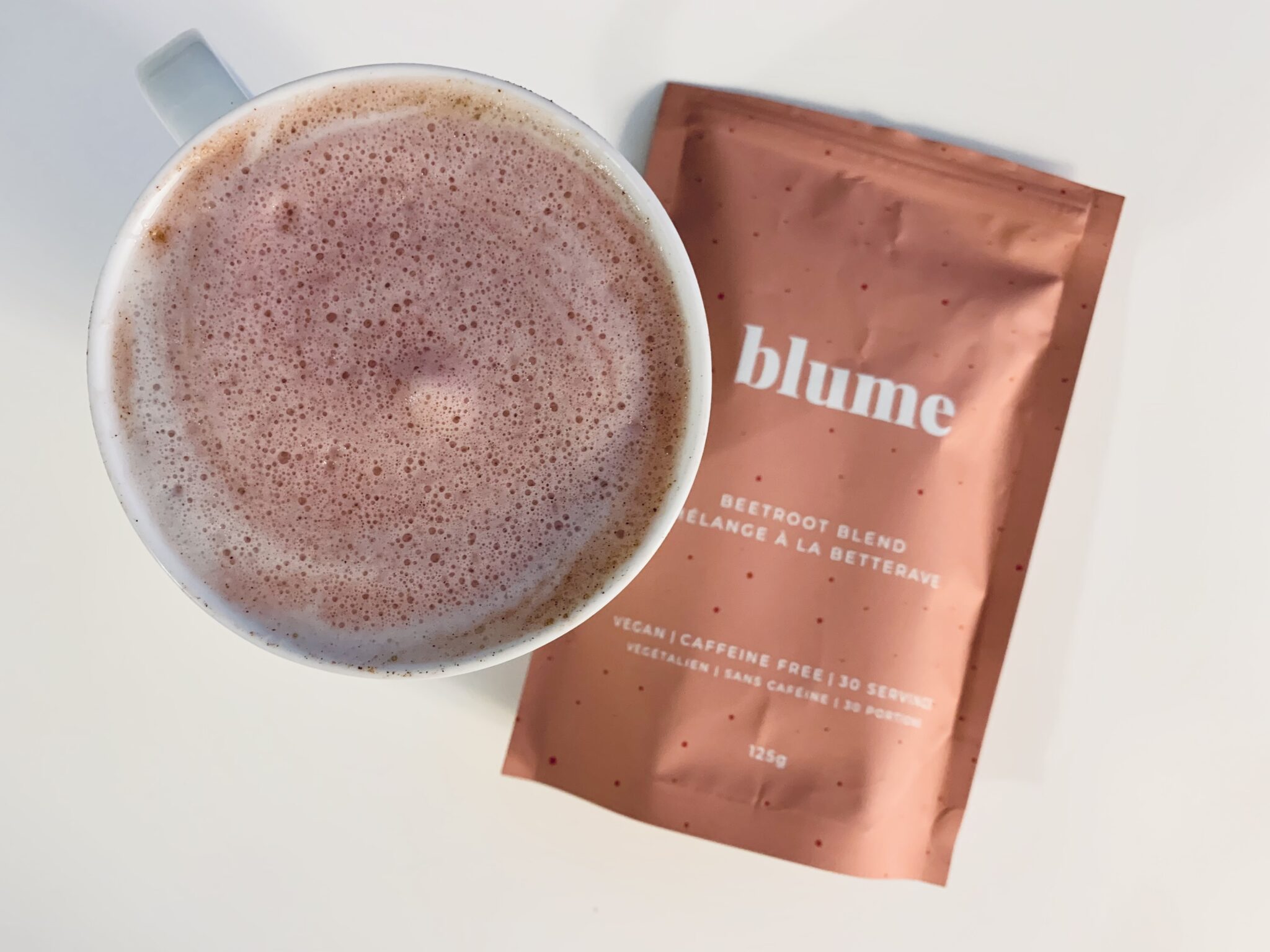 The Beetroot Blend Blend:
The pretty pink latte is formulated to boost energy and help you repair naturally. Beets are rich in nitrates while supporting after-workout recovery and heart health. Add to your favourite milk, smoothies or oatmeal for a superfood boost.
Honestly, this is reminiscent of an allspice latte mixed with beet, and I, for one, thoroughly enjoyed it.
Vegan ☁ Caffeine Free ☁ Sugar-Free ☁ Organic
The Verdict:
We love blume. Well, balanced, great flavours, and delightfully interesting mixes make this an instant ADDICTED fave.
So if you're ready to experience the ultimate experience in evening relaxation, or any time of day really, It may just be time to dive into a mug of blume.