As a summer sun lover, I've learned through unfortunate experience that the hot sun is like a hot tool on bleached blonde hair.  Being a bottle blonde, maintenance was high, as was heat damage, meaning every visit to the hair stylist meant a trim, especially if my hair was left unprotected in the summer sun.  COVID-19 cut those haircuts short for a while, leaving my hair to grow long; so long in fact, that for the first time in over a decade, I can put my hair in a ponytail!   I always make sure to keep my blonde locks covered with heat protectant and some kind of head covering, like a scarf or baseball cap.  But now, with my newfound longer hair, the usual options were no longer as comfortable or effective.  Enter Ponyback Hats. 
Ponyback Hats are the new, revolutionary baseball type hats, designed with a  patent-pending  magnetic closure that can accommodate all hair types in comfort and style.  Revolutionizing how headwear is designed and marketed, Ponyback offers comfortable and flexible headwear, accommodating those with all lengths of hair and allowing them to embrace their personal style.
Launched on June 1st, 2020, Ponyback was conceptualized based on founder Stacey Keller's personal difficulties in finding a hat that allowed her to comfortably wear her hair up or down. "I was struggling to find a hat that I loved. I was obsessed with the cute fullback hats that I'd buy for my sons, and I really wanted to wear that comfy-fitted style, but with my long hair in the summertime, a down hairstyle doesn't work in the heat. Around this time, I also recall being served ads for ponytail hats that have a permanent hole in the back above the adjustable strap opening. I remember thinking, I love how I can wear my hair up in those hats, but I didn't love that there was a permanent opening when I didn't have a high pony. I really wanted a hat with a closeable opening that didn't look like a ponytail hat when the opening wasn't in use."
Recognizing a lack of inclusion within the casual and athletic headwear industry, Stacey put her creative mind, and limited time, to work.  "As with most entrepreneurs, I saw a need for something that didn't exist so I put it together myself! One afternoon, while my sons were napping, I ripped apart a very nice branded hat and attempted to sew overlapping flaps – that idea did not work. So I ripped out the flaps I had sewn in along the back seam. As I was sitting there reflecting on the failed attempt, I realized that as the hat sat on my dining room table, the back seam (ripped open) was almost closing on its own – it t just needed a little help. I thought of all the contraptions that could close something – zipper, buttons, snaps, velcro – not great options for your hair. That was when it hit me – MAGNETS. I wondered where I could find magnets in my house, and came across my kids magnetic toys. The magnets from my kids Magformer toys fit perfectly into the back seam (from the open back seam). I slid the magnets into the seam allowance on either side of the opening, and the hat closed. I was amazed when it looked so discrete that an opening wasn't even there. I had to continue to tinker with the design and find a way to hold the magnets in place, and the prototype design slowly became what it is now."
With a design in mind and hand, Stacey decided to combine her knowledge in business with her passion for creativity, and her organization skills and officially launched Ponyback in June 2020.  Stacey conceptualized Ponyback with the hopes of helping others like herself find comfortable, stylish, and flexible headwear that can accommodate long hair in any style.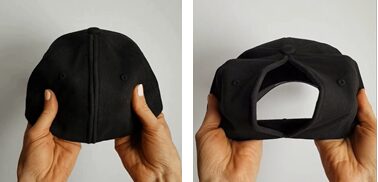 Stacey describes Ponyback as "the patent-pending, first-ever magnetic closure hat that is comfortable, flexible, and accommodates long hair allowing them to embrace their personal style." Check out the Ponyback in action in this post on TikTok in February 2021, generating a viral 11M+ views.
With sales of more than 17,000+ units to date, Ponyback is rapidly expanding to meet consumer demand, with new and innovative designs to meet all style and comfort preferences.  On navigating the fashion industry, Stacey shares "'athleisure' pioneered by Lululemon is its own fashion category. We definitely fit the athleisure category as functional fashion, but building a 'fashion brand' and making it in the fickle fashion industry, being 'in style' by the masses, takes time and lucky breaks. Baseball caps for women have become more and more popular in recent years, however, I wouldn't say that ponytail hats have been admired by the 'style community'. So I've decided to flip the script on that. Our tag line is 'Your style fits here'. It definitely resembles the ability for hairstyles to fit here – but also that unique personal styles fit here too.  The idea is to rock your style your way – and our hat helps you do that."
But the journey hasn't been without its ups and downs.  "In January of 2021, I was a one-woman show, doing it all from my basement set-up" Stacey said.  "By February 2021 we had a few Tiktok videos go viral, yielding millions of impressions. We ended up selling out by March 2o21 without being able to get inventory supplied quickly enough to meet demand. The spring/summer of 2021 was filled with a crazy amount of change, quickly pivoting to a new location, adding a team to meet demand, and solving about a million problems along the way. This was my biggest challenge to date and at the same time my biggest success."
In the end, Stacey wouldn't have things every other way, and she hopes other entrepreneurs out there will feel ready and able to rise to the challenge.  And on that note, she has some advise to share: "Remember that being an entrepreneur is all about continued problem solving. There is no way for you to see or envision the myriad of problems you will encounter. So take action and let the chips fall, it just becomes an exercise in continuous problem solving after that. Your customers will let you know where you're falling short. Listen and learn from them, and improve your product and services. At the end of the day, it's all about them. If you're feeling like you don't have the skills and abilities, surround yourself with any and all networking opportunities you can, entrepreneur groups to help you on your journey. When you need an expert in your field – search them out. There is always an answer out there – sometimes it just needs little shameless digging and perseverance, and putting yourself out there to ask for help."
Check out Ponyback Hats for yourself, and embrace your personal hat style this summer, and all year round.
*photos by Sarah Wright of Yes, And Studio