Summer is in full swing, and with that comes long sunny days. Now I'll admit when I was a teenager, and into my early 20's I didn't put sunscreen on often, and as a result, there were many times when I was burnt and most probably did some minor damage to my skin.
Skip ahead a decade or so, and I find myself putting sunscreen on probably ten times a week. Between taking the dog out for long walks, my outdoor exercise or just a walk with my other half, these days, I make sure I'm always protected from the sun.
Photo by Tara Winstead
While I want to protect myself from the sun's rays, I don't want to look like a bright red tomato, so I always carry or wear a cap and sunscreen on the uncovered areas. Still, with all this sunscreen use, it got me thinking about the effects of using too much of that and what's in it.
While I don't claim to be an expert, I have done some research into skincare and sunscreen for the past decade and what I found was that in the past and even today, many sunscreens have chemical products that absorbed UV light and may also contain some questionable chemicals for your skin that could cause irritation, rash or an outbreak. More recently, I've found some great mineral sunscreens that work differently from the chemical sunscreens and doesn't react with my skin.
Unlike some chemical sunscreens, mineral sunscreen creates a coat over your skin that protects it from harsh UV light, aka the sun. After testing over the past months, we have a few products that we love and want to share with you, and you guessed it, they are mineral sunscreens, sunscreen sticks and organic aftercare products.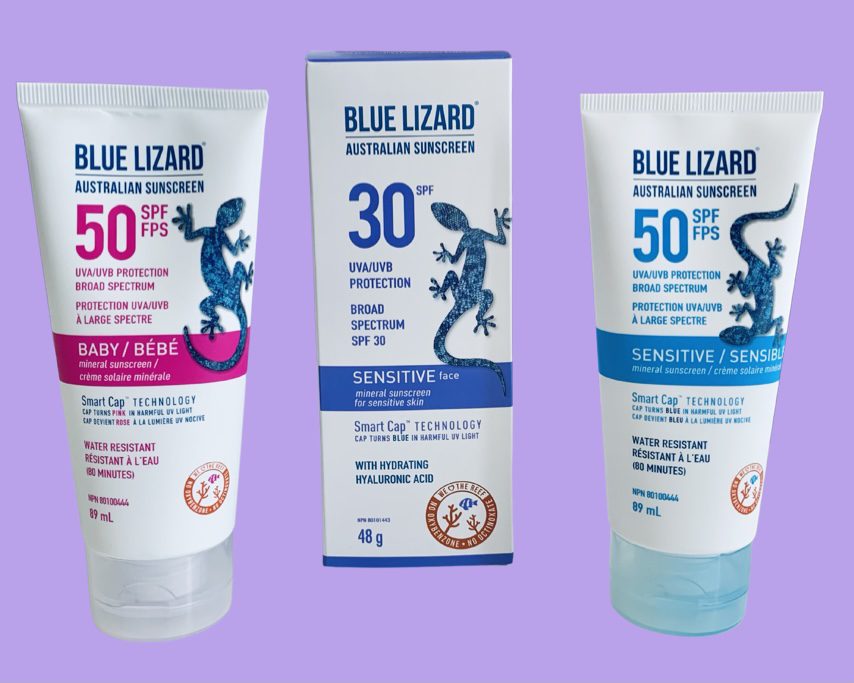 First, we start with Australian Sunscreen Blue Lizzard. Available in; sensitive 30 SPF for the face, 50 SPF for all over, and 50 SPF for the little ones.
This minimal sunscreen offers fantastic coverage that lasts for hours. The 30 for the face also hydrates while protecting and the 50 for both adults and babies is also water-resistant, so you, your family and your little ones can be protected through sweating and spashing.
For those with skin that is also sensitive to any fragrance, we love the ATTITUDE 30 SPF Mineral Fragrance-Free Sunscreen. Like the Blue Lizzard products, it goes on easily, works well and protects for hours.
ATTITUDE also makes some other great products. Personally, I love their mineral sticks. If you have ever put sunscreen on your face and had it run right down, then this one is for you. With the mineral sticks, swipe a few spots on your face, rub it in, and you are all ready to go. It is easy and avoids any potential mess of sunscreen in your eyes, which, as we all know, is the worst.
One op of great sunscreens, we also love the ATTITUDE After Sun Care. If you had a little too much sun, missed a spot like me, fell asleep in the sun even though you lathered up in sunscreen and still got a little rosy, then this is for you.
Not only does it feel great going on, but it also helps to promote healing and a bit of relief would you have a long day in the sun.
So, if you're like me and will be spending a lot of time frolicking in the summer sun, make sure to protect yourself adequately each time you venture out, and that includes the partly sunny days too.
Products gifted for review.