The nominees for The 52nd Annual JUNO Awards were announced on January 31, 2023 by The Canadian Academy of Recording Arts and Sciences (CARAS) at a press conference full of excitement and enthusiasm celebrating the best in Canadian music. It was also announced that three more of this year's nominees will join the lineup of performers at The JUNO Awards Broadcast: Alexisonfire (Rock Album of the Year), Aysanabee (Contemporary Indigenous Artist or Group of the Year), and Jessie Reyez (Contemporary R&B Recording of the Year and Music Video of the Year). These artists join previously announced talent AP Dhillon, Banx & Ranx, Preston Pablo, and Rêve together in a collaborative performance, and Nickelback, Tate McRae, and Tenille Townes.
In addition to the nominees, Allan Reid, President and CEO of CARAS/JUNO Awards, announced this year's JUNOS received more submissions than in previous years, a milestone which signifies increased opportunity for Canadian artists. When asked about what this means for the future of The JUNOS, Reid was excited to speak about the growth they've seen.
"We've seen our submissions almost double in the last 7 years. It has just grown and grown. In the pandemic, we were very concerned about if people were still going to be making music…What ended up happening was the opposite. They needed to create, they needed an outlet. And CARAS/The JUNO Awards provided recognition for that. So, this year we've seen another growth happen. I think it's fantastic and the TD Support Access Program has helped a number of artists to get their submissions in without any financial barriers whatsoever. So, we've also seen a huge increase in submissions there. All of that results in nominees. 13 of the nominees today came from that program."
In a heartwarming moment, MusiCounts, Canada's music education charity associated with CARAS and The JUNO Awards, announced the nominees for MusiCounts Teacher of the Year. This award recognizes music educators' impact on students, their community, and the music education field.
"After some difficult years, music class is back in a big way, but there are still many challenges left to tackle. The lack of funding, broken instruments, outdated materials," said Kristy Fletcher, President of MusiCounts during a speech announcing the nominees, "It's music teachers who face these issues everyday, and it's also music teachers who consistently go above and beyond despite these hurdles to ensure kids across Canada benefit from the power of music. And who knows, maybe someday those kids will grow up and hear their name announced from this very stage."
The nominees for MusiCounts Teacher of the Year include Jewel Casselman (Winnipeg, MB, Lakewood School), Susan Evoy (St. John's, NL, St. Teresa's Elementary & Waterford Valley High School), Stephen Richardson (Yellowknife, NWT, École St. Joseph School), Kelly Stronach (Guelph, ON, Mitchell Woods Public School) and Heidi Wood (Calgary, AB, Joane Cardinal-Schubert High School).
We had a chance to speak with select JUNO nominees on the red carpet moments after hearing the news.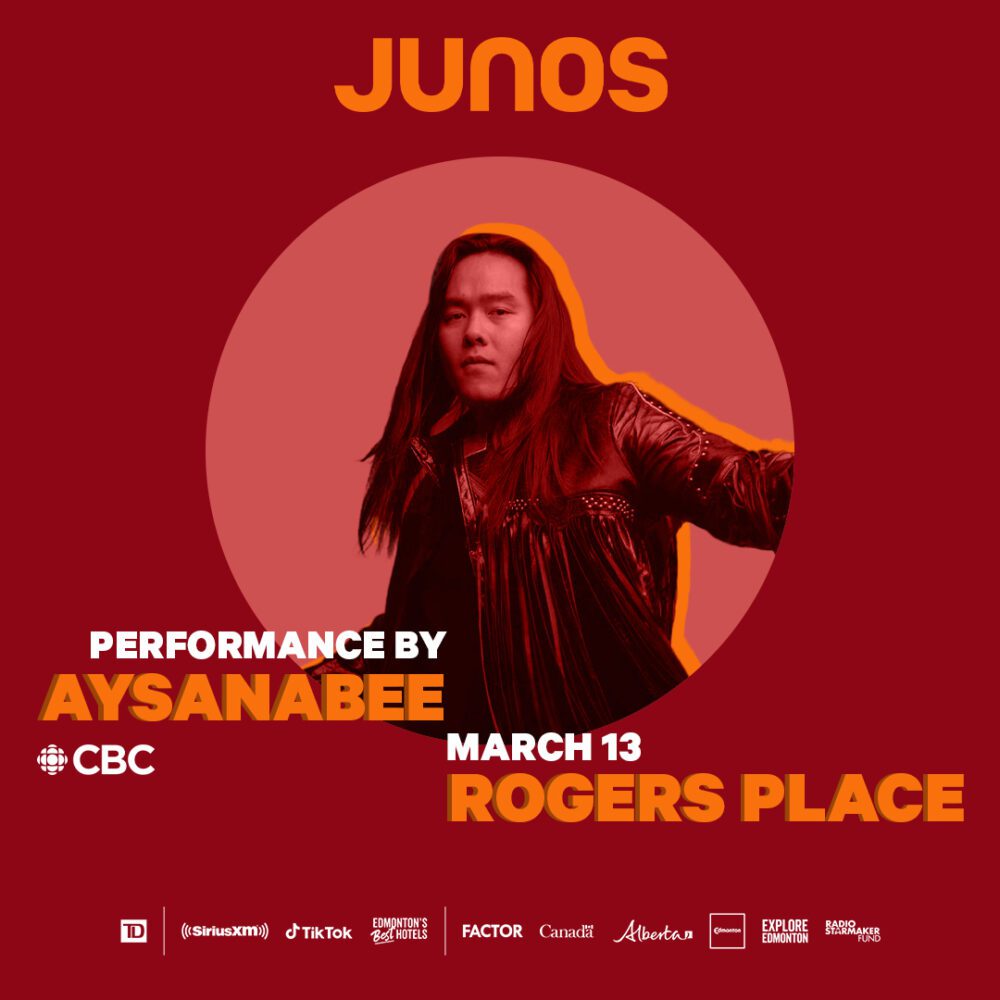 Aysanabee has had a whirlwind of a year, and 2023 is already starting out strong with a JUNO nominee and performance. We spoke about how it all started a year and a half ago, and what led him to this moment.
"It was very happenstance. What started my career was actually, like, I was just locked in my apartment and I was scrolling through Instagram and I saw a post that said 'apply to play the International Indigenous Music Summit' and I wasn't gonna do it because I was paying off student debt. I was like, 'Ahh I don't wanna pay this fee!' and I went for a bike ride and came back, and decided to do it. I made this video, we had to make mini docs about ourselves, and Amanda Rheaume and ShoShona Kish who had just formed Ishkōdé Records saw my video. So they got me on a Zoom call and were like, 'We watched your video. We started a brand new record label and are wondering if you want to be our first signing. And that was, like, a year and a half ago. So yeah, it's been an insane ride. I'm excited to just be in these spaces and be able to do music."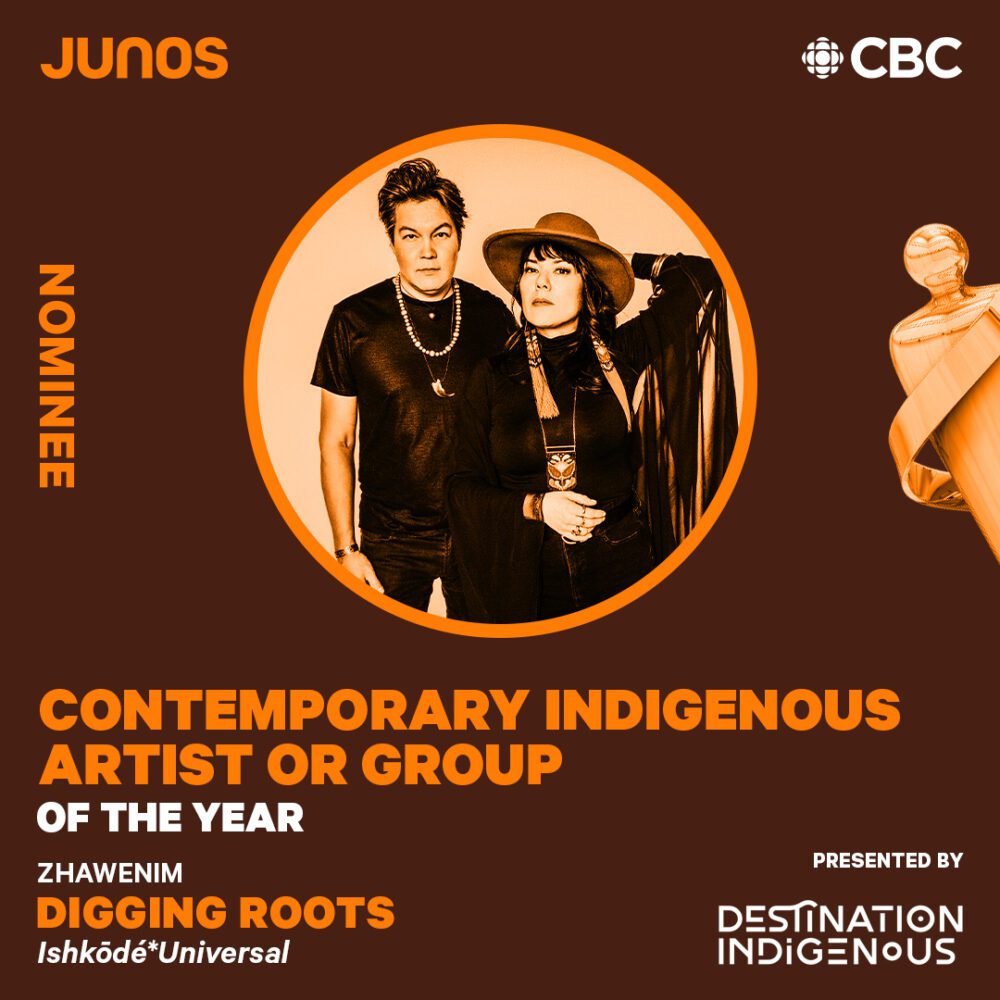 We spoke with ShoShona Kish and Raven Kanatakta of Digging Roots about what Kish's favourite part of the journey to form Ishkōdé Records has been so far.
"I think my favourite part of the journey has been the community we're building, because we're lifting each other up and we're having such a good time doing it. And we're breaking silences in spaces. I think it's a gift to our larger community, not just to our own, to hear these voices we're lifting up right now."
When asked about what they're most looking forward to for this JUNO year, Kanatakta added, "I'm just looking forward to play. We just came from a bunch of tours over the last few months and now we have a bit of a break, so to just play some music again is going to be awesome and that's really what it's all about at the end of the day."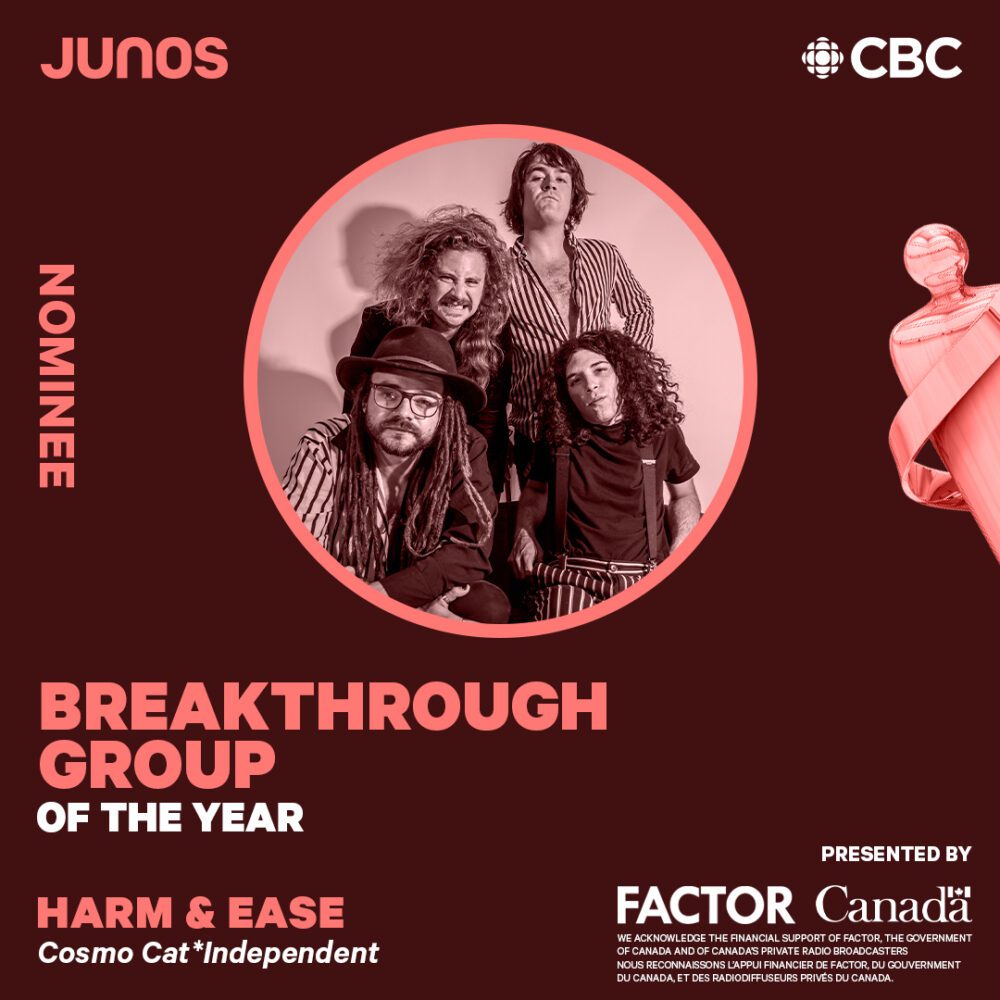 Many first time nominees graced the red carpet at the 2023 JUNO Nominee Announcement, including Harm & Ease, nominated for Breakthrough Group of the Year. "We're looking forward to continuing to grow as a band and expand our music as much as possible, connect with other Canadian artists, meet new faces, be a part of the industry…It's an honour to be here and be nominated!"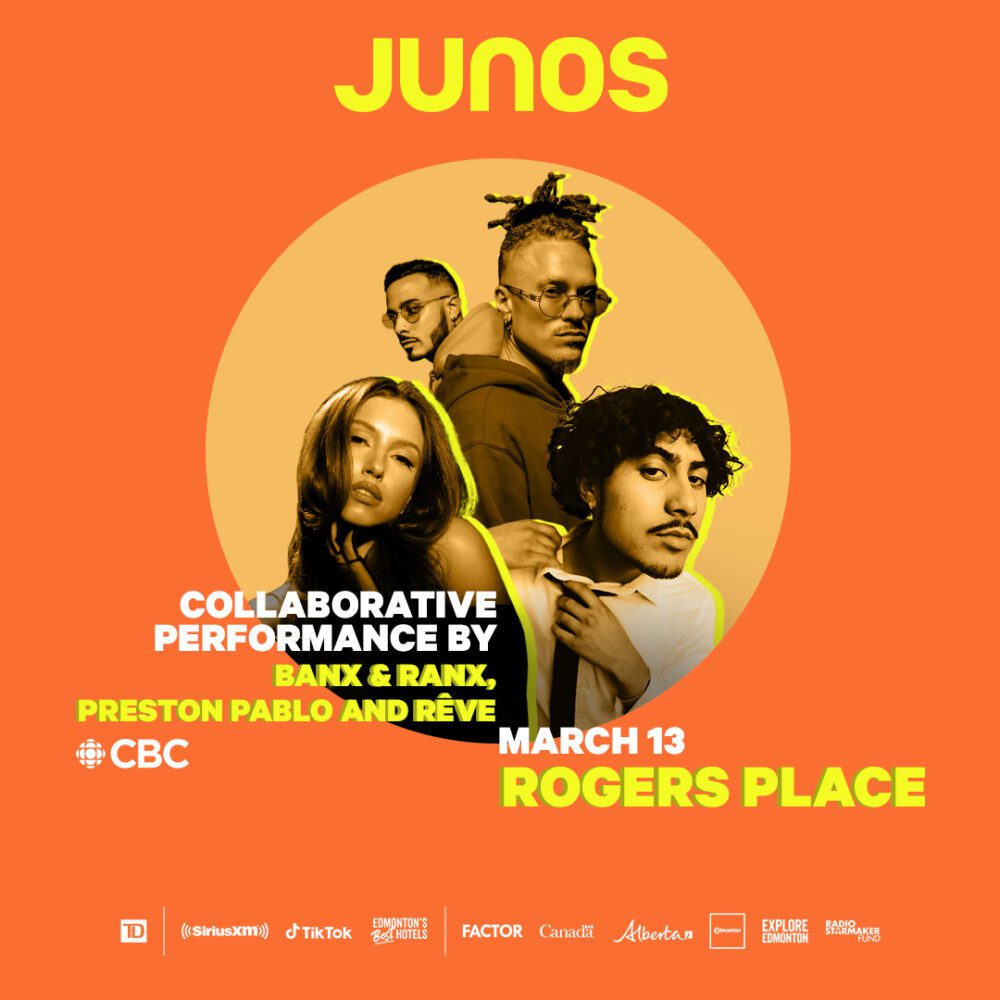 Preston Pablo, another first-time JUNO Award nominee who received three nominations, spoke about the excitement to hit the stage this March, "I'm very excited to perform, and to perform alongside my family Rêve and Banx & Ranx. Being able to showcase my art with them and to perform is what I'm really looking forward to most."
Among first-time nominees were previous JUNO Award winners, The Bros. Landreth, who are now nominated for an album very close to their hearts, "This nomination for a record that we really believe in means a lot. It's a huge affirmation for us as artists…A big part of why it's so special is because we made this record with no pressure. The pandemic hit, we reeled from that, and once we realized we were gonna be there for a while, we decided to make a record because we wanted to. Not because anyone was hounding us, not because there was pressure from the label, it was just because we really loved to do it. That was the impetus behind the whole album, just to make something for the sake of it."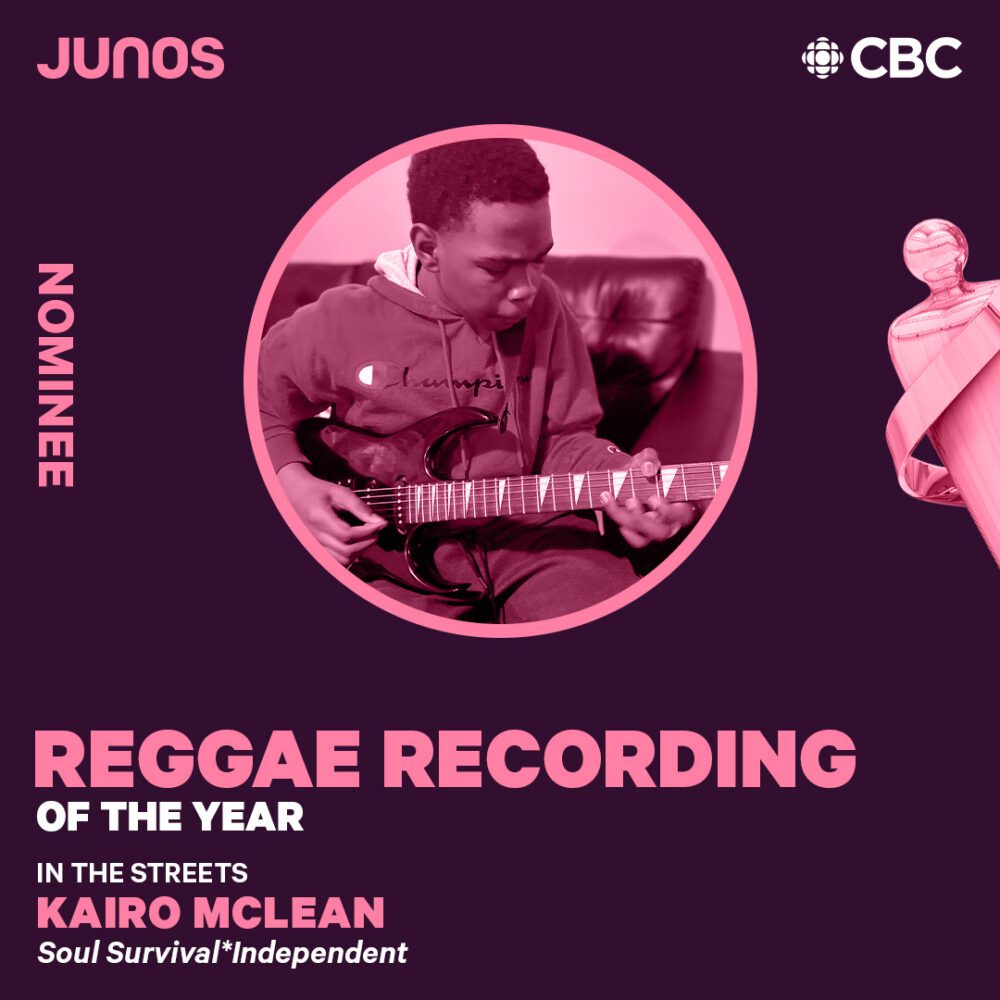 Making a return for a second year in a row, Kairo McLean was beaming on the red carpet. Having won Reggae Recording of the Year in 2022, McLean is now nominated once again in the same category, "I feel doubly appreciated by my city. It's just good to see that people still appreciate reggae and obviously I'm excited for the nomination and ready to go to Edmonton!"
The Weather Station, nominated for Adult Alternative Album of the Year, reflected on some of her favourite past JUNOS moments and what it's like connecting with the music community every year, "JUNOS is actually such an interesting event because it brings together people from so many different genres and it's actually so diverse. Every time I've gone I've met so many amazing people and I really enjoy that experience of breaking out of my music community…Last year I got to perform in a songwriters circle with Mustafa and just watching him move through the world with so much integrity and so much determination, and he's just so himself, and his message is so strong, I really drew a lot of inspiration from that."
For the full list of nominees, visit The JUNO Awards website.
Tickets for The 2023 JUNO Awards start at $49.00 (including tax plus fees) and are available for purchase at www.ticketmaster.ca/junos, by phone and in-person at the Rogers Place box office.
Book your stay for 2023 JUNO Week through Edmonton's Best Hotels – Rewards with every bookingwww.edmontonsbesthotels.com