At the end of June, a born and raised Toronto girl took off to St. John's, Newfoundland, in search of seafood, adventures and musical memories.  And 2 of the 3 were found in abundance at the Iceberg Alley Performance Tent.
The Iceberg Alley Performance Tent is an multi-day music festival created to showcase the unique culture, traditions and heritage of Newfoundland and Labrador, while bringing globally and locally reknolwned entertainment to the Eastern most point of Canada. The shows all take place under a 38,000 square foot "big top" tent in Pleasantville, on the banks of Quidi Vidi Lake near downtown St John's.
When we stepped into the Iceberg Alley performance tent, it felt like being transported into a magical, musical world, still warm and inviting despite whatever the Newfoundland weather may have been outside, and filled with happy,  fun having people of all ages and backgrounds, all coming together for the same reason: live music.  And the folks behind the fest had some incredible performers in store for us.
The Novaks
Every night at Iceberg Alley begins with a showcase of homegrown talent.  On our first night out, we were treated to a rockin set by local rock and roll legends The Novaks.  This band cut their teeth in the early 2000s, opening for the likes of Kiss and touring all around the world.  But they gave it their all for the hometown crowd.
JJ Wilde
Jillian Dowding and her rock and roll persona JJ Wilde were the main reason for my trip out east and she and her incredible band did not disappoint.  JJ Wilde balances her passionate and power packed vocals and commanding performance with a vivacious and joyful stage presence.  It's clear that this present and future queen of rock and roll loves creating and performing, and it's truly a pleasure to behold.
Collective Soul
JJ Wilde was the perfect opener for 90s rock legends Collective Soul, who headlined the night in the tent.  The group, with both original and more recent members, were the definition of professional rock stars from start to finish.  Their audience engagement was like no other – they knew what their fans wanted and they gave it to them, from their biggest hits to their deepest cuts.
One heartwarming highlight was the moment Collective Soul lead singer and founding member pulled JJ Wilde on stage with the band to duet on "The one I love", a soulful R.E.M cover.  As a 90s baby and a massive JJ fan I was positively thrilled to watch this crossing of musical generations and memory making moment.
That's just the kind of thing you come to expect from the big top at Iceberg Alley.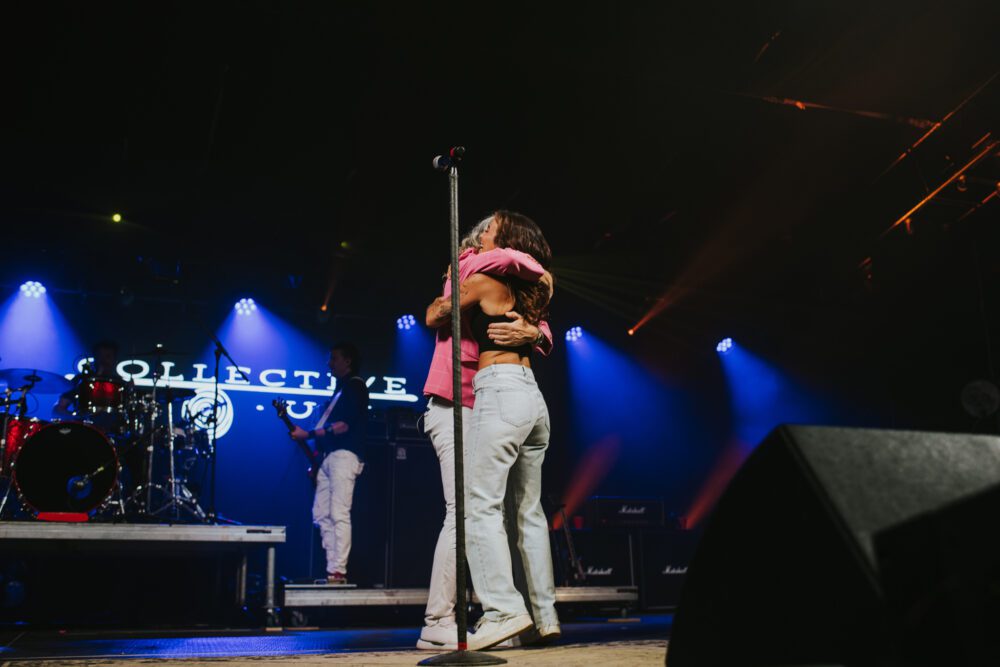 And don't worry, I still ate my weight in seafood, just not at the festival.  And yes, I did kiss the cod.  I don't recommend it.
What I DO recommend supporting the incredible live music industry in St. John's and the rest of Newfoundland.  The team behind the Iceberg Alley performance tent put on a fabulous show.  For more information, or to attend next year's events, keep up with the team at the Iceberg Alley Performance tent through their social media and website below.
All photos by Sandra Lee Layden, St John's local, Toronto transplant, touring expert and consummate rock concert photographer.   Keep up with her through her website and her social media @frontrowlady.