It may be months later but I'm still dreaming of my trip to Paris and the beautiful hotels I called home for that wonderful week.  I got the chance to stay in the heart of one of the most well-known and fashionable parts of Paris at the beautiful Hotel Vernet.
First Impressions
From the moment I stepped through the grand glass doors of the hotel and made my way up the marble stairs, I knew Hotel Vernet was something special.  This exclusive boutique hotel was a hidden gem, tucked away on a sidestreet just moments from one of the city's most bustling avenues, making it close to all the action, but just far removed enough to guarantee a quiet and comfortable stay.
The Location

Paris is a city that's meant to be walked, so the location of where you stay is paramount.  Sights to see within walking distance, as well as easy access to the easy to navigate Parisian metro system are ideal, and Hotel Vernet has both in spades.  The hotel is located steps from the iconic Champs Elysees, where every high end designer's flagships stores can be found, along with many of the divine restaurants and cafes that Paris is known for.  And of course, at the foot of the Champs is the marvelous Arc de Triomphe, one of the most iconic monuments in the city.  All you need to do is leave your hotel and the explorations can begin.
The Room
Walking into my room, I felt immediately at home.  From the lush, warm colours of the walls and carpeting, to the large, welcoming king sized bed, and a spacious bathroom with the biggest most beautiful bathtub I have ever seen, Hotel Vernet strikes the perfect balance between comfort and luxury.
The Food
While finding a delicious place to eat in Paris is an easy feat, that feat is made all the more simple and convenient when the restaurant is located just below where you lay your head at night.  I had the most decadent meal of my entire trip at the Hotel Vernet.
Restaurant Le Ve, lead by Chef Richard Robe, features artful, delectable cuisine in the traditional fresh style, but with modern and international touches; perfect for a hotel hosting guests from around the world.  The restaurant treated us to a sampling of their entire luxurious menu, to ensure we experienced the full breadth of Chef's talent and creativity.
We dined on lagoustine with mashed avocado and passion fruit, herb dressed asparagus with Iberian ham chorizo foam, tender and flavourful cod surrounded by vegetables as bright in colour as in flavour, creamy scallop infused risotto, and perhaps my favourite dish of the night, a delicacy simply called "The Pie"; veal sweetbreads encased in a buttery, flaky crust topped with a delicious gravy.
And of course, no meal in Paris is complete without dessert, and we had the chance to taste both of the sweet endings that Le V had to offer, because who can truly choose between strawberries baked into cream, or fruit infused chocolate?  Certainly not me.
The Service
From the front desk, to the concierge, the housekeeping and the restaurant staff, every person I encountered at Hotel Vernet made it clear that my comfort and the comfort of all of their guests was their top priority.  They made check in a breeze, ensured my room was the perfect sanctuary for the final few days of my trip, and were happy and available to ensure every need and concern I had was taken care of.  I indulged in room service, a bubble bath complete with champagne to sip, and drinks at the beautiful hotel bar, and at every instance Hotel Vernet's staff were responsible for making those indulges easily accessible and incredibly enjoyable.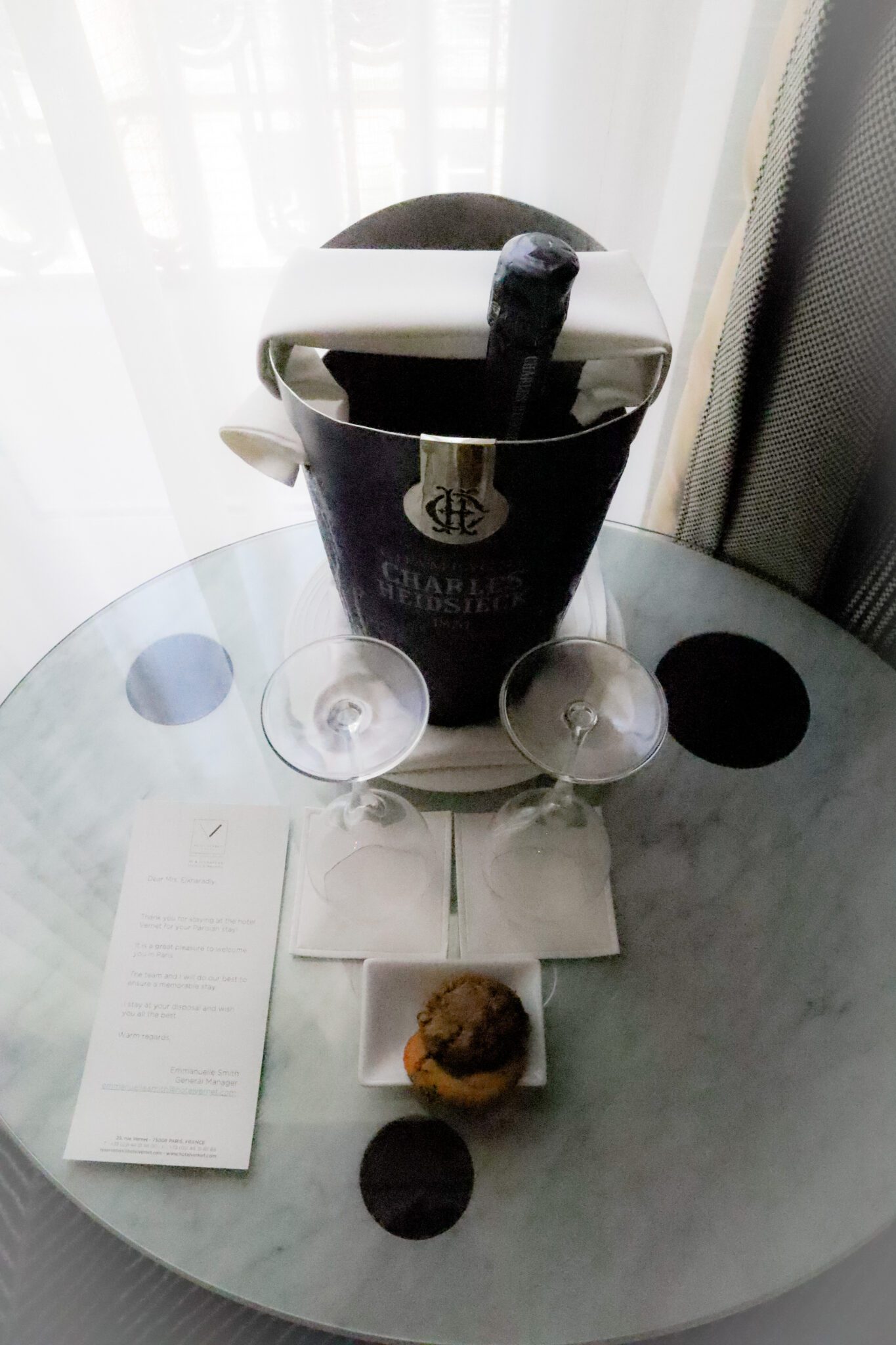 And if all that wasn't enough, on the morning of my departure, the staff truly went above and beyond.  At the time of my stay, taxis and other rideshare services were challenging to book, especially during morning rush hour and in the evenings, when locals and tourists alike were heading out for the evening.  Just my luck, my flight required a 9am departure from my hotel.  Seeing my nervousness, both the gentlemen at the concierge desk got on every phone they could get their hands on, calling various taxi companies and ride services in order to ensure I got to the airport on time.  And, sure enough, I did (though I did tell them I would take any excuse to stay in Paris even a moment longer.
If you're looking for a place to stay in Paris that stands out from the rest when it comes to style, service and spirit, look no further than Hotel Vernet.
My stay was gifted to me for the purposes of this review.  All words and opinions are my own.