With their well-stocked cellars and no clue where to start at the LCBO, know that you don't always have to purchase wine for the wine lover on your list this holiday season. There are many options out there that go beyond the bottle. These gifts complement the wine lifestyle from the high end to the affordable for enjoying wine to the fullest, cooking a great pairing, having that self-care day or keeping up with those wine studies- this is your gift guide filled with wine adjacent gifts.
GRAPES Wine Card Game
A card game for the wine curious and enthusiasts alike, the GRAPES Wine Card Game is like the gameplay of Uno – if Uno was all about wine. A self-proclaimed wine fanatic, Natalia Vremea, created a fun game that can raise some competitive gameplay. Picking up interesting tidbits about popular grape varieties, world wine regions, and winemaking styles as you hurry down to your last card and yell GRAPES! before grabbing your glass for a winning victory dance. You don't need any knowledge of wine to win, but it is a near guarantee that you will learn more about wine along the way.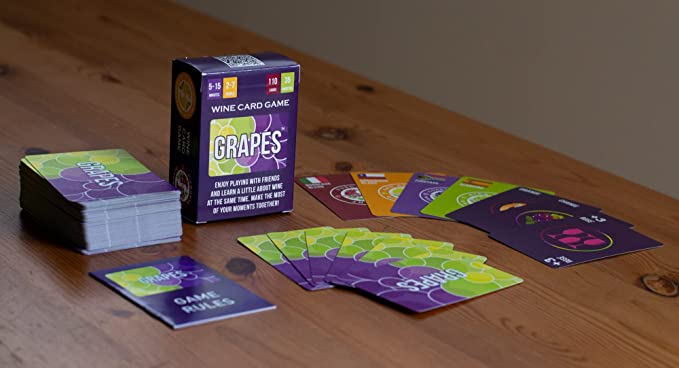 Find out more about the GRAPES Wine Card Game and grab your own from their Amazon store for $24.99.
The Social Herbivore Book – Perfect Pairings For Plant-Based Cuisine
No longer a trend, more and more people are converting their diets partially or fully to a more plant-based lifestyle, and why not enjoy that life with some wine to pair alongside. Created by the two amazing women behind the Social Herbivore brand, Master Sommelier Jennifer Huether and Priya Rao, the Vegan Food Consultant and TV Host, this book is your guide to wine and food pairings for plant-based delights. Filled with 40 recipes for various occasions, from starters to main dishes and even desserts, each with wine pairings to elevate your hosting game. Not to mention some key tips on starting your own home cellar!
Head to the Social Herbivore website for more on plant-based living, and wrap up a copy of this home library keeper for the holidays for $15.95.
Ciselier's Pallarès 8″ Primera Everyday Kitchen Scissors
Like a great wine opener or a good set of glassware, once your try the best of an everyday necessity, there is no going back. Maggie Fox, the founder of Ciselier, wanted precisely that with a pair of scissors. A pair that cut properly, one that didn't cause tearing or jam, or pinch, and that is what she accomplished. While a nice pair of scissors might not seem like a wine-lover gift, think for a moment of your Italian wine-loving friend that cuts their pizza with scissors or the gift wrapper extortioner that also has a sizable cellar. This is the gift for them. The Pallarès 8″ Primera Everyday Kitchen Scissors are crafted from hot-forged and hardened steel and assembled by hand in Cuchilleria Pallarès in Solsona, Spain, in the last remaining workshop in an area that has been famous for centuries for the manufacture of quality blades. Like best in your home, these scissors are up for the task and come in left-handed versions too.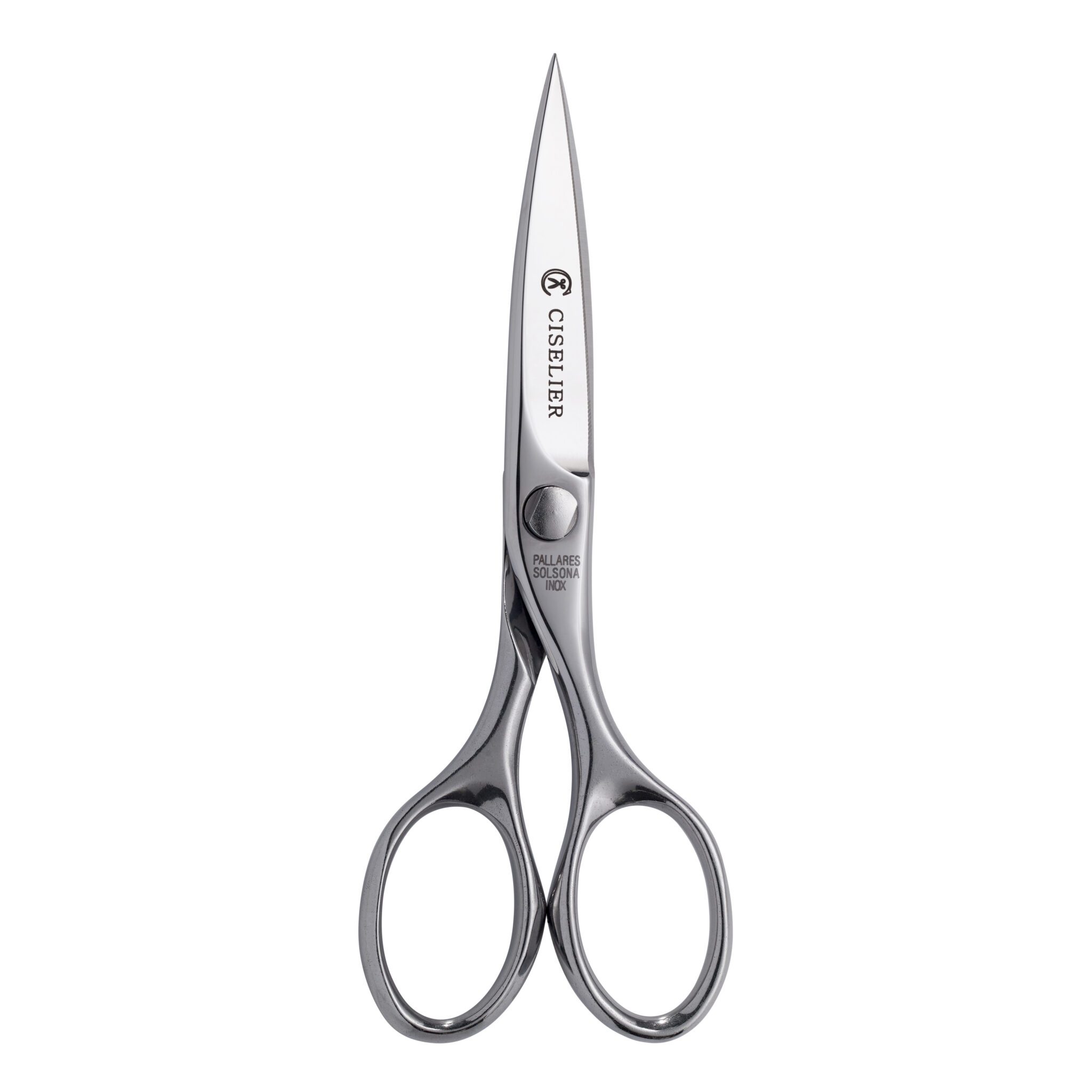 Explore the world of Ciselier to find out more, and add the Pallarès Primera Everyday Scissors to your gifting list for $119.00.
The Pascoe Rejuvenating Skincare Kit
Everyone needs a good self-care day. Wine lovers, too, need those all-important moments to themselves, to get away from the world with a good bottle of wine at the ready. However, if you are a natural wine lover and won't settle for glass that isn't crafted with care and done organically or biodynamically made, why not follow suit when it comes to those moments for self-love? Pascoe has made pharmaceutical-grade herbal and homeopathic remedies for more than 125 years! Launching their skincare category two years ago, creating a line meant to give some additional care and detox for your body's largest organ. The line is suitable for all skin types, cruelty-free, vegan, dermatologically tested and made in Germany from locally sourced ingredients. The Rejuvenating Skin Care Kit includes the Hyaluronic Body Serum and Face Cream, as well as the Vitamin C Intensive Care Serum. An excellent holiday gift for the person who cares deeply about the wine they drink and what they put on and in their body.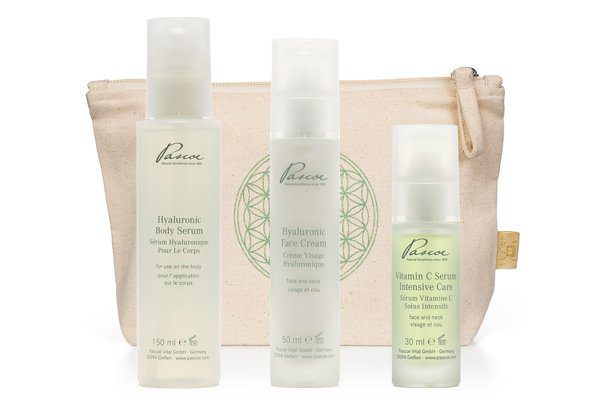 Dive into the story of Pascoe and add this skin rejuvenating kit to the holiday wish list for $119.00.
Inside Bordeaux by Jane Anson
For the serious wine enthusiast, a great book on a noteworthy and collectable wine region is a must for the home library. Inside Bordeaux by Jane Anson is an entire lexicon into this historical, fascinating and fine wine region of Bordeaux. Within its pages are some of the largest houses featured alongside underrated properties, a deep dive into how to understand Bordeaux better, and learn what you are tasting in the glass. A gift perfect for the Bordeaux collector, the budding Sommelier or even a serious lover of French wines. Sold in Ontario through All the Right Grapes wine agency, you can even pick up a case for Bordeaux to wrap up alongside this academic read.
Pick up this vinophile-attested read for the serious wine lover in your life for $110.00.
The Coravin Wine Preservation System
A wine gadget that everyone in the wine world has come to love, cherish and can not seem to live without is the Coravin Wine Preservation System. Working on cork and screwcap bottles (with a special attachment), the Coravin allows you to take one glass out of a bottle at a time. Displacing the wine inside the bottle with Aragon gas, one of the noble gases, as it exits the bottle. This device can preserve a bottle once Coravin-ed for quite a while. Three months for screwcap wines and six to eight months for cork-topped ones. Making it possible to have the perfect pairing with dinner and enjoy that bottle without rushing to finish the whole lot.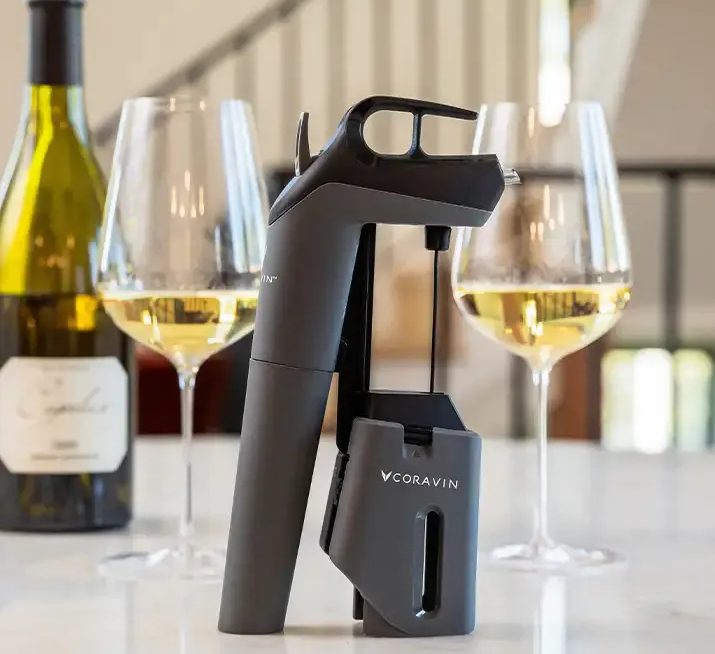 Ranging in price from the high end to an entry-level at $147.00 with the Coravin Timeless Three SL set, this is an ideal gift for any wine lover.
Vinovation O2 Wine Aerator
A Canadian-designed wine gadget that hyper aerates wine, the Vinovation O2 Wine Aerator is a combo wine tool that melds a decanter with a modified wine aerator to open up your bottle of wine in moments. Pour your wine of choice into the decanter, place the aerator on top and let it run. In ten minutes, that bottle will be fully opened, smoother and ready to enjoy. An ideal gift for the wine lover that is all about hosting and sharing those fantastic bottles with friends. After all, wine needs a bit of air to express itself best, a good stretch coming out of the bottle, and this is exactly what this aeration system does.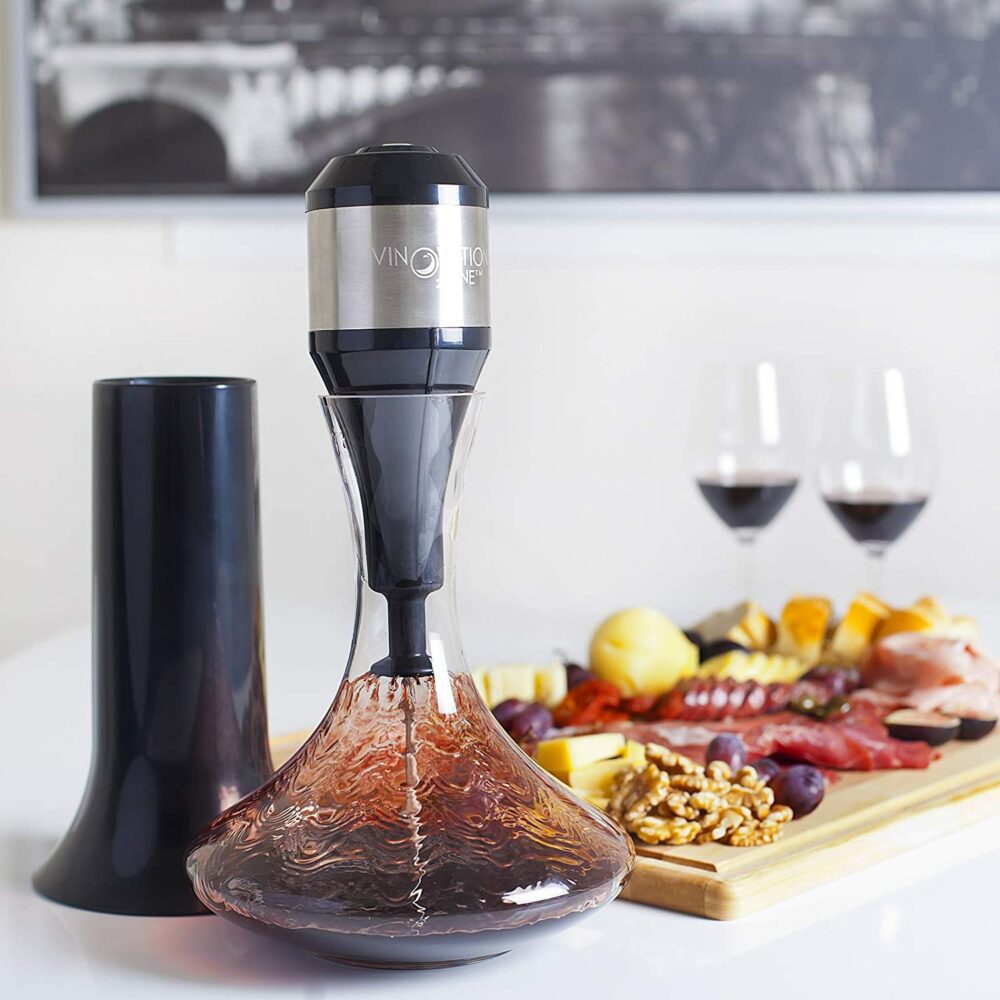 Explore the entire story behind the Vinovation O2 Wine Aerator and gift this stellar wine gadget for $112.00.