Canadian high school student and eco-advocate Lacia-Paige Cummings won the Tre Stelle's Cheese4Change sustainable food youth program.  Now she's taken that knowledge to create a sustainable snack menu for folks of all ages to enjoy.
Lacia was a winner of Tre Stelle's Cheese4Change sustainable food youth program which encourages Canadian teachers and students to submit their sustainable recipes for a chance to win grants and cash prizes. With hundreds of entries from coast to coast, winning students received $500 and winning schools received $5,000!
Expert judges were blown away by the young people's creativity with recipes like 'Canadiana' Poutine made with organic potatoes and Canadian Mozzarella, and Paneer Bhurji with Tre Stelle Paneer and seasonal vegetables. Many students integrated fresh produce grown in their school or home gardens!
Inspired by the recipes of her fellow Cheese4Change winners, Lacia created a sustainable snack menu featuring her winning pizza along with Caprese Skewers and a Ricotta Raspberry Smoothie to highlight her commitment to the planet and the importance of sustainability for her generation and those to come.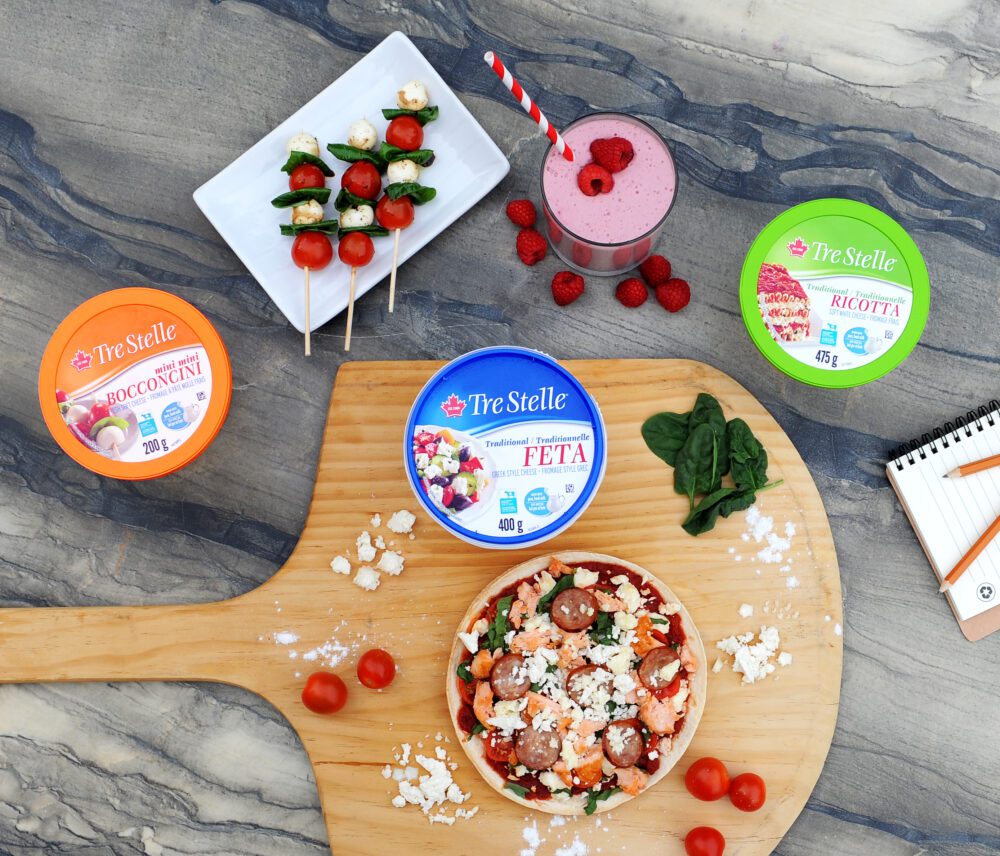 Summer's Caprese Skewers 
Lacia chose Cheese4Change winner, Summer McPhee's caprese skewers for her menu because she knows everyone loves a fresh Caprese Salad.  She loved Summer's decision to make everything bite sized on a skewer as that made it irresistible to kids and adults alike.  Shake some olive oil and balsamic vinegar in a cup and let everyone dip at their leisure.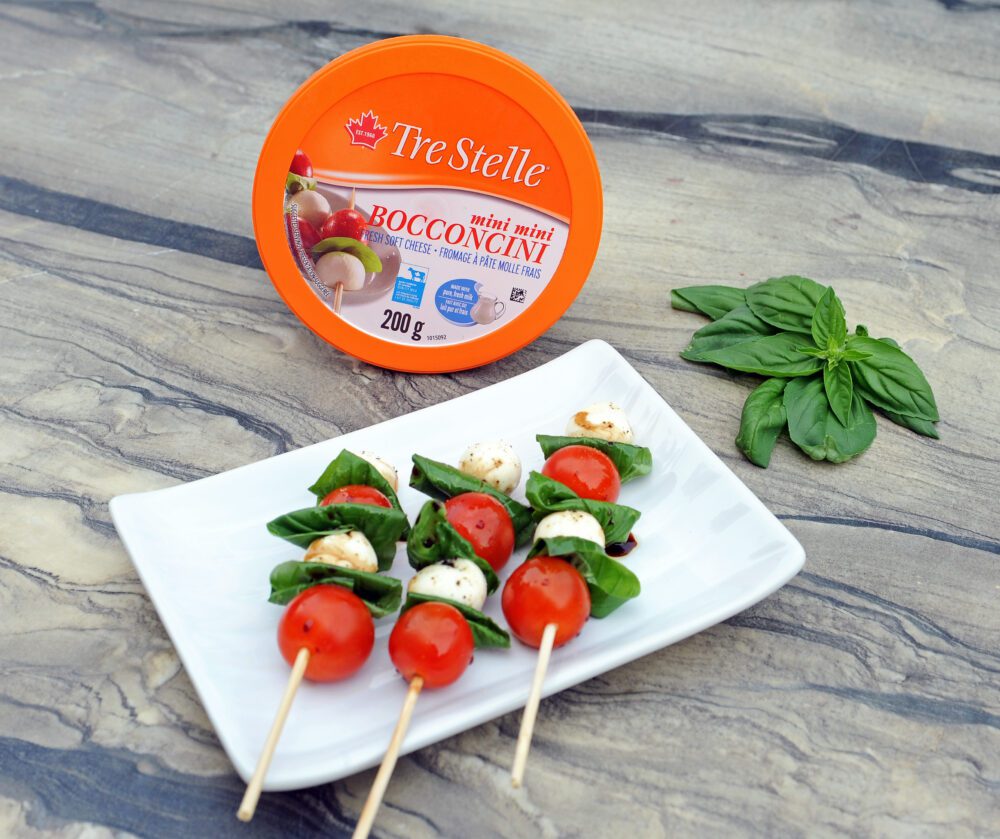 Makes 18 Mini Skewers
Ingredients:
18 Cherry tomatoes
18 Tre Stelle Mini Bocconcini
18 Basil leaves
18 Mini skewers
2 Tbs Extra-virgin olive oil, for drizzling
2 Tbs Balsamic vinegar
Freshly ground black pepper to taste
Instructions:
Thread the tomatoes, mozzarella, and basil onto mini skewers.
Add olive oil and balsamic vinegar to a container for dipping, shake and and sprinkle with pepper.
Lacia's Salmon & Sausage Pizza with Feta

Everyone loves homemade pizza, but Lacia cleverly incorporated dinner leftovers into hers to  ensure nothing went to waste, and the result was mouthwatering, featuring salmon, sausage and feta.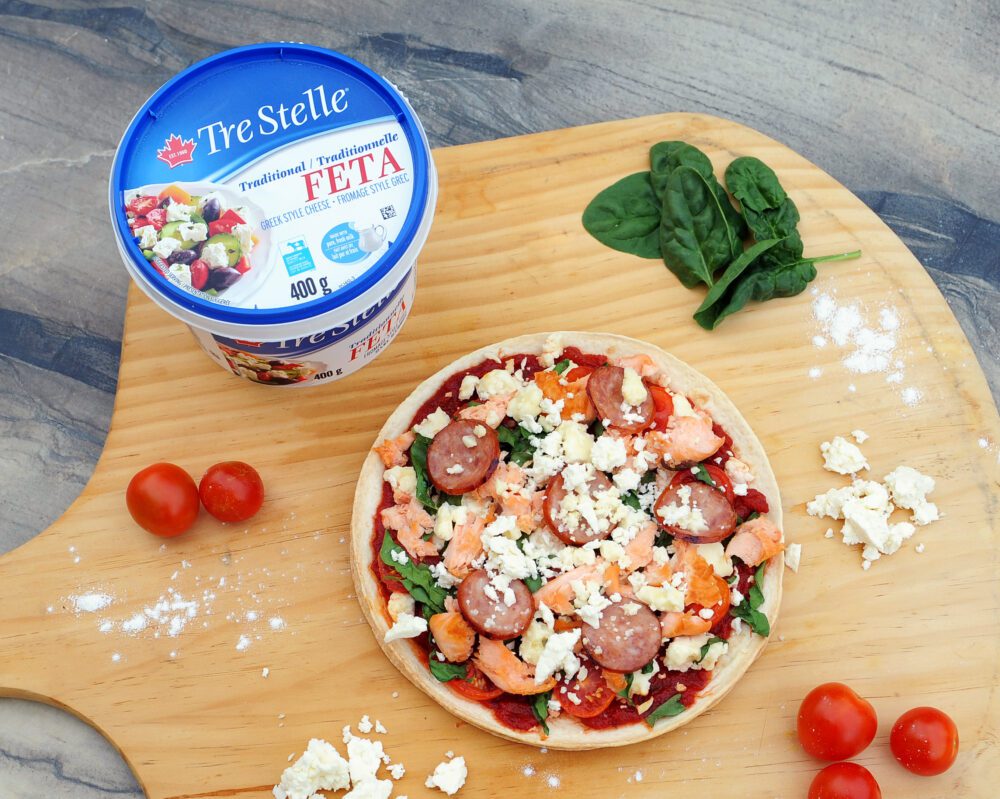 Ingredients:
1 mL  Homemade pizza / tomato sauce
2 mL  Chopped spinach
2 mL  Small tomatoes
2 mL  Shredded salmon
2 mL  Sliced sausage
2 mL  Tre Stelle Feta
Pita / Tortilla / Flatbread
Instructions:
Use your flatbread or tortillas currently in your cupboard, and spread with your homemade pizza sauce
Add the feta cheese and locally grown vegetables: diced tomatoes and chopped spinach
Add shredded salmon and sliced sausage from dinner leftovers
Preheat oven to 350 degrees and bake for 8-10 minutes.
Let cool, ENJOY YOUR MEAL!!
Maya's Raspberry Smoothie
Healthy and packed with flavour, eight year old Maya Fishbain's raspberry smoothie is the perfect complement to Lacias' sustainable menu.  It has a fun bright colour, it's creamy and sweet and embraces the popular ricotta smoothie trend, which is worth the hype!
Ingredients:
1 Cup of Raspberries
1/2 Cup Tre Stelle Ricotta
1/4 cup Milk
Instructions:
Gather ingredients.
Measure out the ingredients.
Put raspberries, ricotta and milk in a blender until all mixed into a nice smoothie consistency.
For more information or to enter the challenge yourself, visit www.trestelle.ca/cheese4change!