Winter in Toronto. It can be a wonderfully magical time, and it can also be a snowy mess, but as someone who has been here for years, I've become used to it and, in the fall and winter seasons, make a point to get out and enjoy as many fun activities as I can do, and see.
So, since I have 20 years of experience here in Toronto, I thought I'd share a few of my favourite things that always bring a smile, a laugh or just put me in the holiday spirit and maybe do all three.
From finding the perfect presents in a festival setting to hunting down the perfect Christmas tree, bright lights, cold nights, and so much more, check out our list of what to do in Toronto this winter.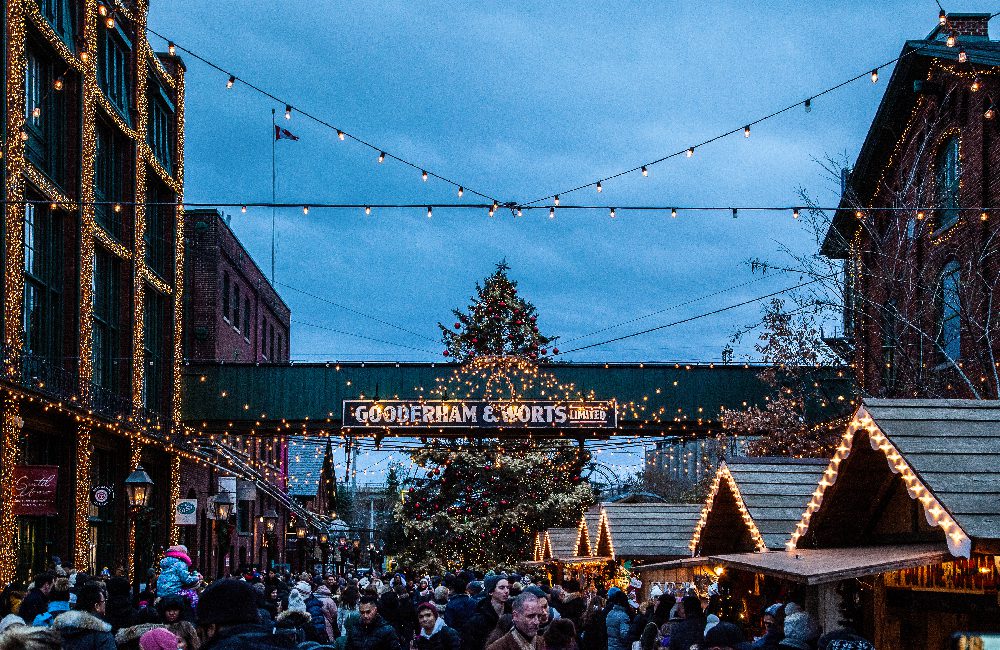 If you're looking for a whimsical experience as you wander the walking streets of the distillery district, surrounded by everything Christmas as you shop for the ones that you love while drinking warm apple cider, then the Toronto Winter Village is for you.
We made it out to wander around on the evening of Sunday, November 20th, and it wasn't overly busy, making it a perfect kick-off to our holiday season.
General Admission: Tickets are $11 + HST each
Open: Tickets are required on Fridays, Saturdays and Sundays after 4:00 pm and December 27-31 after 4:00 pm. Tickets are $11 + HST each. Kids 9 and under are FREE of charge.
At all other times, access is free of charge and tickets are not required.
Evergreen's Winter Market
Evergreen's Winter Market is free to attend and will take place on December 18 from 11 am-5 pm, with the evening activities running from 6 pm-9 pm.
Shop at one of the largest sustainable winter markets in Toronto! Featuring a rotation of locally crafted, sustainably produced, handmade, and vintage vendors.
Grab a bite to eat of local street fare from food trucks and food stalls. From dumplings to samosas and hot chocolate to gluten-free treats, there is something for everyone to enjoy.
Join in for skating and then warm up by the fire pits in Koerner Gardens afterwards!
General Admission: Free
Open: December 18 from 11 am-5 pm, with the evening activities running from 6 pm-9 pm
We love a real Christmas tree. That being said, we also aren't fans of cleaning up all the needles, but there's something about a real tree, the smell, the look, and the feel that just makes your home feel cozy and ready for Christmas. I blame my parents for raising us with a real one growing up.
At Sheridan Nurseries or The Real Tree, you'll be able to find the perfect tree along with some other seasonal choices to have your home looking and smelling like the holidays in no time, plus it can be a fun outing for you and the family or friends, plus you'll have help with any heavy lifting.
This December, come on out and celebrate and take part in the holiday magic at Casa Loma during Christmas at the Castle. Casa Loma will host a wide range of activities and thrilling performances that are sure to be fun for the whole family. Guests will be surrounded by holiday magic throughout the castle, which will be resplendent with holiday décor, including a 40ft tall tree in the Great Hall and eight other signature trees by talented Canadian designers. As always, kids are invited to visit Santa in his castle workshop, participate in festive arts and crafts, visit with wintery holiday mascots, and much more.
Christmas at the Castle Admission is $45 per person
Children 3 and under are free when accompanied by a ticket-holding adult.
Upgrade to include Holidays Lights (valid on the same date, after 5 pm).
December 1st – Dec 18th        $25
December 19th – Jan 8th        $30
Select Dates December 2nd, 2022 – January 2nd, 2023*
9.30 am – 5 pm (last admission at 4.30 pm)
*View Calendar
This year brings; A trip around the world! Follow a self-guided, socially distanced ice sculpture trail around Bloor-Yorkville and escape to some of the world's most iconic destinations.
The ice displays will be available to view as of February 18 and will be on display until the evening of February 19th – weather permitting.
You can explore the trail in person or virtually on Instagram @BloorYorkville and on YouTube at Bloor‑Yorkville BIA.
Terra Lumina is the eleventh unique experience created in Moment Factory's Lumina night walk series.
After nightfall at the Toronto Zoo, you are invited to pursue an immersive experience along a 1.5 km walking path that travels back into the future.
Your journey begins when a portal carries you into the luminescent wonders of the year 2099, a time when humans and nature have learned to live in harmony.
Let yourself be transported by vibrant lighting, multimedia effects, breathtaking video projections and an original score to an enchanted world filled with possibility. And explore this bright and hopeful future to reveal the powerful secrets of tomorrow.
Adult (13-64) $29.99 + HST
Child Rate (3-12) $24.99 + HST
Senior Rate (65+) $27.99 + HST
Come and enjoy the Holiday Trees at High Park Zoo. Trees will be standing on parade from December 5 to 31 for all to see.
Date: December 5 – 31, 2022
Time: 9:00 am – 5:00 pm
Location: High Park Zoo, Deer Pen Rd., Toronto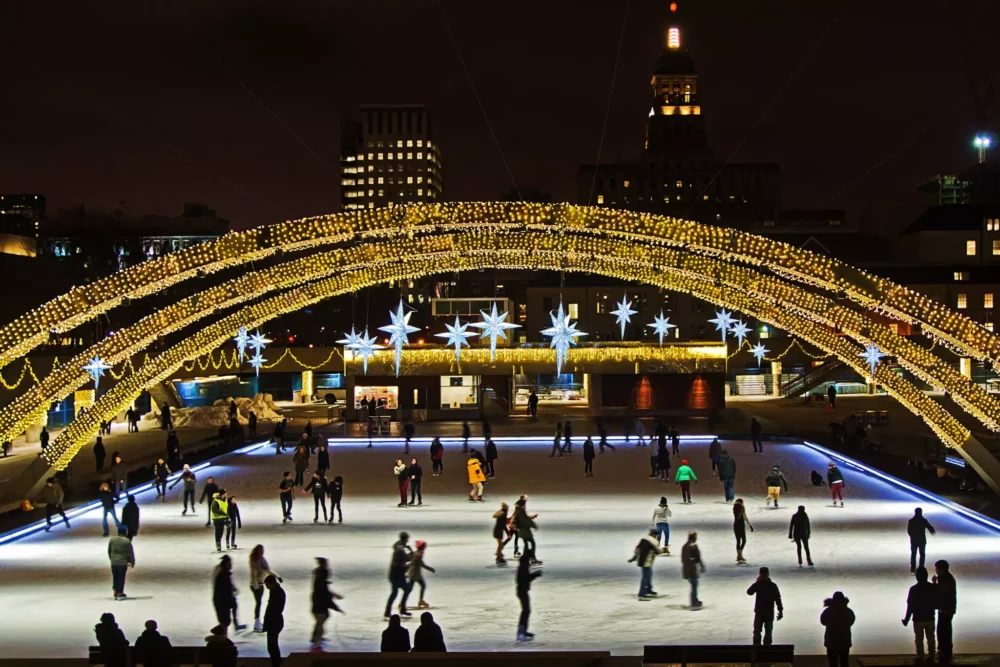 You can go skating at over 50 artificial outdoor ice rinks and skating trails. (Check for which rinks are open, as some are still closed due to COVID)
The Toronto Light Festival offers a visual journey and a playful adventure throughout the walking streets of The Distillery District.
During the cold, dark days of winter, The Toronto Light Festival offers visitors a reason to bundle up, get outside and celebrate the season, creativity and life in the big city.
The Festival, now in its fourth year, exhibits local and international light artists. Artworks are curated to educate, warm hearts, inspire or just put a smile on visitors' faces.
Where: The Distillery District
When: January 17th – March 1st
DesignTO is best known for the DesignTO Festival, Canada's leading and largest annual design festival that celebrates design as a multidisciplinary form of creative thinking and making, with 100+ exhibitions and events forming Toronto's design week every January.
January 20–29, 2023
Winterlicious Toronto
Looking for amazing dining experiences without a massive bill? Then you have to check out Winterlicious. Indulge in delicious three-course meals and at one-of-a-kind events at more than 200 of Toronto's top restaurants. Yum!
To get the latest news on Winterlicious and other City of Toronto events, subscribe to the CelebrateTO newsletter.
Friday, January 27 to Thursday, February 9
Winter Stations is a single-stage international design competition held annually in Toronto, Canada. Participants are tasked with designing temporary winter art installations which incorporate existing lifeguard towers spaced strategically across the city's Kew and Woodbine beaches. The structures (not in use in the wintertime) are considered visual anchor points for the installations.
As in previous years, Winter Stations intends to build 4-6 winning proposals for a six-week exhibition along the waterfront, funding permitted.
The competition is open to everyone. There is no fee to enter.
Public Exhibition at Woodbine Beach Toronto
It Opens on February 20, 2023.
There you have it, some of our favourite things to do in Toronto to keep us smiling and happy throughout the colder months.
If you have some suggestions, feel free to share them in the comments here or on social media.