I recently moved and, in doing so, was reminded that it's time for some new towels. So, I searched for some great-looking towels I could test and might ultimately love, that search led me to Pokoloko.
Like many, I've had the same set of towels for years, and while they did me well along the way, it's time for an update.
Last time around, I must admit, I just brought one of the first sets I found, and while it was fine, I never really loved them, so I wanted to find some full-body towels, hand towels, kitchen towels and some face clothes so I could retire the old set and bring a new one in.
First, I wanted a collection that feels good to the touch, absorbs water well and looks great on its own and in its place.
So, we grabbed two bath and beach towels, two hand towels, kitchen towels and a pack of waffle facecloths from Pokoloko and got to testing these 100% Turkish cotton towels.
The Diamond Towel:
A mid-weight towel that will add style and texture to any room. This towel not only looks great, it feels lovely to the touch as well. It also transitions from inside to out, from towel to scarf, which we love.
Versatile, well made, this is a must-have, and while it may not be as absorbent as the Harlem towel, it's a keeper.
Available in: Carbon, Slate, Mist, Cream, Purple, Light Pink, Gold, Aqua, Navy, Powder, Dune
Size: 64″ L x 39″ W with 2″ twisted tassel fringe (163cm L x 99cm W with 5cm twisted tassel fringe)
Price: 45 CAD
The Harem Towel:
The Harem Towel is noticeably lighter than the Diamond. Lightweight, still soft, but super absorbent, this towel makes a perfect addition to the bathroom or would also be ideal for summer fun at the beach.
We have to admit that we became addicted to this towel through testing. It dries very quickly, is light and airy, and is somehow super absorbent, all while looking oh so great.
This is definitely a new fave.
Available in: Denim, Turquoise, Silver, Slate
Size: 69″ L x 37.5″ W with 3.5″ twisted tassel fringe (175cm L x 95cm W with 8.9cm twisted tassel fringe)
Price: 48 CAD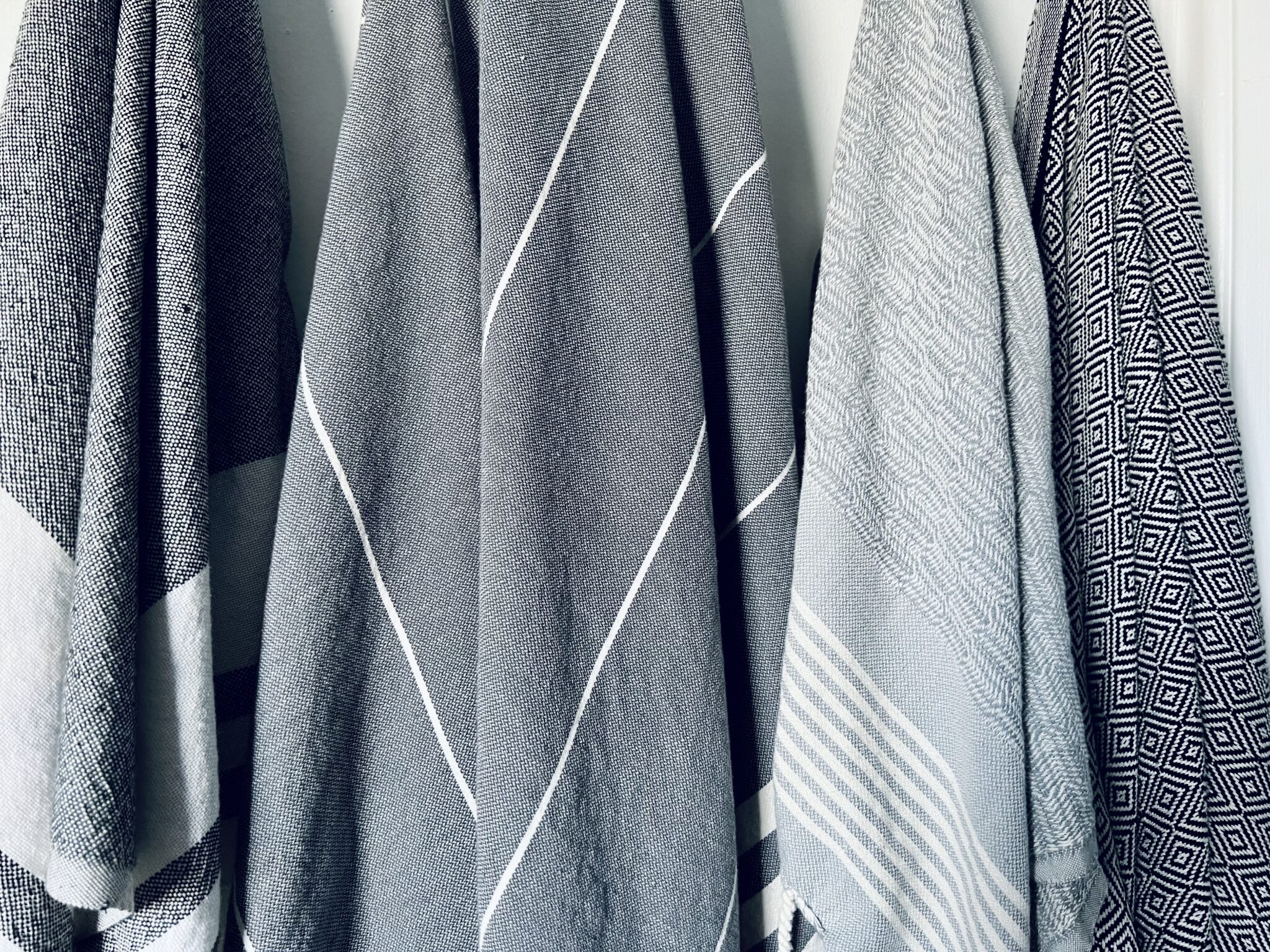 The Classic Kitchen Towel:
This one is pretty self-explanatory. It is what it says. It's a classic kitchen towel and was the perfect addition to our kitchen. Soft to the touch and perfect for drying any dishes or your hands.
Available in: Navy, Light Grey, Black
Size: 18.5″ W x 28.75″ L with 3″ twisted tassel fringe (47cm W x 73cm L with 7.6 cm fringe)
Price: 19.95 CAD
Textured Hand Towels:
The textured hand towel has to be another fave for me. I love the look of the textured towels while also loving the feel, and just like the harem towel, this one is super absorbent while being airy and quick drying.
Available in: Navy, Light Grey, Black
Size: 19.75″ W x 29.75″ L with 2.5″ twisted tassel fringe (50.1cm W x 75.5cm L with 6.35cm fringe)
Price: 19.95 CAD
Waffle Face Towels:
I've recently adopted the waffle towel as my go-to washcloth in the shower. It's big, luxurious, great for a perfect overall clean, and, like everything else from Pokoloko, feels superb to the touch.
Even better, I folded and stacked the waffle towels in the bathroom for some added texture to the room, and they look great, but I have a hunch that's the idea.
Available in: White, Light Grey, Dark Grey, Pool, Marine
Size: 14.3″ W x 16.9″ L (36.3cm W x 43cm L)
Price: 28 CAD
As you can see, we love the collection from Pokoloko. Soft, well-made and stylish towels, perfect for you, your family and your home.
*Product provided by Pokoloko for this review.