We all knew that everything was going to look a little different in 2021, and the South by Southwest Conference and Festival would of course be no exception.  SXSW was one of the first large scale events to be cancelled last year as the seriousness of the COVID-19 pandemic began to dawn around the world.  The disappointment was palpable, as was the knowledge that we would not be able to gather in person for this year's SXSW, despite all the time that's passed.  Expectations were high when it came to what SXSW was going to produce, in light of many other events going virtual around the world.  And, at least to this writer, SXSW Online was a wonderful experience.  And I never had to leave the safety of my home.
The Ticket In
It was clear that SXSW took their mission of providing an all encompassing and multi-platform solution seriously.  The past virtual conferences I've attended involved a balancing act of side by side windows or swapping windows back and forth on my laptop.  It was doable but not ideal, especially for someone who likes to multitask as much as I do.  But SX took things to another level, as they are wont to due, by providing a variety of ways to access the festival and content.
The main SXSW access tool was their app, which they upgraded to function across multiple platforms.  Usually, the SXSW app is your living map and information booth in your phone for the real life conference and festival.  For SXSW Online, the app was the portal through which attendees accessed the content the conference provided. Along with my phone, I was able to access the app through my Roku device, turning my television into SXSW central.  Being able to watch speakers and performers on a larger screen with surround sound made the content that much more engaging, and made it easy for me to take notes or work on my laptop.  It also made it all the more fun to dance along to the music showcases in the evenings, and admire the detail and passion put into both the production and the performance.
The Topics
It's no surprise that a conference the size and scope of SXSW will help carry and push forward the cultural zeitgeist.  The topics and talent on display at the online conference showcased not only the hot button conversations happening around the world, but what we need to be on the lookout for as well.
Innovation, Collaboration, Climate Change and what the future holds
SXSW featured a host of other forward thinking topics, shared by some surprising speakers.  One memorable talk involved actress Mayim Bialik flexing her real life science muscles and discussing our innate fear of innovation, and thought leader Yuval Noah Harari confirming that the smartest minds in the world can fix our problems but are using their intelligence for marketing and commerce.  Only at SXSW.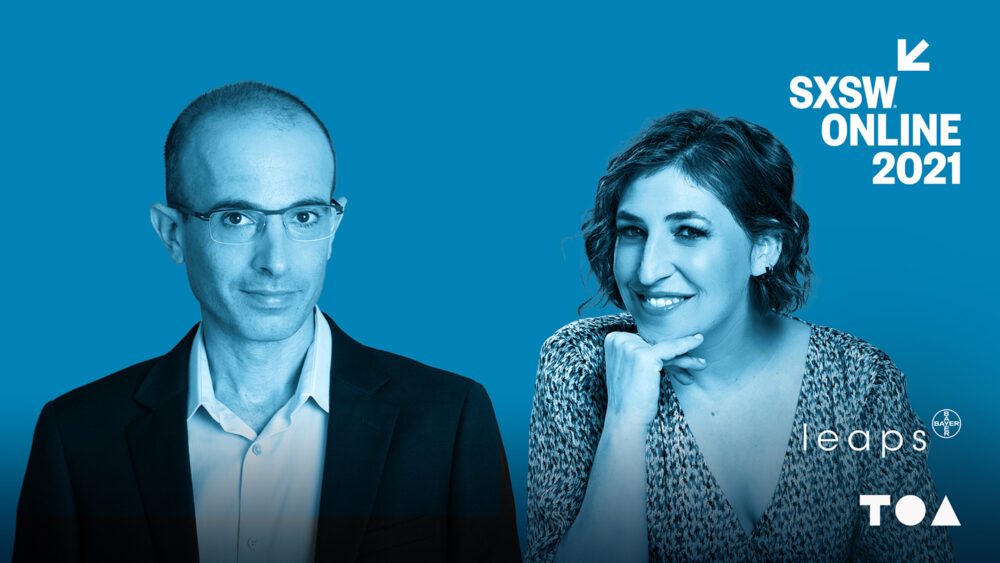 Climate change was also a widely featured issue, from indigenous activist Nemonte Nenquimo (founding member of Indigenous-led nonprofit organization Ceibo Alliance and Amazon Frontlines)  to  The New York Times Climate Hub Debate featuring activists, journalists and scientists all taking different positions on various climate change solutions and ideas, and engaging in healthy, intelligent debates.  What was perhaps the most refreshing thing about the virtual event was ever so perfectly vocalized by Behavioural scientist Sweta Charkraborty: "It's good that we're having a debate about the solutions for climate change, and not whether or not climate change exists, that shows progress!"
Diversity, Equity and Inclusion
The concepts of Justice, Diversity, Equity and Inclusion have vacillated between value pillars and buzzwords, depending on which segments of the population may hold the mic in the moment.  As someone who keeps an eye on these topics, it was refreshing and heartening to see SXSW as an event not only talk the talk about inclusion and representation but walk the walk as well.  It was clear that representation and inclusivity were priorities for SXSW.  It was visible in the faces and backgrounds of the presenters and performers.  It was evident in the vast range of topics and talks that not only brought up the importance of inclusion, but helped to provide guiding principles for the audience to work to that journey themselves. Speakers like Ava Duvernay, celebrated filmmaker and founder of Array Crew, a database for diversity in film production, showcased the principles of DEI in practice.  words, "If someone is 18, eligible to work in the US and has one production credit under their belt they can sign up for free. That's all it takes" she shared.  And when it came to Duvernay's vision for success for Array Crew?  "Success will be when this database isn't needed anymore."  And she was just one of many captains of industry leveraging their talent, skill and power to help others get ahead.
View this post on Instagram

The Talent
At SXSW Online, every talk, every panel, every showcase, seemed to express racial and gender diversity, and it was powerful to witness.  From powerful Black entrepreneurs speaking on heavy economic topics and championing entrepreneurship in their communities, to face shredding guitar solo delivering Asian artists and musicians in the nighttime showcases, it was especially heartening to see at these particular communities so well represented in light of the events of the past year and especially just the past few weeks.
It's no secret that the COVID-19 pandemic and the divisive rhetoric around it have contributed to an extreme rise in anti-Asian hate crimes around the world but especially in the US.   The news of the tragic killings of 8 people, 6 of whom were Asian American women, that took place on the second day of SXSW were an even more stark reminder.  SXSW marked the tragedy with a statement from author Charles Yu ahead of his prerecorded interview with accomplished journalist Lisa Ling.  The pair could not avoid the topic of the violence that has been enacted upon the Asian community and it already felt uncanny considering the massacre had yet to even take place when Ling and Yu spoke. I'm sure more audience members than myself felt grateful for Yu's heartfelt acknowledgement of the tragedy.  Ling and Yu commiserated over their shared lived experiences, not only as representatives of their community, but as human beings with their own accomplishments, from Yu as an author and acclaimed screenwriter and Ling of course as an award winning journalist.
Another keynote highlight was author and political activist Stacey Abrams.  The Georgia Democrat was still riding high the win of flipping her state blue in the most gracefully enacted revenge plot ever.  Abrams unlocked another level of badass when enigmatic R&B singer Janelle Monae opened her keynote talk with N.K. Jemisin with a rendition of "Turntables", the song written for documentary All In: The Fight for Democracy, produced by Abrams herself.  Her political star continues to rise, and it was from her inspiring and engaging talk that Abrams is more than happy to continue her unconventional path to power, whatever form it may take.
View this post on Instagram
The talent diversity at SXSW was not limited to race.  Gender diversity was a topic I was impressed to see, especially when I saw who the conferenced tasked to tackle it.  Demi Lovato, who was also featured as a keynote for her docuseries Dancing with the Devil, hosted "Beyond the gender binary" with non-binary artist and activist Alok Vaid-Menon.  Lovato was open about her own gender learning journey, using the time and Vaid-Menon's sage and inviting guidance to create an educational experience for fans and viewers.  By embracing her multi-faceted identity in such a public way, Lovato shared that she hoped to pave the way for others to feel safe and supported doing the same.
View this post on Instagram

The Music
Much like SXSW IRL, music permeated every facet of the festival and conference.  And much like the IRL iteration, the musical component is also a reflection not only of the broader festival but the world at large.  Whether it was my subconscious fixation or a true representation, I was transfixed by beautiful variety of artists performing at the SXSW evening showcases.  Highlights and new discovers for me came from the incredible Carefree Black Girl showcases, especially Quanna who positively lit the stage up, as well as the inimitable Jaguar Jonze.  Check out some incredible images by Toronto photographer Katrina Lat, who has mastered the art of virtual concert photography.
View this post on Instagram
View this post on Instagram
The Technology
Another fun aspect of the SXSW conference was its use of Augmented Reality.  Using avatars and AR portals, SXSW provided networking and other socializing opportunities with some of the spontenaity, and a bit more of the awkwardness, of standing around venues and bars in Austin wondering who you should chat with.
I only utilized the AR feature of the conference on the very last night, for the SXSW closing party. I attended the event through VRChat, an augmented reality game that I was clearly to old to know existed.  The experience was kind of like attending  a cartoon costume party, with my fellow festival organizers and attendees.  I admit I was not the most graceful of XR users, fumbling my way through the party and turning into a virtual wallflower more than once (something I would generally do at most SXSW parties, especially if it was a cash bar).
Taking it all in
While I was ever so sad not to be back in Austin this year,  I really truly enjoyed the digital SXSW experience.  Don't get me wrong, nothing could replace the adventure that is IRL SXSW, with its party hopping, schedule adjusting, fly by the seat of your pants memory machine.   I very much appreciated the ability to experience so much of the SXSW content at my own pace, in a comfortable setting.
As awesome as SXSW is, as a human being bound by the limits of time and space, I've had to prioritize, and go with the flow, which is great, but inevitably means you're going to miss something.  So I sincerely hope that SXSW continues to support this digital model, alongside whatever iteration comes out of the post pandemic event production world.  I for one will be able to enjoy my tacos and Mexican margaritas much more, knowing that I'll be able to catch that awesome talk or panel later.
And from an inclusion perspective, one positive that can come out of the COVID-19 pandemic is the accessibility and flexibility of hybrid events, online and live and in person.  SXSW is not accessible to everyone be it physically, financially, or logistically.  By ensuring all the content can be accessed digitally, a much wider audience can gain the benefit of the SXSW experience than ever before.  And to me that's a beautiful thing.
So here's looking forward to the next SXSW conference, and seeing how much more accessible, inclusive and exciting they can make things, with the pandemic in all of our rearview mirrors.