The older I get, the straighter my lashes seem to become.  Last year I invested in my first traditional eyelash curler, then a heated eyelash curler, but nothing I tried myself could help recapture my former natural lash curl.  I felt as though my eyes always looked dull and tired, and I missed the wide, bright-eyed look of my youth.  I'd tried lash extensions before, and while I missed the ease of having a made-up look with extensions, I could no longer tolerate the feeling of extensions on my sensitive eyes.
It was when I found myself gaping at a video of a home lash lift on Instagram, my finger hovering over the "buy now" button, that I knew I needed to seek professional help.  So I reached out to Brittni, the brow queen of Toronto and founder of B. Beautiful.
B. Beautiful is a beauty and lifestyle studio based in Toronto providing a variety of luxurious beauty treatments for eyebrows, lashes, and more. B. Beautiful was created and founded by Artist Brittni Alexandra, a lash and brow expert trained at some of the best fashion and beauty institutions, including the International Art Institution of Miami University for Fashion History, George Brown College for Fashion Business, and College of Makeup Art and Design for Fashion Makeup. Brittni's vision is to "B beautiful like you, not them." The combination of Brittni's experience and philosophy assured me that I was in the right place.
That place, to be exact, is the B. Beautiful studio, located on Eglinton Avenue West in Toronto, the perfect midtown location with easy access for Brittni's many clients from across the GTA.  The studio had a modern, lofty feel while still being warm and welcoming, due in no small part to Brittni and her beautiful presence.  From stepping in off of Eglinton to sitting in her chair, Brittni made me feel comfortable and well taken care of.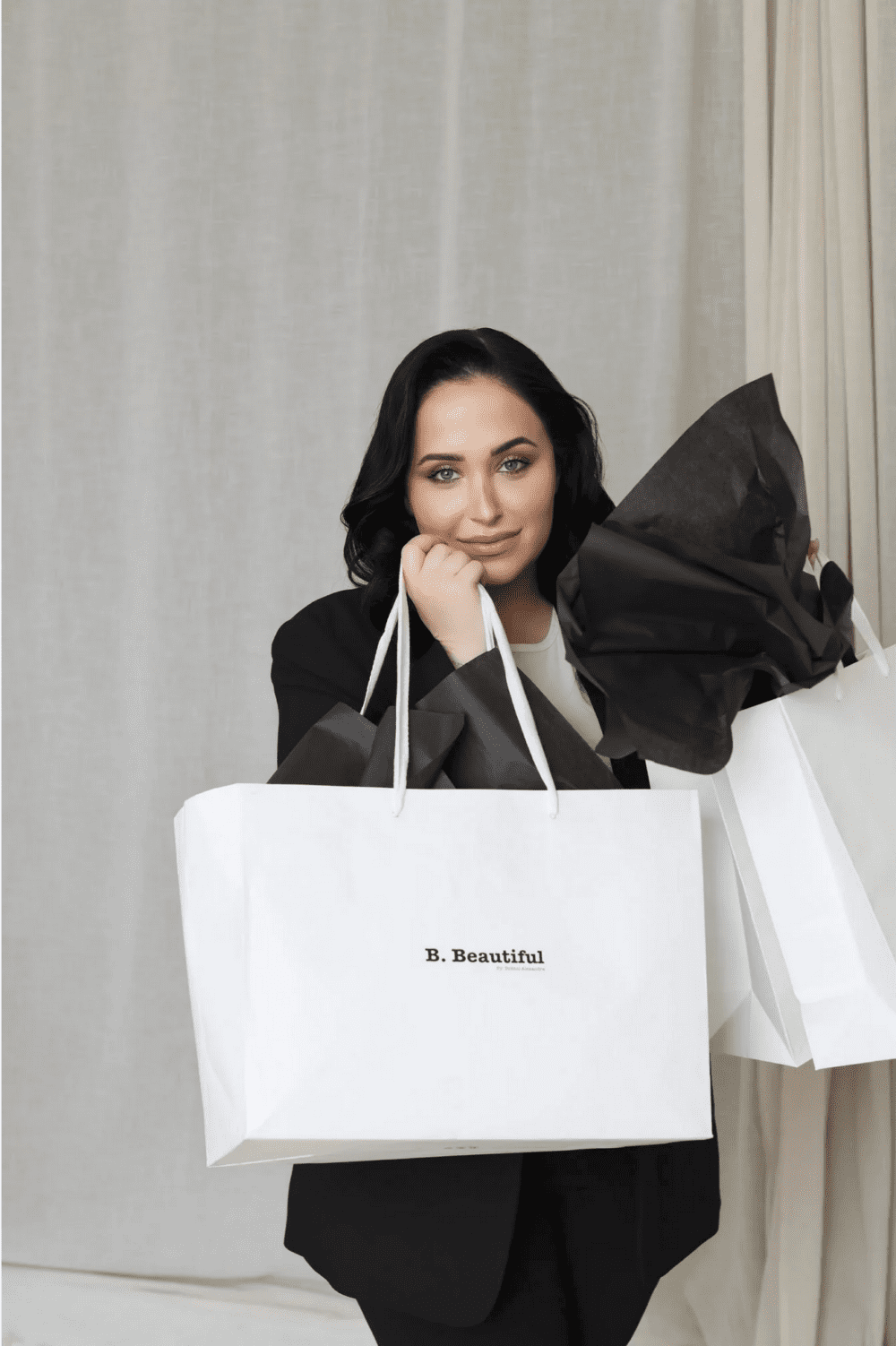 We started our session with a confession – mine; I had been putting off trying a lash lift and tint due to my own fear of the procedure.  I've seen videos and images of all sorts of beauty treatments and as someone with sensitive eyes, this one looked so uncomfortable to me.  However, I'm mature enough to admit when I'm, which I most certainly was in this case.  Brittni explained the process to be step by step, assuring me that there would be no discomfort whatsoever, and that the entire treatment would take less than an hour to complete.  So, I settled in and relaxed under the expert hands of the lash and brow queen herself.
To begin, Brittni shielded my lower lashes with an adhesive silicon pad, similar to the beginning a lash extension application.  From there, she placed the last lifting molds along the lash line. These molds are carefully selected by Brittni to achieve the type of curl and lifting effect desired by the client.  Brittni then adhered my lashes to the molds, followed by the application of the lash lifting solution.  Brittni described the solution as having a slightly eggy scent but I didn't notice at all.  The purpose of the lash lifting solution is to break down the bonds of the lashes that hold its natural shape, making them able to take to their new lifted shape, which takes about  10 mins or so.  From there, Brittni removed the lash lifting solution and applies a neutralizing solution to halt the lifting process and rebuild the bonds of the lashes.  This solution remains on for 7-10 mins.  Once she removes the neutralizer, it's time for the lash tint, which sits for 10 mins.  The lash tint is the chef's kiss of the whole process, creating a dark, glossy look that truly showcases the length of the natural lashes and makes the eyes pop.
In terms of aftercare, Brittni advised me not to wet my lashes for 48 hours post treatment to ensure the longevity of the service, which lasts approximately 6 weeks dependent on after care lashes.
True to Brittni's word, I felt zero discomfort during the lash lift and tint from start to finish.  I was just aware of the liquid being applied and the molds and tape around my lashes, and I had to lay still with my eyes closed for about 40 minutes, which is never a bad thing.  And thanks to Brittni, her calming presence and her wonderful sense of humour, the time flew by.  And I am absolutely thrilled with the results.
I cannot recommend Brittni and B.Beautiful enough for any and all of your lash and brow needs. For more information on B. Beautiful, please visit https://bbeautifulbeauty.com/.