Caribbean African Canadian Social Services (CAFCAN), a local Scarborough community organization, will be hosting over 550 members of the Black community from across the Greater Toronto Area for a special pre-screening of the blockbuster sequel movie Black Panther 2: Wakanda Forever this evening, November 10th at 7pm.
CAFCAN is a registered charitable organization that services the children, youth and families of the African-Canadian community. The attendants of this pre-screening event will be mostly CAFCAN's service users from across the GTA, from North West Toronto to Durham Region.  This event is just one of many ways that CAFCAN works to make the community they serve an extended part of their family, complete with memorable experiences just like this one.
The other aim of this screening event is to inspire Black youth to make the prosperity, intellect and strength they witness in this movie, a reality in their own lives. To up the inspiration factor, CAFCAN has partnered with AfriCan Food Basket, Toronto Community Housing, Midaynta Community Services, Jane/Finch Community & Family Centre, Lumenus Community Services, Yorktown Community Servces, 1st Fridays, YOLO FRAGRANCE, Hybrid Garbs, and more sponsors to make this movie premiere event a dazzling one.  And the event will be co-hosted by Order of Canada recipient Robert Small of Legacy Enterprises.
The CAFCAN Black Panther: Wakanda Forever prescreening event will be taking place today, November 10th, in Scarborough.  Check out the poster below for details.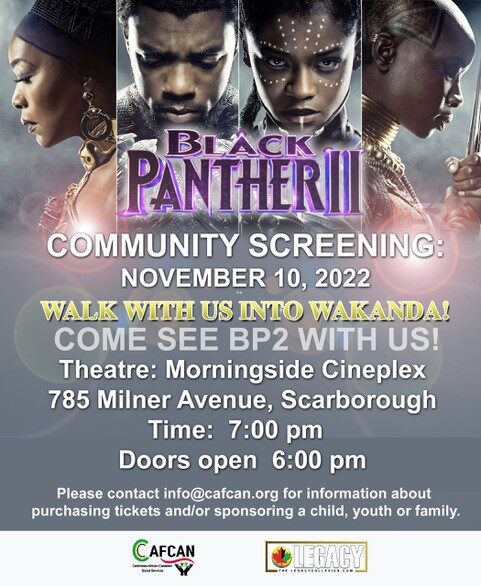 Morningside Cinema
785 Milner Avenue
Scarborough, Ontario
November 10th
Doors at 6pm, screening at 7pm