It's the most wonderful time of the year, Halloween! While 2020 has been a real-life horror all in itself, it's still kinda cool that we get to have a Spooky Saturday before the election results provide more fodder for our collective misery. Let go of all past notions of what Halloween SHOULD be (trick or treating, frat parties, bar hops, costume parties rest in peace) and check out my guide on how to have an intimate gathering with your nearest and dearest (you know the rules, and if you don't -congratulations on your privilege).
Ambience:
You can't get spooky without a little but of creep in your atmosphere. I recommend going ethereal with some blessing candles from @gowonderworks – local sourced and made with 100% essential oils, these candles are perfect for some good juju. My personal favourites are: Amethyst Candle (lavender and purple for peace, rest and wisdom) and Sweetgrass Blessing (earthy scents that promote harmony and rejuvenation). Price Range $25-35
If spell candles aren't your go-to, @wednesdayandrose candle studio provides clean, ethically sourced soy candles in beautiful, sustainable packages. Keep in theme with their 'Witch" scent, a blend of patchouli, amber, sandalwood and citrus that harkens to midnight in the woods. Think modern coven, with an earthy twist. Price Range $14-30
Snacks:
The best part of any get together is the food, lets be real. We are lucky enough to have delivery people sacrificing (check that off the list of rituals for the night) their Saturday night to bring all your favorites right to your doorstep (again, you know the rules – keep your distance, wear your mask). A few spots are even getting fun and innovative with the season.
Shireen Sweets is a brand new, local treats kitchen (she's 17, guys! Talk about powerful…). Her boxes range from $25-$65, depending on size, and come with dipped strawberries, cake pops, cakesicles and pretzels made with only the finest Belgian chocolate, and hand decorated to custom themes. Her Halloween box includes options for glowing orange pumpkins, pastel goth bats, ghosts and mummies. These are highly limited so get your order in as soon as possible and keep an eye out for her future festive offerings.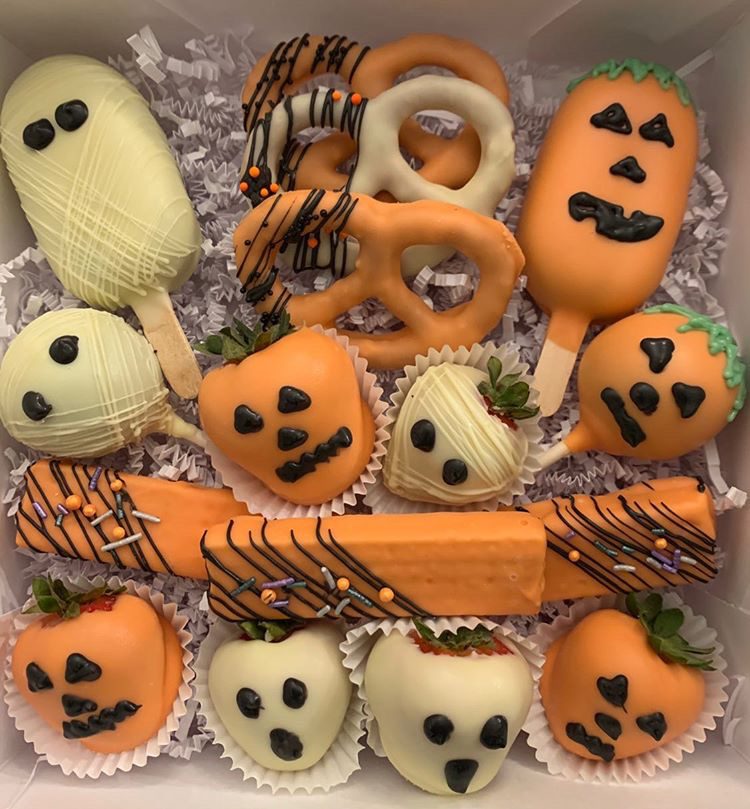 Pandoughra's Box (I know, what a great name!) offers giant 5oz custom cookies all year round, but their Halloween Box is a feat! If you can't go trick-or-treating, this is the best compromise. Filled to the brim (broom?) with treats, the box comes with a bag of candy, two gooey grave dirt brownies, and three cookies in Fall flavors: pumpkin pecan, apple pookie and 'Spookie" the dark chocolate, black cacao, cream cheese stuffed cookie monster. Best served warm, these homemade monster cookies are perfect for sharing. The warm flavor pairings have me excited to see what they have in store for the festive season.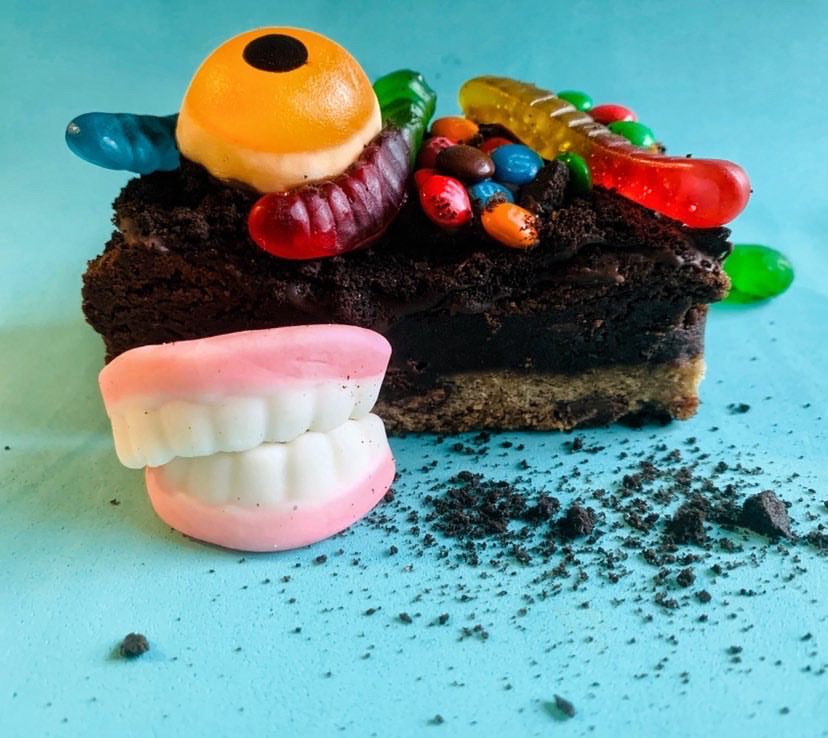 Stormcrow Manor is offering their Halloween special delivery, by Grim Reaper, of Death Burgers. These little goodies are not vegan friendly but come in signature skull stamped black buns for a cute twist. Throw in a side of their delicious chickpea fries and you're all set. If you're up for it, and safe, take a walk to their location on Church St and grab one of their delightfully creepy cocktails while you wait.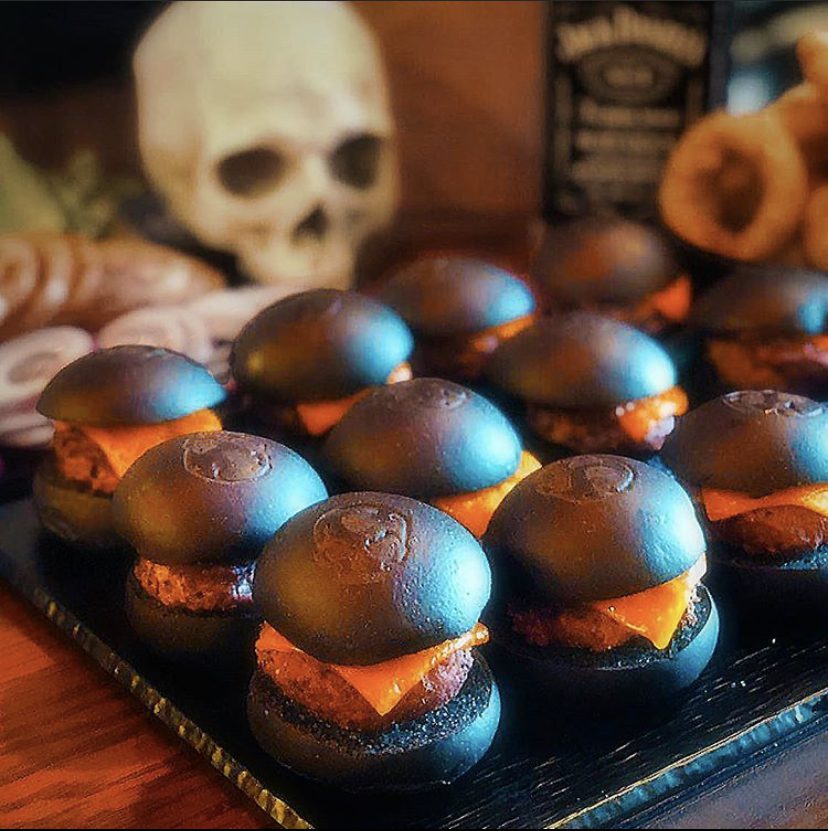 Ghost Pizza Delivery offers 16" Bar Poet pizzas right to your table. This joint on Dovercourt has been booming – thin crust pizzas with a variety of toppings and can also be made vegan to order. My personal favourite remains the Microdose – garlic cream sauce, mozzarella, mushroom mix, caramelized onions, sambal cream, arugula, balsamic reduction and parmesan. Combined with the donair dipping sauce, this pizza is ample for three. If you're able, take a walk down to their patio and try one of their Fall inspired hot drinks while you wait.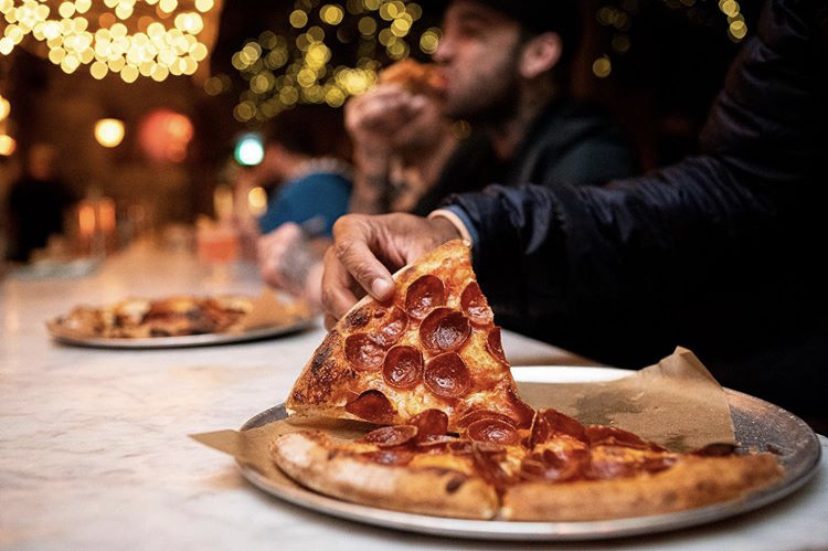 Entertainment:
What's an evening without entertainment? If you're like me and have spent most of October binging spooky content, spend tonight down a rabbit-hole of digestible real-life horror stories with Thrillhouse of Horror. Featuring 10-20 minute long clips, host Alex Payne gives a gruesome overview of unsolved cases and mysterious disappearances – not for the faint-hearted. If that isn't your thing, Alex also provides a round-up of best Halloween/spooky episodes of your favourite shows/movies to binge, including a ranking of the best The Simpsons Treehouse of Horror episodes.
If you are looking for something truly special to watch, check out LoveCraft Country. This Lovecraftian horror checks all the boxes of mythic, fantastic, scary, comic, tragic and terrifying. Truly an ode to the man himself.
Special binge mentions for those not into scary horror:
Sabrina The Teenage Witch (fashionably spooky)
The Haunting of Bly Manor (romantically gothic)
Supernatural Season 1 (baby Winchesters, 'nuff said)
I won't get into debating whether The Nightmare Before Christmas is a Halloween or a Christmas movie, but if you're on #teamhalloween, this is the time to polish up your lyrical knowledge and get a singalong going.
If your pandemic bubble allows for 6-8 people, consider picking up a Masters of Mystery party game. Each box includes everything you need to roleplay your own murder mystery – guests take on a role assigned at random, and work to solve the puzzle. If you're sad about missing out on themed escape rooms, this is the next best thing.
If you're sadistic like me, grab a copy of Pandemic and try and save the world from a series of deadly diseases before the outbreaks reach a point of no return. This boardgame pits the players against the diseases, with each round getting progressively harder as the pathogens spread. Players have assigned skills and must work together to develop cures via research, contain outbreaks, prevent epidemics, and eradicate diseases before they run out of resources. Really puts things into perspective, hehe.
Costumery:
Sure, you won't be going out on the town tonight, but you can still dress up. I myself am #teamonesie, the best way to be comfy on the couch on Halloween, but if you want to dress up for those photos, here are some subtle options that rely on mostly make up.
Medusa: grab the perfect palette from Fenty Beauty snapshadow #10 in 'Money' and killawatt highlighter in 'Trophy Wife' to gild your lids in perfect green and gold tones, just like the gorgon herself. Drape yourself in a sheet toga and accessorize with gold jewelry – stone cold, baby.
Alien Princess: hear me out here, but Pat McGrath just dropped her first ever 18-pan celestial MTHRSHP palette. Reminiscent of space, these golds, violets and prismatic greens and pinks are perfect for an alien queen. Either go overboard and subtly dust your entire face in glittery dust or get crazy with dramatic eyes and lashes. Pair with a holographic fabric (yes, we know you have some leftovers from the cancelled festival season) and you're good to go.
Take it away, witches.
*header image by Ferdinand Studio from Pexels