This week we are inspired by Keira Morgan, the founder of Handsome & Lace, a home grown, local and sustainable brand that handmakes bowties, neckties, and suspenders.
Using upcycled materials, raw silks, linen, velvet and more, Handsome & Lace creates accessories that speak to customers and their unique personalities. Each piece is made from hand from cutting her own custom tie patterns, ironing, stitching and more!   Most recently, Keira transferred her signature quirky style to create protective face masks in light of the COVID-19 pandemic.
Keira is all about creating unique pieces that make customers feel inspired and encourages them to dress to express (not necessarily impress!). Handsome & Lace has caught the eye of many beloved TV personalities, including Noah Reid of Schitt's Creek, who donned his necktie on the Red Carpet at The Emmys!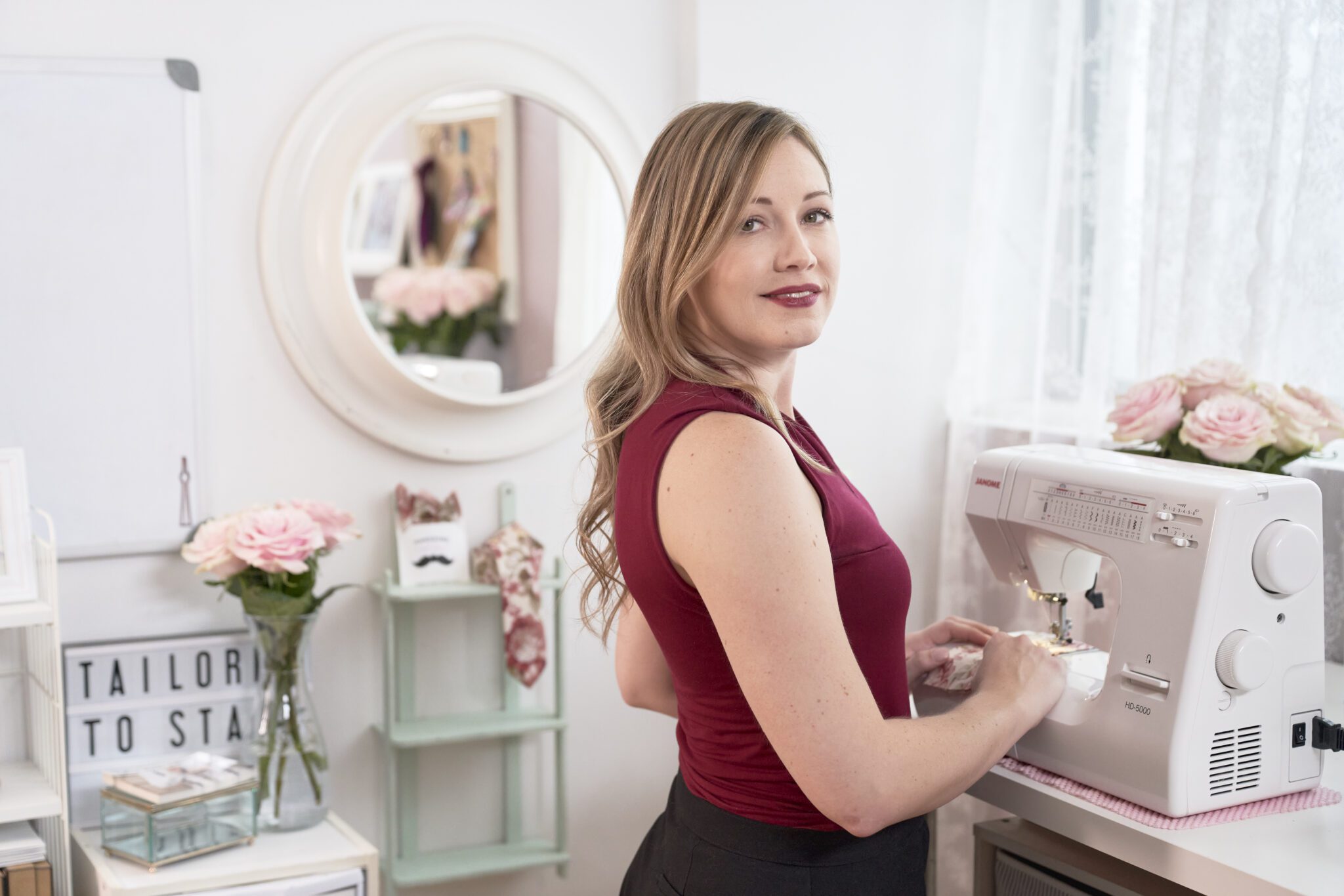 We got the chance to speak with Keira about her company, her style and what words of wisdom she would share with newcomers to her industry.
What brought you to the fashion industry?
I was obsessed with fashion since I was about 12 years old and would draw fashion sketches daily until I was gifted a used sewing machine at age 16.  I was making skirts with monster trucks on them, and shirts with dinosaurs until I eventually had some traction making hairbands for coworkers for a while in my 20's. I had an opportunity to work alongside Le Categon which was a very fancy head piece brand who handmade pieces for Holt Renfrew and other high end shops.  First day I started working with them, I saw magazines full of celebs wearing their work, it was really exciting and I learned some really great hand stitching skills igniting my own hairband brand.
What started as me turning vintage neckties into these couture hairbands suddenly turned into necktie designing after deconstructing so many tis over the years.  That was when interest in my brand skyrocketed and continues to be my focus 11 years later, although I do dable in HER pieces as well like lace suspenders, and hairbands.
Who is your personal fashion icon?
I should have one shouldn't I? I usually like the stylists behind the Icons, like Erica Cloud ( Dan Levy's stylist )
How would you describe your personal style?
I definitely suit my brand, Handsome&Lace. I actually named my brand after my style which is a little masculine with feminine mixed, like very pretty lace tops mixed with frayed jeans and high tops. It's hard for me to fully commit to being 'done up', it just feels wrong to me.
How would you describe your line/brand?
Much like my style it really incorporates feminine and strong features like the structure of the tie is very clean and crisp, yet the fabrics are usually soft, and pretty.  I also love to go bold once in a while to show the diversity of this brand.
View this post on Instagram
What do you love most about working in fashion?
Honestly, it allows me to daydream all day.  I can take my afternoon walks and just think about fabrics and patterns. Looking around the city to see if anything inspires me, colours, and styles around me bring me a lot of peace and happiness.  Sometimes, it's instant, I see a pattern on someone's socks and 1 hour later I'm creating a custom patterned bowtie that reminds me of those socks.  I am grateful for having that spontaneity.
What do you wish you could change about the fashion industry?
I just wish that handmade was a little more appreciated than the fast fashion.  For me, walking past someone wearing the same dress as me because 'everyone shops at the same mass produced department store' is unsettling. Fashion is supposed to be unique, and express unique personalities and it seems like every 4th person is wearing the same outfit from the same store.
If you weren't doing this, what would you be doing?
I think about this a lot.  I feel like anything I was put into to, I'd do my best work and find meaning that way but if I had a choice in another career it might actually be something completely off base like Murder Mystery Podcasting.
What is the best piece of style advice you've ever received?
I've never received fashion advice but my mom was always featured in the style section of our local city and learned to be unique from her. She was also VERY picky about hems, and stitching so there is always this underlying practice to make the fine details count.
View this post on Instagram
What do you wish someone had told you when you first started out in the fashion industry?
I'm so glad nobody had any advice from me because it would have just discouraged me. I like to just do things I'm passionate about and worry about the statistics later.  I'm sure I break the mold a lot but any other way wouldn't work for me.
If you had any advice for people who aspire to work in fashion, what would it be?
100% be unique, find your niche. Trying to duplicate others designs will never work out for you in the end.  Be as weird or bold as you are passionate about and the people will find you! XO