I've had the distinct pleasure to visit Costa Rica twice now; once in 2018 and for a second time in the latter part of 2019. Both visits were not only a fantastic adventure but made me fall deeper in love with this beautiful country more with each time.
For those of you that don't know, Costa Rica is located in Central America, south of Nicaragua and north of Panama. The western side of the country sits on the Pacific Ocean and the eastern front by the Caribbean Sea.
There are approximately 4.8 million Costa Ricans, and every single one that I've met thus far has been warm and welcoming. The native language is Spanish (which I'm currently learning thanks in part to my travel) and, as I discovered, English is spoken throughout this beautiful country.
For those wondering, the temperatures range from 70 to 81 degrees Fahrenheit (approx 21 to 28 Celsius) all year round. While many tropical countries have changing weather patterns that affect the entire nation with different seasons, Costa Rica enjoys 12 different tropical microclimates that remain constant throughout the year.
So why do I love Costa Rica so much? Here are some of the main reasons:
Unique Retreats
From a little cabin on the side of a hill to a big eco-park in the middle of nowhere, there are some truly unique places to stay while visiting Costa Rica. Not only are the locations stunning, but many choose to take an eco-friendly approach to run their properties.
One of my top choices is the Chayote Lodge. Here you are taken away from the noise, pollution and bustle of day to day life, and set down in the beauty of nature to relax and reflect. It also works as the perfect place to lay your head should you want to head out for an adventure.
Speaking of adventures, if you're looking to stay somewhere that offers nothing but endless excursions, and adrenaline without ever leaving the property, you have to experience Buena Vista del Rincon eco-adventure park. It offers ziplining, hiking, amazing views, incredible sunsets and a giant waterslide.
Unique: check.
Explore Ecotourism
Considered one of the most bio-diverse regions in the world, Costa Rica is home to 26 national parks, eight biological reserves and a series of protected areas that captivate ecotourism lovers around the world. The country features a variety of ecotourism activities including hiking mountainous paths in cloud forests, guided bird-watching tours and of course, chasing waterfalls.
NATIONAL PARKS
Even though Costa Rica is a small country, it still boasts about five per cent of the world's documented biodiversity. Most of the country's land is protected by the National System of Conservation Areas, preserving a total of 26 per cent of the national territory. Outdoor enthusiasts can visit Costa Rica's magnificent volcanoes, Pacific and Caribbean beaches, rain forests and jungle landscapes.
RAIN FOREST AERIAL TRAMS (CARIBBEAN & PACIFIC)
Many national parks across the Caribbean and Pacific coasts feature aerial trams which provide a bird's eye view of these tropical paradises. Upon boarding the aerial tram, travellers are exposed to the different forest levels, including tree canopies, a level which is most difficult to reach and least documented by scientists. On the trails, the very heart of the rain forest can be appreciated; there is exceptional biodiversity of plant and animal species too.
If you're feeling bold, you can get some of the best views by ziplining over the forest and rivers, make sure to take a deep breath and keep your eyes open.
RIVERS AND LAKES
Costa Rica, with its abundance of waterways, surprisingly has very few lakes. Nearly all the country's rivers begin in the mountains, with many frothy white-water routes perfect for rafting and kayaking. Once those rivers flow into the lowlands, however, they become languid waterways. Those lowland rivers are excellent routes for small boat trips, which allow passengers to observe some of the local flora and fauna.
Views that Take your Breath Away
I've seen rainbows and sunrises, mountains, and valleys, sunshine and sunsets. No matter where you are in Costa Rica, you're sure to see the most breathtaking views and vistas.
I must admit I've seen and captured some of the most iconic sunsets in Mexico and Costa Rica and this one, did not disappoint. As we drove into our resort, the sun was setting, we got out of the van, and this was the view just a few steps up the hill. Incredible, isn't it?
Chase Waterfalls and Adventure
Looking for a beautiful waterfall for an epic Instagram moment? Well, Costa Rica is jam-packed with endless opportunity for sightseeing and outstanding views.
Stretching down from the northwestern coast, the shores of the Guanacaste region (the area I know best) meets the waters of the Pacific Ocean. In the far north, Hermosa Beach is known for its calm waves and clear waters framed by rolling green hills. The variety of activities, restaurants and lodging options makes Hermosa an ideal location for all kinds of travellers and adventurers.
The nearly 5,000 acres of Polo Golf Papagayo that is in the northwest province of Guanacaste was formed by volcanic activity and includes tropical dry forests and several pristine beaches. Costa Rican law mandates that 70 per cent of the land must remain untouched ensuring that the beauty of the property is preserved and not overdeveloped, which means that for travellers, there are so much immaculate and lavish locations to see and experience.
Say Hello to all the Creature & Critters
The country is the mecca of wildlife and biodiversity. It is home to about 95,000 registered species, which accounts for about 5 per cent of the known species in the world. From creatures roaming free to friends that have been rescued and are temporarily in captivity, there genuinely are endless animals to see and say hello to along the way.
With that note, Costa Rica urges it's visitors not to get to close to the animals. While you may want to take a selfie, its best to keep your distance, they've even launched a campaign on social #stopanimalselfies.
So look, but don't get to close, it's all about seeing everything the country, people, wildlife and animals have to offer without interfering.
Make Sure to see a Volcano
If you're trying to see a volcano, this is the place to do it! With six active volcanoes and another 61 dormant or extinct, you'll be able to see at least a few on your journey. Just make sure you listen to warning while travelling, hiking, and adventuring to make sure the area has been deemed safe.
If so, then let the journey begin!
THE GUANACASTE RANGE
Located in one of the country's most diverse national parks, the Guanacaste Range is home to two of the most prominent wildlife centrepieces: Rincón de la Vieja and Orosí. Complete with hot springs, waterfalls and a tremendous variety of wildlife, insects and birds, the Rincón de la Vieja National Park is a sight to see for nature lovers the world over. At the same time, Orosí is home to the transitional cloud forest important to the wildlife and migrating between the Pacific coast and inland highlands.
THE CENTRAL VOLCANIC RANGE
Located in the province of Alajuela in a national park of the same name, the Poás Volcano is another must-see wonder. Comprised of three craters, only one of which is active, Poás is one of the country's most accessible active volcanoes, followed by the Irazú volcano. Within Poás, in one of the dormant craters, lies an incredible lagoon that can be seen as the clouds part, especially earlier in the day. The best time of year to visit Poás is the green season. From May through November, unobstructed views of Poás' active crater are easy to come by.
The country's highest volcano is Irazú, standing at 3,432 meters high. A short drive from Costa Rica's capital city of San José, the Irazú Volcano is located within Irazú National Park, one of the country's most famous for its breathtaking panoramic views.
NORTHERN PLAINS
The northern plains of Costa Rica are home to the country's most famous active volcano: Arenal. Its superficial magma chamber has been hushed, but studies lead experts to believe that there is still movement deep inside.  Situated in a beautiful natural park that bears the same name, visitors enjoy hiking the area around the volcano that has been determined safe by experts.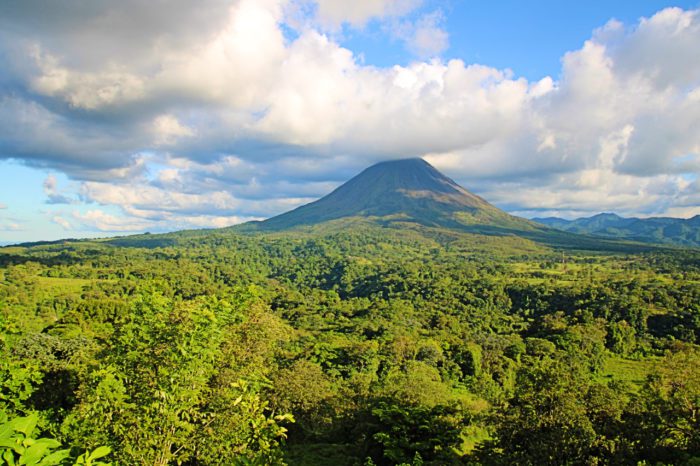 The ability for endless adventure, or focus on wellness, maybe even get away from it all and relax. Honestly, there are so many reasons to love Costa Rica, and in 2020 it's your job to find what you like best about this magical little gem.
Ready to add Costa Rica to your list?