Cigarette butts again top the list of Ocean Wise's Dirty Dozen, contributing a significant 1/3 of litter found during Ocean Wise Shoreline Cleanups nationwide.
For those who are unaware, Ocean Wise Shoreline Cleanup is a conservation program that provides families, businesses and community groups the opportunity to take action to help protect waterways in their community, one bit of trash at a time.
The Ocean Wise Shoreline Cleanup has compiled its 'Dirty Dozen' list for 2022 – comprising of the 12 most frequently found items based on citizen science data collected from shoreline cleanups across the country – and shared this through an article by Ocean Wise CEO Lasse Gustavsson. Unsurprisingly, cigarette butts, plastic pieces and food wrappers are featured at the top of the list.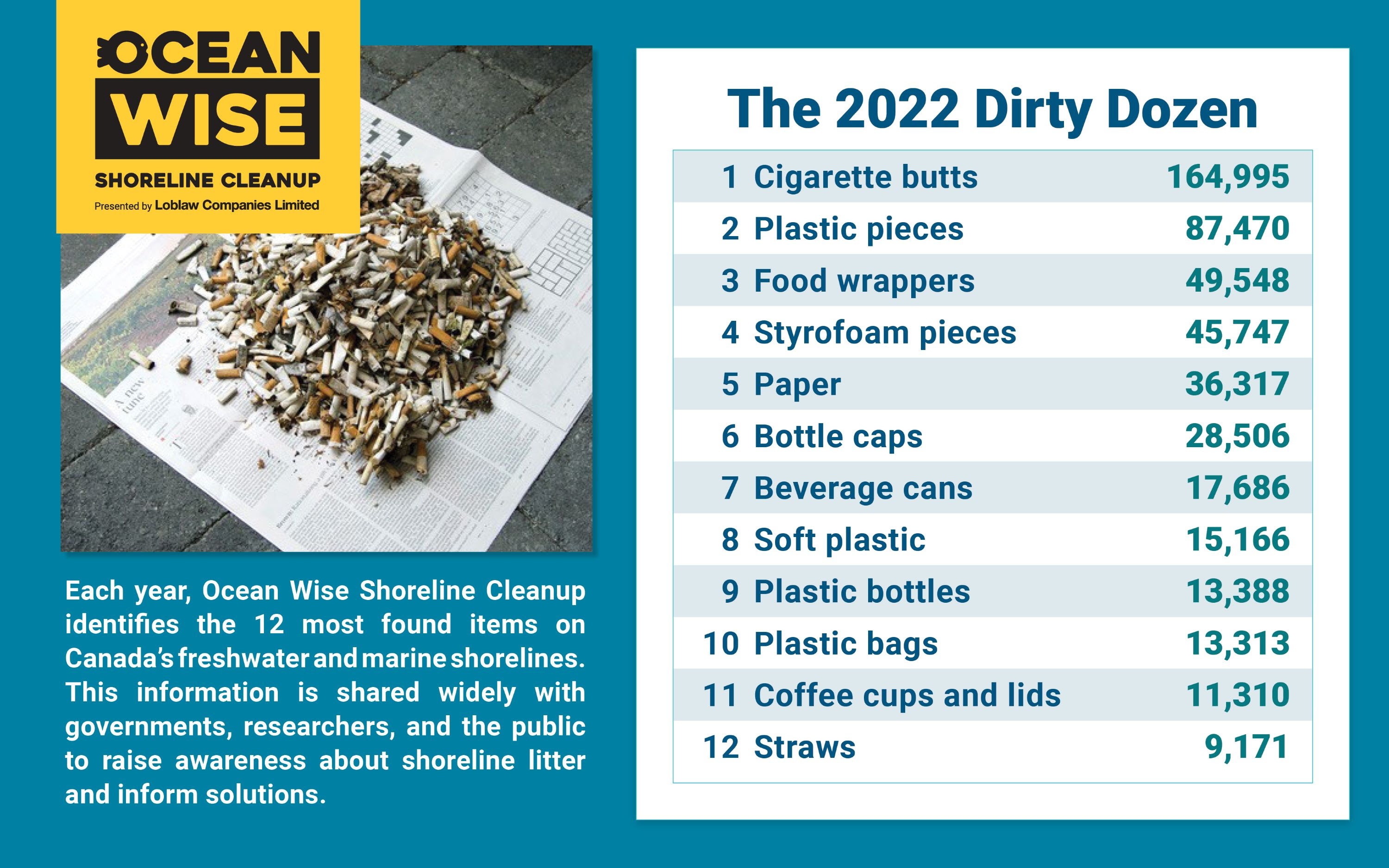 As Canada's single-use plastics ban comes into effect this December, this year's Dirty Dozen list is especially relevant, as it will help to measure the impact of the ban on our shorelines in the years to come.
Since 1994, Ocean Wise has been engaging local communities through its shoreline cleanup program and compiling data on the most common litter items. Ocean Wise Shoreline Cleanup is Canada's most extensive direct-action program, having hosted more than 30,000 shoreline cleanups with over 1,000,000 volunteers in its 29-year history!
International Coastal Cleanup Day in Toronto
To celebrate International Coastal Cleanup Day and the release of the 2022 Dirty Dozen list, Ocean Wise is gathering with hundreds of volunteers at Woodbine Beach in Toronto on September 16th. The goal? To raise awareness about plastic pollution and stop the leak of litter into our ocean. Ocean lovers are invited to come out and join us for a fun and meaningful day that's sure to be a blast!
Event Details:
Date: Saturday, September 16th
Time: Cleanup starts at 11:30 am
Location: Woodbine Beach Park, Toronto
So, if you'd like to get out there and clean up in your community and make it part of a fun day, feel free to join in the fun, or after reading this, maybe take a little time on your own to pick up just a few pieces of trash, as it all helps, and that's what a movement for a better environment and a healthy planet is all about, everyone working together to get there.
To learn more about Ocean Wise, visit ocean.org.