The PDF is the most used digital format to view shared documents. The file format is ubiquitous, and accessible on any device. It also preserves the document formatting, and its content is "locked" – you can't edit PDF content without special editing software.
This makes the PDF a perfect medium to hold business records such as invoices, purchase orders, bank and credit card statements, etc.
Subsequently, storing records on paper and delivering them using snail mail has long since become obsolete in favor of digital means.
Keeping invoices and bank statements in PDF has its shortcomings too, though. The main issue arises when you want to manipulate and organize the data stored in PDF. For instance, you might want to copy that data into an Excel spreadsheet to perform some calculations or analysis.
Most people opt to manually retype the invoice data into an Excel sheet. If all you need is to extract a 3×3 table, that might be the way to do it. Processing a dozen of PDF invoices on a regular basis, however, requires a more efficient method.
A better way to go about this is to extract invoice data from PDF to Excel using an online utility such as the Free Online PDF to Excel Converter.
We will demonstrate how to convert PDF to Excel using the tool in the lines that follow.
Free Online PDF to Excel Converter
Before we jump into explaining how to extract invoice data from PDF to Excel, here's a list of features that makes this tool a good choice for the task:
Free of charge – As the name implies, the online converter is 100% free to use.
No restrictions – You can convert as many files as you want. The converted files don't have watermarks.
Anonymity – The tool doesn't gather any personal information nor do users have to sign up. The uploaded files are deleted from the servers within a couple of hours.
Swift conversion – The conversion is completed in a couple of seconds. Though, it could take longer for a larger file size document.
Instant download – You can download the converted file as soon as the conversion is over.
How to convert PDF to Excel Online
Now that you know the why's, here is how you can convert your invoices and statements that are in PDF to Excel.
Step 1
Open the Free Online PDF to Excel Converter.
Step 2
Upload your PDF file.
Click on the gray rectangular area and open the PDF located on your computer or drag and drop the relevant file into the gray box.
The tool will automatically convert your PDF to Excel. Once the conversion is over, a "Done!" message will appear.
Step 3
Download the Excel file.
Click on the Download File button to download the file to your computer.
Alternatively, you can convert a different file by clicking on the Convert another file button on the right.
That's all it takes to unlock your invoice data and start working on it in Microsoft Excel. Note that there are additional supported conversion types such as PDF to Word or PDF to PowerPoint that can be accessed at the bottom of the page.
If you're looking to convert pdfforge image to pdf, then make sure to follow the steps for that process as well.
Advanced PDF to Excel Conversion (Offline)
If the free online converter doesn't provide an adequate output or you prefer to handle your invoices offline, consider trying Able2Extract Professional, a desktop PDF converter for Windows, macOS, and Linux or an invoice software.
Able2Extract Professional is an all-in-one PDF solution acclaimed for its advanced PDF to Excel conversion functionalities.
These functionalities save hours of time spent on re-formatting converted table data. Some of the major features are listed below:
Custom PDF to Excel conversion – It allows you to manually adjust the row and column structure before converting to Microsoft Excel.
Selective conversion – The software can convert an entire file or a section such as a single page or a specific table.
Conversion templates – You can facilitate the conversion of PDF invoices that have the same layout by creating a custom conversion template.
Optical Character recognition – Thanks to an OCR engine, you can extract data from scanned PDF files as well.
Batch processing – Along with the conversion of a single file, the software enables users to process dozens or hundreds of PDFs at once.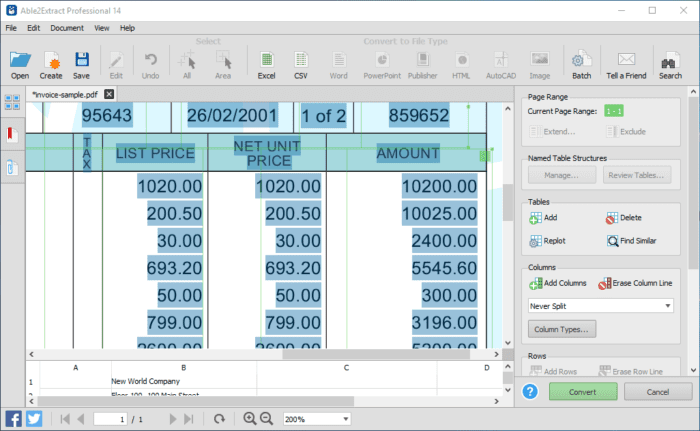 People who refrain from uploading their documents to external servers might want to consider an offline alternative such as Able2Extract Professional. It seems like a solid pick for accountants, CPAs, small businesses and even home users who need that type of security.
Need help with invoices? Check out this free invoice generator to make professional invoices with one click!
Conclusion
The need to retrieve data from PDF invoices and analyze it in Excel is constant and ever-present. Having tools that can facilitate this task can set you on the path to higher productivity.
Using one of the two tools we covered in this article will allow you to spend more time analyzing the data instead of trying to retrieve it.