Camping is a great way to get away from it all, but packing everything you need for your camping trip can be daunting. It's important to ensure you have everything necessary and that it fits into your car or camper. Also, take into consideration the type of camping you will be doing, as well as the weather conditions. Here are some tips on preparing for a camping trip and ensuring you don't forget anything important.
1. Buy a trailer
If you plan to camp with a large group or if you are going to have a lot of gear, it's best to invest in a trailer. This way, your car will be free for other items, and you won't have to worry about everything fitting into one vehicle. An enclosed trailer with living quarters will make camping much more comfortable and provide you with extra storage space. Also, make sure you check the trailer's weight capacity, as this could affect how much gear you can bring on your camping trip. It's also a great idea to get an electric trailer brake, which will help save wear and tear on your car's brakes while you're driving.
2. Choose the right tent
When camping, having a tent that can fit your entire group is essential. Make sure to measure the size of your group before selecting a tent. Also, if you will be camping in cold weather, get a tent rated for that temperature range. Otherwise, you could find yourself shivering throughout the night! While you're at it, don't forget to bring tent stakes, poles, and rain flies for extra protection. When packing, consider investing in a tent stuff sack for easy transport. If you're travelling with kids, bringing a tarp for the ground underneath the tent is also important.
3. Pack enough sleeping bags and pads
Sleeping bags and pads are important for staying warm when camping. However, make sure to bring multiple ones so everyone can have their own space and stay comfortable. In addition, consider bringing blankets or quilts as well to keep warm during colder nights. Additionally, don't forget to bring pillows and eye masks for a good night's sleep. It's also a good idea to bring a sleeping bag liner for extra comfort and warmth. This will also help keep your sleeping bags clean.
4. Don't forget the kitchen equipment
When packing for a camping trip, don't forget to bring all the kitchen equipment you need. Make sure to pack pots and pans, plates and cutlery, a knife sharpener and cutting board, a cooler or ice chest, a stove, fuel (propane if your campground allows it), matches or lighters, food storage containers, foil or parchment paper for cooking over an open fire, and anything else you might need in order to cook meals while out in the wilderness. Additionally, make sure you have plenty of water for drinking as well as for cleaning dishes.
5. Bring the proper clothing and footwear
When camping, make sure to pack clothes that are appropriate for the weather conditions. Bring a mix of light and heavy layers so that you can adjust your wardrobe as the temperature changes. Also, bring protective outerwear such as rain jackets or ponchos in case it rains during your trip. Don't forget to pack comfortable shoes and extra pairs of socks. It's also important to bring a pair of sandals or flip-flops in case you need to take a quick dip in the lake or river. You may also want to pack a hat and sunglasses for protection from the sun. 
6. Don't forget the entertainment
Camping trips are a great way to get away from it all and relax in nature. However, don't forget to bring along some forms of entertainment! This could be anything from a deck of cards, board games, books, and magazines. If your campsite allows it, you can even bring along a portable battery-powered stereo or radio. This will help keep everyone entertained while you're spending time outdoors. While you're at it, bring along a few extra batteries to power any electronics you may have brought as well. This could be flashlights, lanterns, or even a portable DVD player. 
7. Have a First Aid kit ready
Accidents may happen when camping and having a well-stocked first aid kit is a must. Make sure to bring supplies like bandages, Gauze, sterile pads, antibiotic ointment, and antiseptic wipes. Also, pack pain-relieving medications such as ibuprofen, acetaminophen, and any prescription medicines you may need. It's also a good idea to bring insect repellent, sunscreen, aloe vera gel, and antihistamines just in case of bug bites or allergic reactions. Additionally, you may want to bring a snakebite kit as a precaution. If you have any other medical or health needs, make sure to pack the necessary items.
8. Don't forget the toiletries
Toiletries can be easily forgotten when packing for a camping trip. However, they are essential to make sure you're clean and comfortable during your stay. Pack items like toothpaste, shampoo, conditioner, soap, toilet paper, and any other personal hygiene items you need. Additionally, bring along insect repellant and sunscreen if it is sunny. These will help you enjoy your time outdoors without worrying about pesky bugs or sunburns! Also, don't forget to bring along a few extra towels for drying off after swimming or showering. It's also a good idea to bring a few garbage bags to store waste and keep your campsite clean.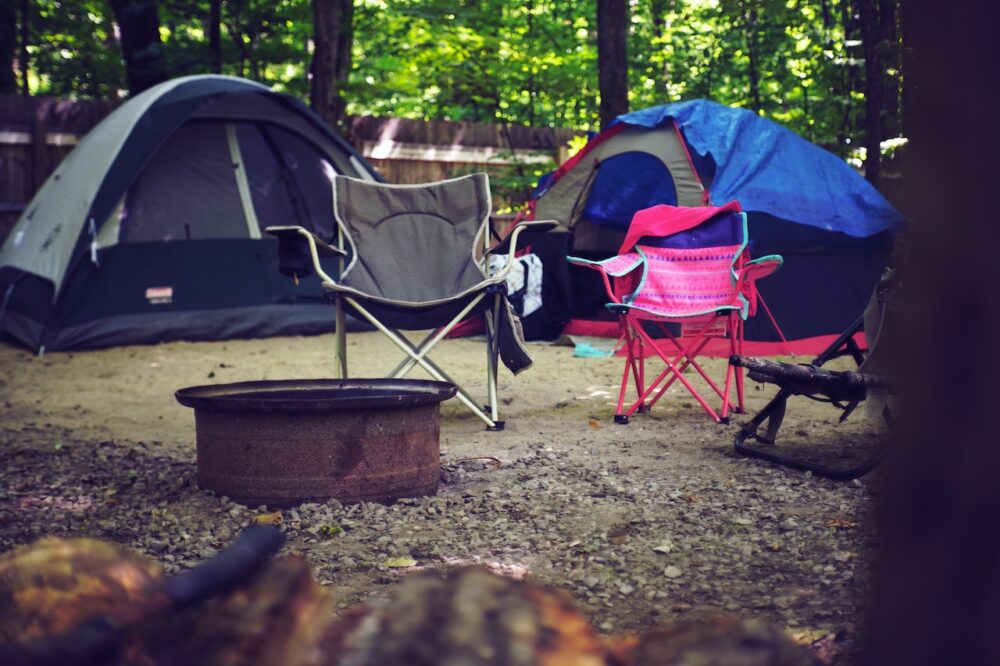 It's important to ensure you have all the camping gear and supplies you'll need for your trip. Packing for a camping trip doesn't have to be overwhelming. By following the tips above, you can make sure that you cover all your bases and bring everything you need for an enjoyable and comfortable stay in nature. So what are you waiting for? Get out there and explore!  Happy camping! Time for new memories, outdoor living, and enjoying nature and endless adventure.
Have some great ideas of your own? Feel free to share with us here and on social @weraddicted.