Psychic Angel Morgan is back to share some wisdom, some history and a story for us this Christimas.  Keep up with her through her website and social media channels below. 
As a psychic I have always had a fascination with spirits and folklore. I love history and keeping the old ones alive, because they are. 
At our house, we love holiday movies. Gremlins, Die Hard, The Grinch Who Stole Christmas, and of course Nightmare Before Christmas. We will, as always set aside time Christmas eve for It's a wonderful life, but this year leading up to that sweet Jimmy Stuart eggnog loving film we celebrated Krampusnacht.
My favourite telling of this story is the 2010 movie Krampus directed by the Coen brothers. This year our local drive in was playing it on December 5th, the European festival day of Santa's beastiful sidekick. I thought it would make for a great outing! sporting way to start the holidays. My guys chickened out. All good. We watched it on tv, ate popcorn and cringed at the ending so eternally dark. I once again, as I had been so long ago became obsessed with this Bavarian tale.

Historically , Santa has a sidekick, and he is not an elf on a shelf.
 
A tradition filled with a creepy and wonderful twist on jolly old saint Nicholas shows that even he has friends outside his friendly Santa's village set. 

In Bavaria and many eastern European countries Santa rides with a beast-like creature that gives a new perspective on the good and evil, naughty and nice theme.
While Santa may be snow bells and candy canes, his sidekick visits homes looking for naughty children, and with his chains, and little helpers, fills his bags not with gifts and presents but with these children, who he then takes to his lair to dine on.
I talked to friends of mine who regaled me with stories of Krampus.
Each described him as a large primal creature with a long tongue, horns, hooves that walked like a human, dragging chains and carrying a basket or bag to capture naughty children in. they remembered with a smile how he visited their schools on his feast day, the eve of December 5th.
One older friend of mine told me he came to her village around dusk. Krampus went home to home, much like Santa. She told me that one year he chased her around her house and scared her so badly that Her mother physically grabbed him by his scruffy mane and threw him out. Ahhhhh the olden golden days of yore. What memories they made!
In some Krampus stories he rode with Santa. Children put out their shoes and if they were good, Santa left treats, if they were bad a birch rod or coal was left as a warning, if they were beyond bad, or had no Christmas spirit Krampus would cart them away. 

In Europe crowds still flock to the streets on Krampusnacht to watch the Krampus parade.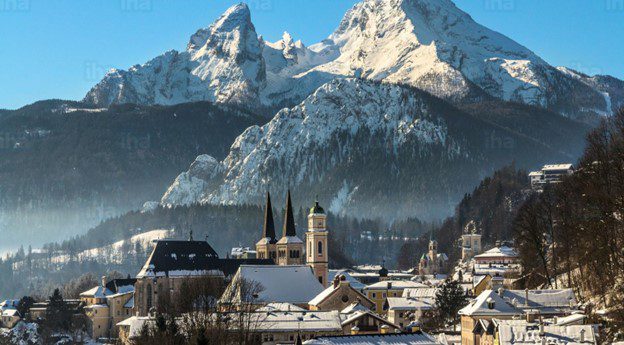 A line of mask wearing ghoulish elves and helpers meandering through the crowds pulling the hair of unexpecting onlookers, whacking them with a birch rod (a trademark move) and taunting children (mine would just pop him in the nose likely eliciting a home visit with my luck). Until finally Krampus made his fierce appearance.
However, there is an amazingly stunning, artistic side to all of this. In a four minute New York times mini documentary we see how the traditions have been kept alive by mask makers who beautifully carve the wooden Krampus masks that become family heirlooms. To the credit of these wonderful cultures, these amazing folklores have been coming to life year after year for hundreds of years. This remarkable tradition not only keeps the stories alive, but their ancestors too. Many remember their grandmothers and grandfathers as they retell the tales to little ones. Scary as they may be it is the other side of Santa. In some legends he even looks a bit like him.
In Austria, Ralph Herzog is the oldest Krampus in his town. He explains the traditions of Saint Nicholas and this frightening fiend well. Even famous actors like Kristoph Waltz (django unchained, Inglorious Bastards) describes Krampus and the traditions of his culture on Jimmy Fallon with easy wit and Austrian grace!
Many fairytales of old have dark twists for a reason. 
They are morality stories.
They are there to teach, educate and keep communities in line. They show the consequences of action and how important hope is in periods (16-17th century) that was so downtrodden and difficult. The Brothers Grimm fairy tales told of Little Red Riding Hood whose grandmother is eaten by a wolf. The new telling has her rescued from his tummy by the lumberjack, but in the original there is no such respite for good old granny.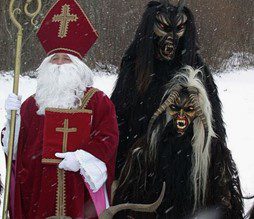 This year as you sit by your Netflix yule fire and sipping on your apple cider spiked with a bit of good cheer, remember the old ways. Remember to ask your parents what their holidays were like. I guarantee you they were different than ours. I guarantee you they will love to tell you all about their Christmas eve stories and how Santa came to their house and gave them oranges and cinnamon sticks like they did mine. Some may even tell you about the fierce creature they saw one night at dusk lurking about their homes that reminded them to stay good, so they could rest their heads and sleep with the memory of warm kisses of a mothers love after writing their letter to Jolly old saint Nicholas.
Stay well, happy holidays
Angel
*header image from Legendary Pictures