As we transition from summer to autumn it can be tempting to shut out the world and hibernate, but there are many positives to bringing natural elements into your home. Besides the style credentials that come from a more natural aesthetic, incorporating natural elements into your interiors will actually have a positive impact on your mental and physical well-being.
Choose natural materials
Have you ever noticed that when you go for a walk in the woods, or have a day by the sea, you feel refreshed and revived? You may even notice that the stress or worries you have no longer feel so all encompassing. That's because we have an inherent connection to the outdoors and natural elements. To enjoy that connection year-round, and from the comfort of your own home incorporate natural materials like wood, cotton, leather, and seagrass into your interior.
Calming colours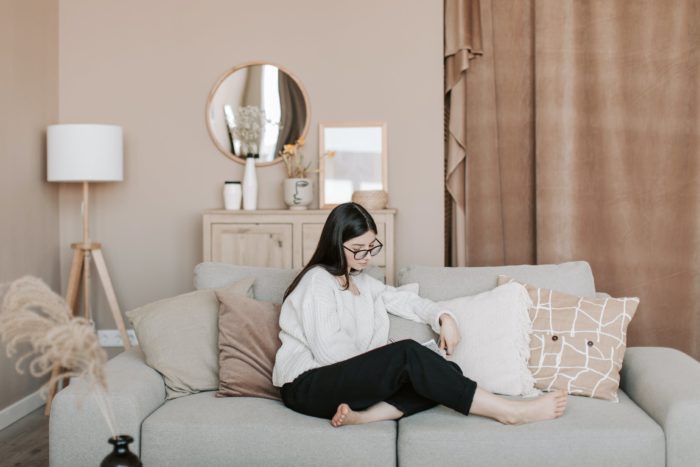 To feel inspired by nature and enjoy its calming presence, use colours in the home that are found in nature. Calming colour palettes in earthy neutrals look great in bedrooms and bathrooms, and help create a cosy feel. If you're creating a seaside inspired interior, cool blues and warm greys can be used with linen accents.
It's worth remembering that natural colours don't have to mean pastel colours; bold oranges, and vibrant pinks, dark greens, and vivid blues can all be used to great effect.
Combine craftsmanship
Introducing wooden furniture that has been artfully crafted, ideally from a native wood will create a rustic feel, even if you live in a city centre. Combining mother nature's bounty with human skill will give you a new appreciation for mother earth.
There's something primal about wooden furniture, whether left exposed in its natural state, or given a makeover with a lick of chalk paint. Adding at least one piece of wooden furniture to each room will instantly create a calming feel.
Let there be light
One of the easiest, cheapest, and most beautiful elements is natural sunlight. Whether it's the warm light of summer or the soft light of winter, introducing sunlight will radically transform your home. Bi-fold doors that lead from the kitchen into the garden are having a bit of a moment, and are the easiest way to create a transitional space that in the summer months can be opened up to create a seamless link to the outside, whilst in colder winter months the floor to ceiling glass creates much needed extra light.
Bring in plants
Not only are plants great for creating a statement in interiors, but their air purifying abilities will help you sleep better too. From eucalyptus plants in the bathroom that fill the air with a menthol scent, to low maintenance ferns and peace lilies, to herb pots perfect for the kitchen window sill, there are so many interior plants to choose from. All you have to do is find space for them all!