Thanks to the pandemic and all the staring at myself that I'm doing on video calls, I like many others have began to notice the signs of aging on my face and I was NOT into it.  There are many options out there for folks who, like me, would like to up their self care game in the anti-aging department.  From specialized skincare to injectables to surgery, after some research, I realized that I wasn't ready to dive in to most of those options just yet.   That's when I discovered 6Babe Beauty, who we've partnered with today for our 7th Day of Giving!
Amrit Singh, the founder and driving force behind 6Babe Beauty, is a Registered Acupuncturist with a focus on health, wellness, and beauty for women. She earned her Diploma of Acupuncture at the Institute of Traditional Medicine in Toronto, and continued her education in Beijing, Tokyo, San Francisco, New York and London, UK.  She has completed the Mei Zen Cosmetic Acupuncture System, AcuReGen Cosmetic Facial Acupuncture & Medical Microneedling Program, Microdermabrasion & Skin Care certificate and interned with a Facial Acupuncturist in Tokyo, Japan. 
Amrit uses her skills and knowledge to help her patients with issues related to fertility, digestion, chronic and acute pain, migraines, and more.  But what brought me to Amrit was her expertise in facial, or cosmetic acupuncture.  After meeting with different doctors and nurses to discuss options like Botox and cosmetic fillers, I came to the conclusion that I wasn't quite ready to go all the way when it came to medical needles in my face.  I was open to acupuncture needles on the other hand, so a friend recommend Amrit to me as an alternative.  Amrit's method of incorporating eastern medicine and knowledge into beauty and self care intrigued me. I began to follow her on Instagram,  and really enjoyed her special brand of accessible, approachable and engaging educational content. Amrit does deep dives on acupuncture, tools like face rollers and Guasha, and key pillars and values from Chinese medicine to help her patients, fans and followers learn how to feel and look their best from the inside out.
View this post on Instagram
I've had  2 acupuncture sessions with Amrit now, and I'm already seeing results.  While my initial concerns were regarding signs of aging as well as mask wearing induced acne, what I love about Amrit's approach is that she doesn't just work on my face.  She employs a head to toe approach to health, wellness and beauty.  While there are many needles hanging out in the facial region, helping to stimulate collagen production, heal my acne and improve texture and tightness, Amrit also inserts needles in different and important areas around my body.  So while my face is getting 6Babe'd, she's also helping reduce my migraine pain and frequency, faciliting better blood circulation, and moving energy throughout my body, all guided by the principles of Chinese medicine and teachings.  My acne is starting to heal, and between the acupuncture as well as the Guasha face sculpting techniques that I've been trying, I'm already seeing my skin tighten around my jawline and lift around my cheeks.  On top of that, my migraines are starting to become less frequent, and aren't as painful either.  I can't wait to see what the next sessions bring!
So for those of you interested in a more holistic approach to beauty with a wellness vibe, then this contest is for you!  We're giving away a 6BabeBeauty prize bundle!  Check out the items included:
6BabeBeauty Facial Kit:
The ultimate skin care combo – The 6BabeBeauty Premium Rose Quartz Facial Roller & Facial Gua Sha tool to help smooth fine lines & wrinkles, increase circulation, contour and sculpt your face and increase lymphatic drainage to take care of your skin from all angles.
For Best Results:
AM – Facial Roll in the AM to prep and smooth your skin to slay the day
PM – Gua Sha to sculpt and tone your facial muslcles before your beauty sleep
Re-usable Bamboo Pads with Pouch: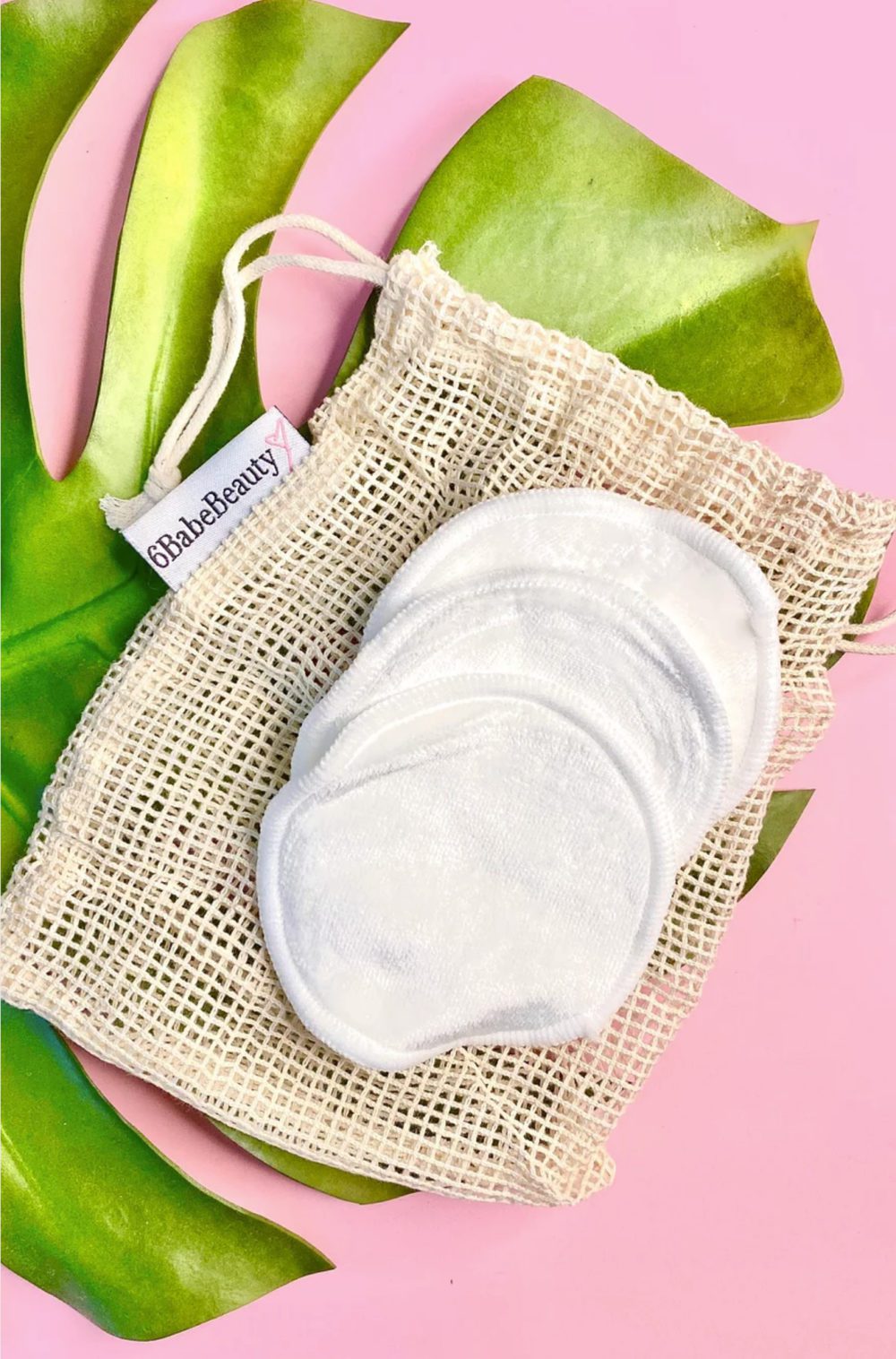 Use these machine washable ultra-soft bamboo pads next time with your favorite toner or make up remover to refresh your skin. These luxe pads hold your product on the surface so your can wipe your day way easily without pulling and tugging at your skin – a major no-no in Babe Face Land 👑 Save the planet and your skin at the same time! ✨💞✨Each bag contains 16 bamboo luxe pads in a 6BabeBeauty organic cotton bag.
You're Hot – Babe Face Candle:
A custom 6BabeBeauty scent of Rose and Palo Santo from Ecuador consciously harvested and infused into this lush and relaxing candle. Individually hand poured into a reusable brass tin topped with a hand stamped label reminding you that you're Babe Face everyday. Trust us, this scent is magical just like the Babe Face Awakening Oil! Travel Size (2Oz.)Approx burn time: 15 hours +
Want to win all thise 6Babe Beauty goodness? Then simply enter below and head to our Instagram account to score some bonus entries!
IG: @6BabeBeauty
*header photo by Amrit Singh for 6Babe Beauty